There are hotels and then there are mindblowing resorts and hotels in Malaysia! And if you're wondering what is the difference between the two – everything! We can talk about experience, luxury, nature, and what not, but we will let their pictures speak! So if you are planning a holiday in this wonderful country (be it for business, leisure, or pleasure), then we have you covered with these best places to stay in Malaysia.
Shangri-La's Rasa Sayang Resort & Spa
Shangri-La's Rasa Sayang Resort & Spa is a luxurious beachfront resort located in Batu Ferringhi, Penang, Malaysia. Nestled amidst lush tropical gardens and overlooking the pristine shores of the Andaman Sea, the resort offers a serene and indulgent retreat for discerning travelers.
The resort embodies the essence of Asian hospitality, blending traditional Malaysian architecture with modern comforts. The spacious and elegantly appointed guestrooms and suites are designed to provide a tranquil haven for relaxation. Each room features luxurious amenities, private balconies or terraces, and breathtaking views of the sea or gardens.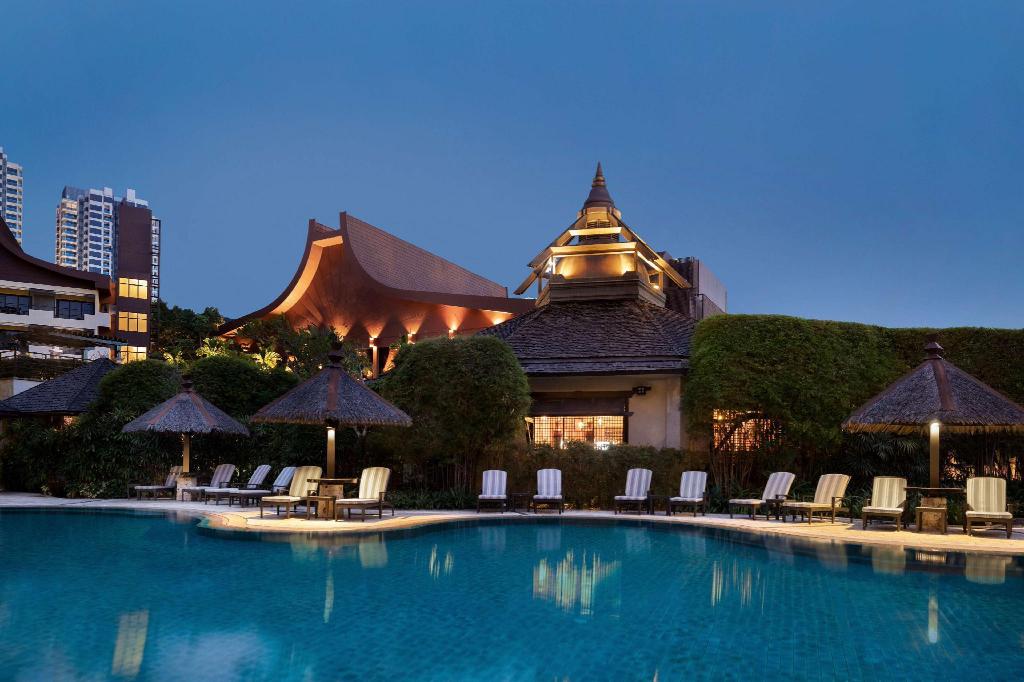 Shangri-La's Rasa Sayang Resort & Spa boasts an impressive array of facilities and activities for guests to enjoy. The resort's Chi, The Spa offers a range of rejuvenating treatments inspired by ancient Asian healing traditions, providing a blissful sanctuary for relaxation and well-being. The resort also features a large outdoor swimming pool, a fully equipped fitness center, tennis courts, and a golf course nearby.
Culinary delights await at the resort's diverse dining establishments. Spice Market Café offers an extensive buffet spread with international and local flavors, while Feringgi Grill serves up exquisite grilled dishes in an elegant setting. Guests can also savor authentic Nyonya cuisine at the award-winning Pinang Restaurant & Bar, or enjoy refreshing drinks and snacks at the poolside bar and lounge.
The resort's beachfront location provides direct access to the pristine white sands of Batu Ferringhi beach. Guests can relax on the sun loungers, take a dip in the crystal-clear waters, or engage in a variety of water sports activities, including jet skiing, parasailing, and kayaking.
Shangri-La's Rasa Sayang Resort & Spa is also renowned for its commitment to sustainability and eco-tourism practices. The resort actively engages in conservation efforts and supports local communities through various initiatives.
With its stunning natural surroundings, luxurious accommodations, world-class facilities, and warm hospitality, Shangri-La's Rasa Sayang Resort & Spa offers a truly unforgettable experience for travelers seeking a peaceful and rejuvenating getaway in Penang.
Parkroyal Penang resort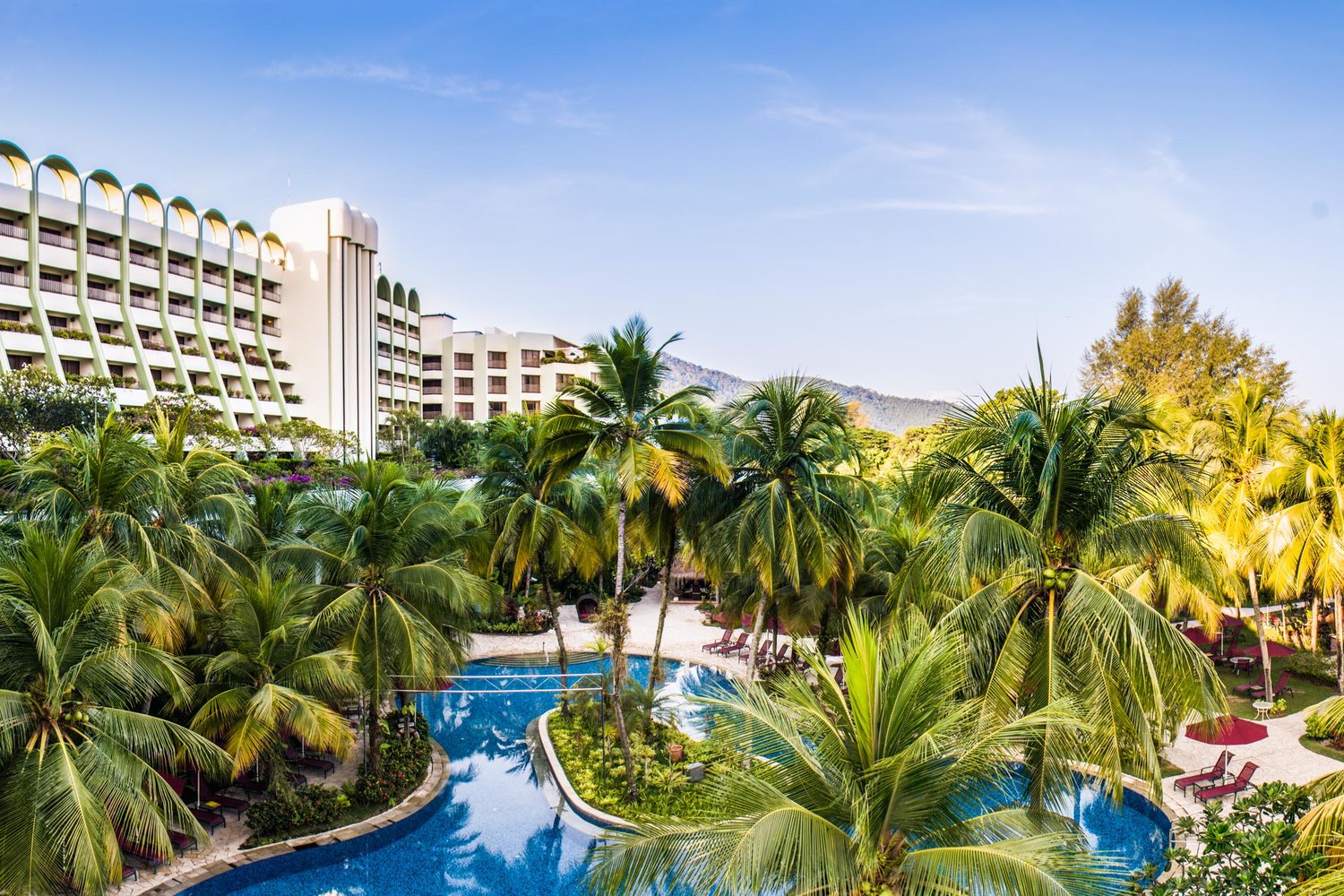 Parkroyal Penang resort is one of the most luxurious hotels in the Penang bay, offering many options to its guests. The resort is located in the vicinity of various major tourist spots in the city, which include The Owl Museum, Penang National Park and Penang Butterfly Farm.
Highlights: Parkroyal Penang Resort has more than 300 rooms, providing the breathtaking sea views to all of its guests. If you are in search of some lip-smacking Malay cuisine, you can satisfy your taste buds in anyone of the umpteen world-class restaurants of the resort. From trying the continental food at Tiffins, Western and Asian buffets at Tamarind to mesmerizing cocktails in the Javana Lounge, the resort has everything, which anyone would ever dream of.
Location: The resort is located in the rich greenery  of Batu Ferringhi Beach on the north coast of Penang Island, which is just 31 KM from the Penang airport and 18 KM from George town.
Price: The approximate cost for a room starts from 400 MYR.
Lone Pine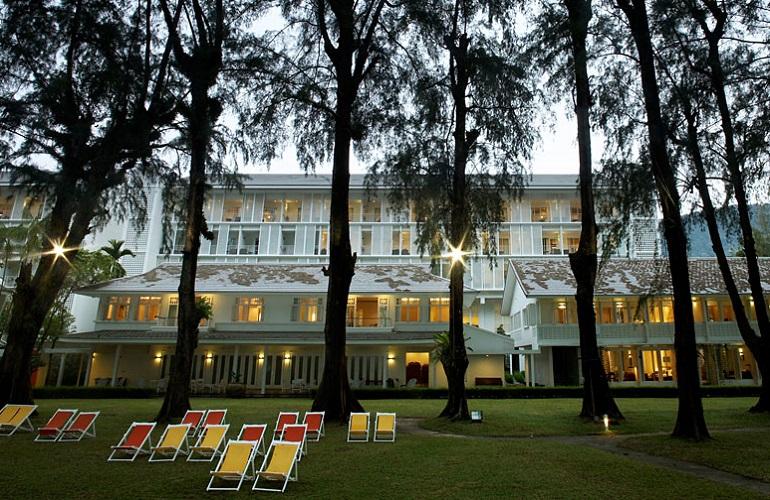 Lone Pine resort in Batu Ferringhi is one of the most luxury boutique hotels in all of the Penang area. The resort is located just along the Penang's coastline, making it easy for its guest to take a leisurely walk on the beach. Resort's architecture is a mix and match of modernized and colonial spirit and highlights the idyllic charm of the same, allowing it to get listed in one of the Penang's legendary hotels.
Highlights: The resort is equipped with 90 luxurious guest rooms, opening to the sea terraces or private courtyards and making it the most intimate resort in the Penang area. Lone Pine has three world-class restaurants, namely Bungalow, Matsu and Batubar, serving a wide variety of cuisines, from authentic Malay to the continental delicacies.
Location: The resort is located in the Batu Ferringhi area in Penang, just in the vicinity of major shopping malls, restaurants and night market.
Price: The approximate cost for a room starts from 500 MYR.
Hard Rock Hotel Penang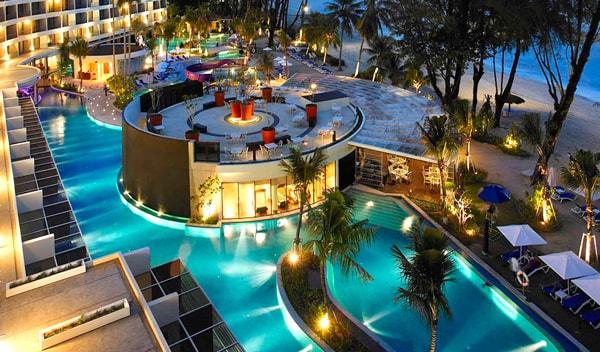 On the beaches of Batu Ferringhi, the trendy Hard Rock Hotel Penang breaks the mold of conventional beach resorts and brings the implications to a whole new level. The iconic Hard Rock logo which is created with chandelier-like lighting's hover over the entrance of the rocky lobby, accompanied by metal music. For the diehard music fans, this is a must check in stay.
Highlights:  The resort showcases more than 500 pieces of unparalleled rock 'n' roll memorabilia collection adorning the walls of the Hard Rock Hotel and Hard Rock Cafe Penang. Guests can also relax at Rock Spa or exercise at Body Rock Gym. The hotel also provides a children's and teen's club, as well as a business center.
Location: The Hard Rock Hotel and Resort in Penang is situated towards the end of Batu Ferringhi where the old Casuarina Beach Hotel once stood.
Price: The approximate cost for a room starts from 363 MYR.
The Eastern & Oriental Hotel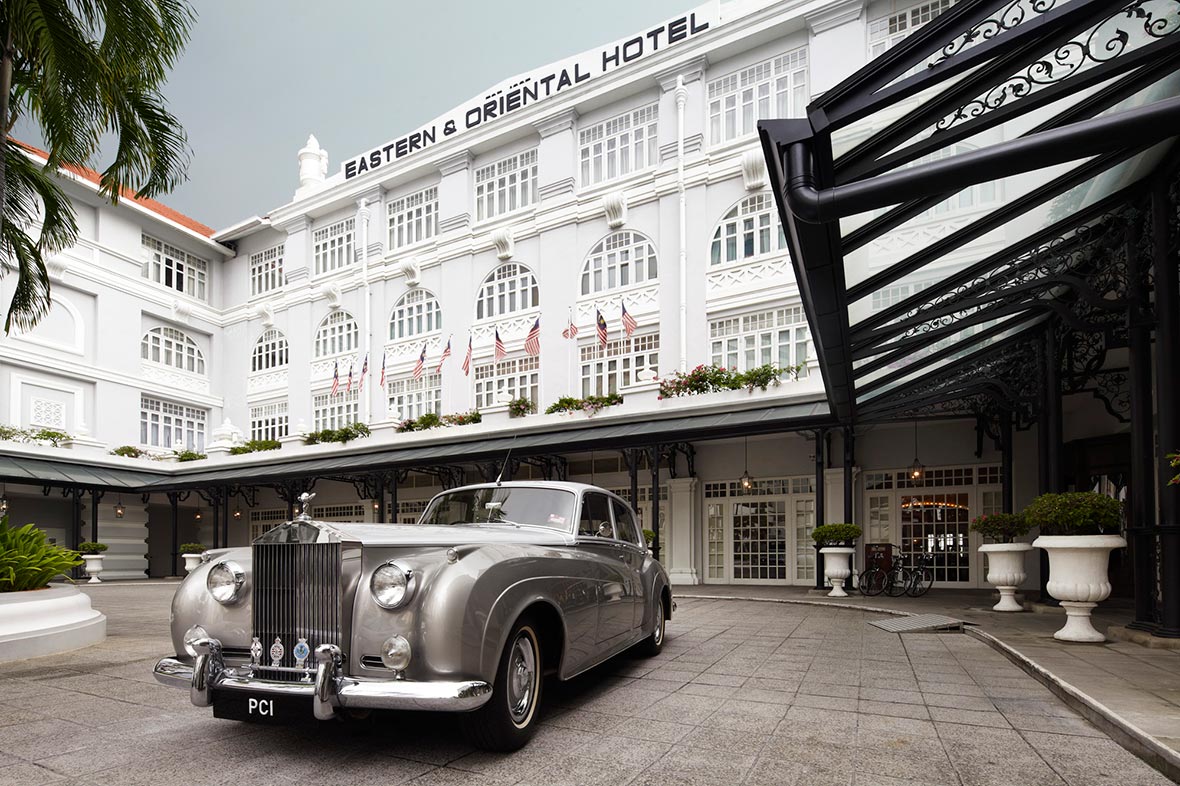 The Eastern & Oriental Hotel in Penang Island is the only hotel in the heart of the George Town UNESCO World Heritage Site that possesses top tier sea frontage. With over 125 years of history, the hotel has capered as a host to some of the world's most renowned artists, writers and heads of state. Today, the luxurious all-suite hotel stands as the grand dame of heritage hotels, its distinctively classic elegance and top notch services enhanced with time. Most of the suites look out onto the decorative garden and swimming pool with views across the stunning Andaman Sea.
Highlights: The 16-storey building boasts 122 sea facing suites, complemented by new restaurants, meeting rooms, pool and niche retail outlets.
Location: Situated in George Town, the E&O Hotel stands at the intersection of Farquhar Street and Penang Road.
Price: The approximate cost for a room starts from 663 MYR.
G Hotel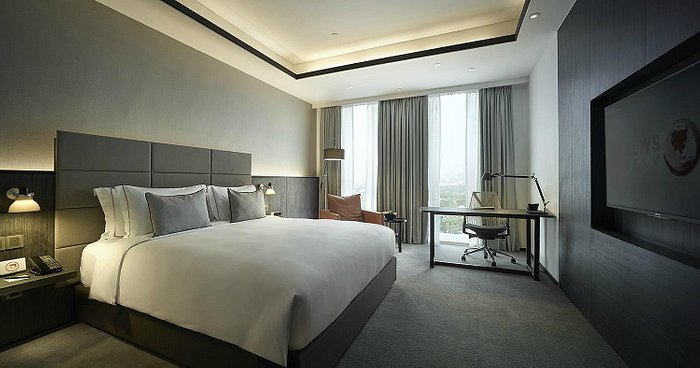 Penang is known as the while away destination for travellers on a budget and the place lives up to its reputation by offering affordable food, tourist attractions and accommodation. However, there are places to stay in Penang, which promise a more exquisite experience. One such venue is G Hotel, located along Gurney Drive, which boasts one of the few five-star accommodation options on Penang Island.
Highlights: Featuring beautiful views of the coast, the rooms at G Hotel are decorated in soothing neutral colors. The International buffet and local favorites are served all day at G Café, while cocktails can be enjoyed at G Hotel's 3 bars. Other dining options include Chili's Restaurant and Miraku Japanese Restaurant.
Location: The hotel is located in the entertainment district of Penang, within a 15-minute walk of Gurney Plaza and Wat Chaiya Mangkalaram.
Price: The approximate cost for a room starts from 540 MYR.
Evergreen Laurel Hotel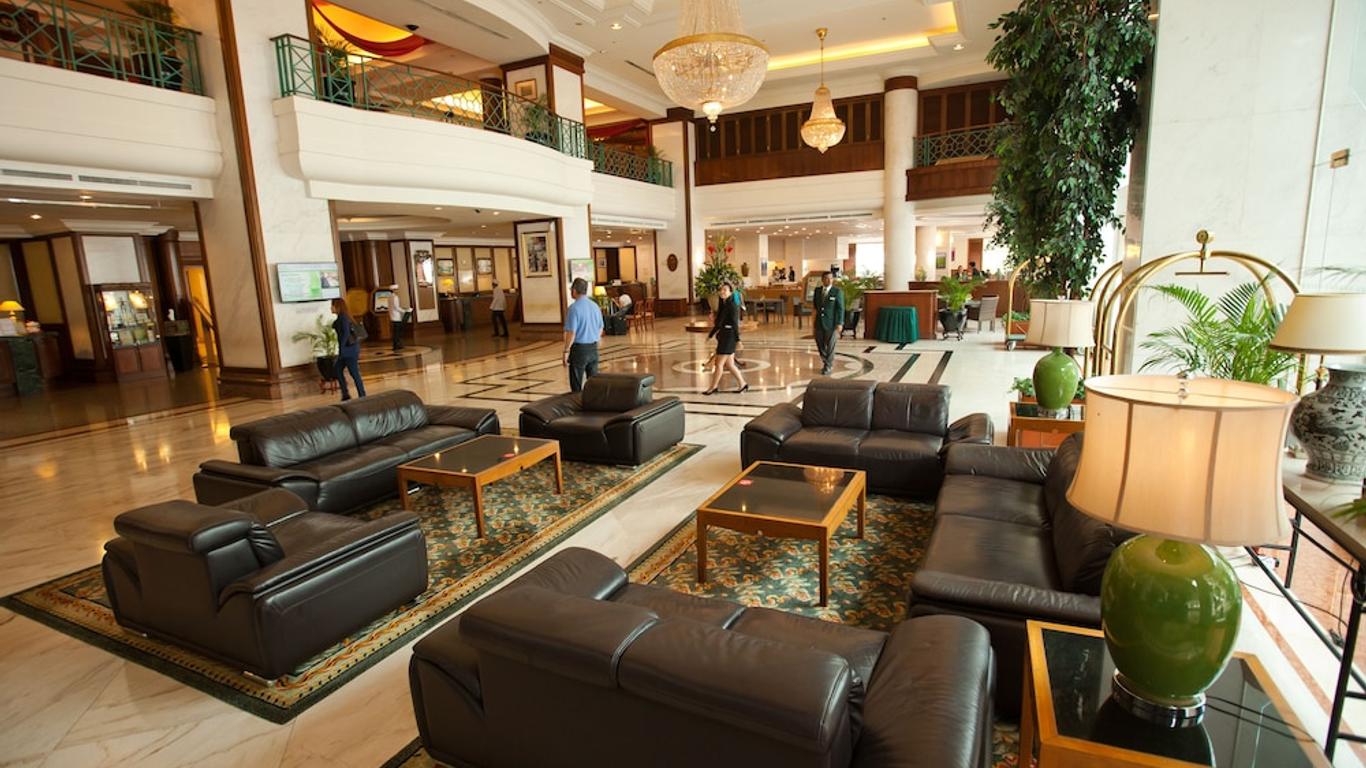 Evergreen Laurel Hotel in Penang, is a 5-star hotel offering excellent accommodations and miles of oceanfront views of Georgetown City with picturesque landscapes along Gurney Drive. It's convenient location, severed with stunning sea front walkways, make it easy to accesses the city's historic monuments, night clubs and local shopping locations. The hotel's guestrooms are gracefully furnished to suit the exclusive standards of most guests, especially business travellers.
 Highlights: The hotel's spacious facade is suitable for gala banquets, formal presentations and cocktail parties.
Location: Situated along Penang's famous Gurney Drive, it is just 4 kms from the UNESCO World Heritage Site of Georgetown.
Price: The approximate cost for a room starts from 300 MYR.
Hotel Penaga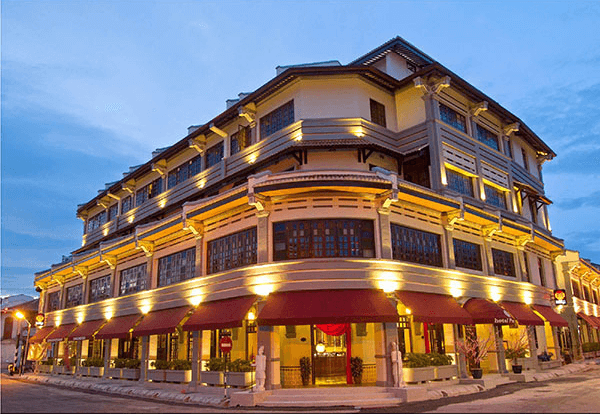 Hotel Penaga is a true boutique hotel. This hotel takes up most of a city block spanning three sections to make up for a family-friendly mini homes, apartment-sized suites, and spacious rooms. The architecture and the interiors are designed with a mix of original art, vintage-themed furnishings, and some soothing touches such as cow-hide rugs and mid-century furniture provides an ideal destination for tourists.
Highlights: All 45 rooms boast deep soaking tubs along with a full-service spa. This hotel has a restaurant and an outdoor pool. Other amenities include a bar/lounge, massage/treatment rooms, and a business centre.
Location: Located in Georgetown, this historic hotel is within a 10-minute walk of Chew Thean Yeang and Camera Museum. Leong San Tong Khoo Kongsi and Clan Jetty are also within 2 kms.
Price: The approximate cost for a room starts from 280 MYR.
Seven Terraces Hotel Penang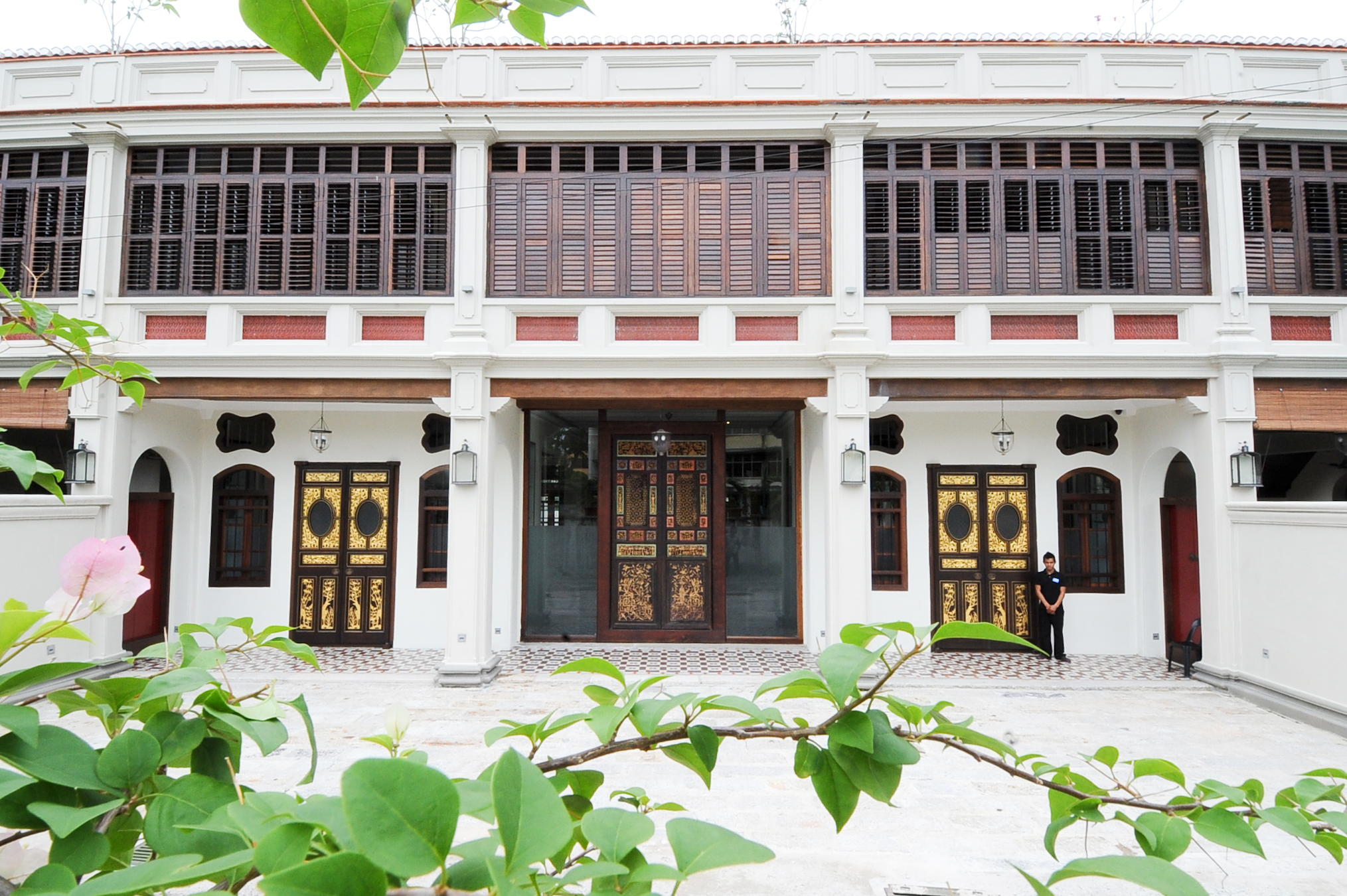 The Seven Terraces Hotel Penang is an exclusive luxury boutique accommodation featuring seven Anglo-Chinese terraces along with Stewart Lane. The 19th Century terrace houses has been flawlessly restored to 18 luxury suites, decorated with exquisite antique furniture and artworks. The property is ideally located down a peaceful lane, just behind the Chinese Goddess of Mercy Temple and has easy access to all the major sights and restaurants in the city.
Highlights: The 18 two-story suites including three large multi-room apartments have been decorated with a mix of original antiques, reproductions and contemporary pieces, and surround a beautiful central courtyard.
Location: Located in Georgetown, this hotel is within a 5-minute walk of Kuan Yin Teng and Camera Museum.
Price: The approximate cost for a room starts from 800 MYR.
Lovelane Penang Hotel

This tasteful 200-year-old mansion is an oasis in the heart of bustling George Town. Not only has the architecture been perfectly preserved, but the owner has furnished the property with a mix of baffling modern artworks and antique furnitures. Rooms are bright and airy, several looking out to the lush green tropical garden. Although slightly expensive, but this property is worth every penny for a romantic stay.
Highlights: This hotel features a restaurant, a bar and café lounge.
Location: Located in Georgetown, this historic hotel is within a 10-minute walk of Camera Museum, Pinang Peranakan Mansion, and Leong San Tong Khoo Kongsi. Fort Cornwallis and Clan Jetty are also within 15 minutes.
Price: The approximate cost for a room starts from 380 MYR.