Da Nang is a vibrant coastal city in central Vietnam known for its beautiful beaches, rich history, and friendly atmosphere. It offers a mix of natural beauty, cultural attractions, and delicious cuisine, making it a popular tourist destination. With its stunning landscapes and warm climate, Da Nang has something for everyone, from beach lovers to history enthusiasts. This post will introduction to you about Da Nang in the eyes of Malaysians – Danang travel guide
About Da Nang, Viet Nam
The center of Danang City is located on the west side of the Han River. Danang's also the most important port city of Vietnam, and surrounding the city are various UNESCO World Heritage sites like the Old Town of Hoi An and the My Son Sanctuary. In Danang, you'll easily find yourself being lost in a myriad of things to do and see, from gorgeous sandy beaches, superb vistas, to a wide range of five-star hotels, restaurants and eateries, local markets, and tons of cultural experiences.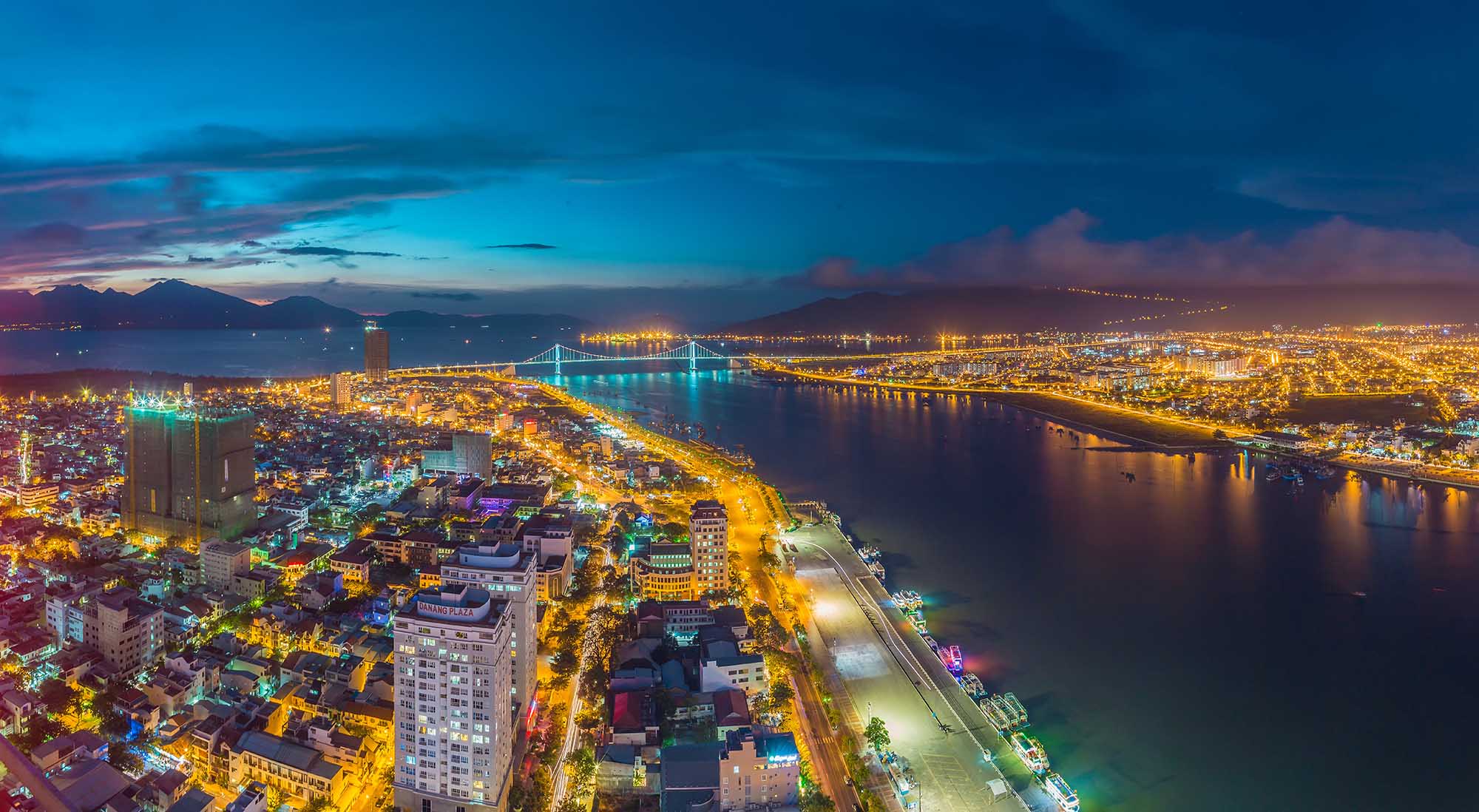 The best time to visit Da Nang
Depending on many factors including personal preferences, visitors can choose the most suitable time to travel to Da Nang. The most ideal time is from April to August, when there is little rain and prolonged sunshine, which is favorable for sightseeing and outdoor activities. It is summer now, but the weather is not too hot. This is also the peak tourist season of Da Nang. Around this time, Da Nang attracts the highest number of tourists coming to soak in the cool water and relieve the hot sun.
Attractions in Da nang
My Khe Beach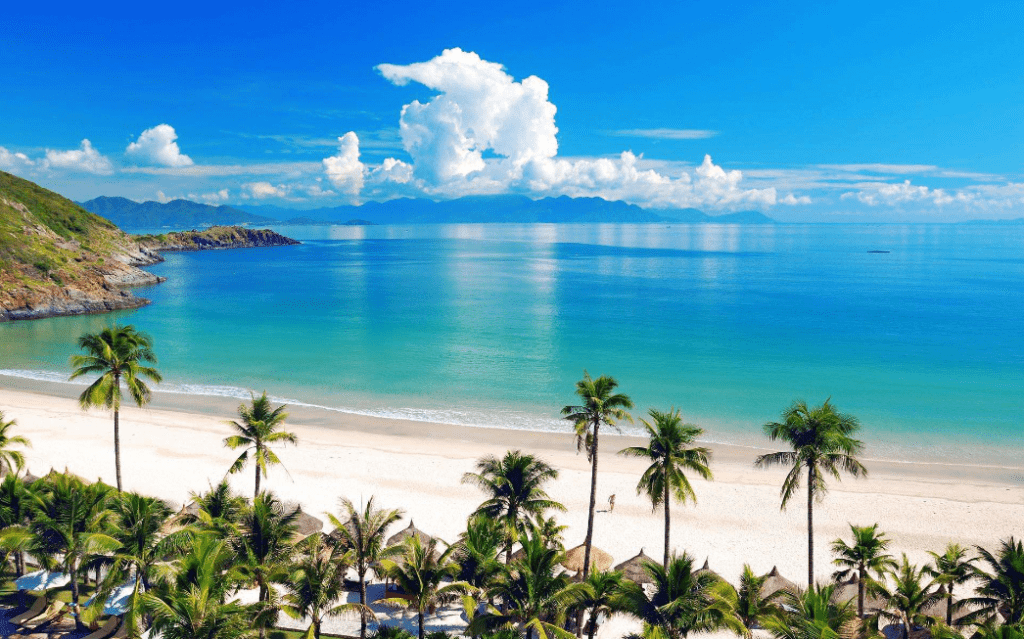 Among the pristine and stunning beaches of Danang, My Khe stands out as the most popular choice. Renowned for its cleanliness and beauty, this beach boasts crystal-clear waters gently caressing its shores, while a stretch of white sand is embraced by picturesque mountains and adorned with umbrellas and chairs. The surrounding area offers an array of restaurants where one can relish fresh seafood and enjoy cold beers. My Khe beach is the perfect spot to indulge in thrilling water sports like parasailing and jet-skiing, or simply capture breathtaking photographs of one of Vietnam's most magnificent coastal treasures. To avoid the influx of crowds that typically arrive around 4 p.m., it is advisable to visit My Khe in the morning or early afternoon.
Son Tra Mountain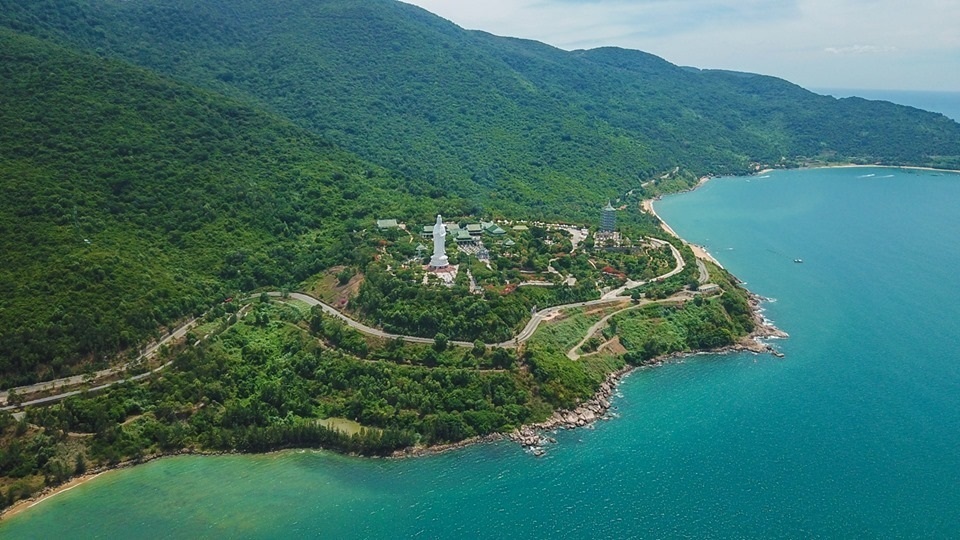 Son Tra Mountain, situated at the northern tip of Danang's renowned My Khe beach, has earned the moniker "Monkey Mountain" due to its resident population of rare monkeys residing within its dense forests. This mountain holds historical significance as it once served as a former U.S. Army base for radar and communications, with remnants of the radar domes still visible today. To witness the awe-inspiring panoramic views of the city and coastline in their full splendor, visitors often opt to rent a scooter or enlist the services of a local driver to navigate the steep and winding road leading to the mountain's summit. Additionally, several local tour companies offer guided hikes around the mountain, providing an opportunity for fortunate tourists to catch a glimpse of the playful monkeys that call this place their home.
Ba Na Hills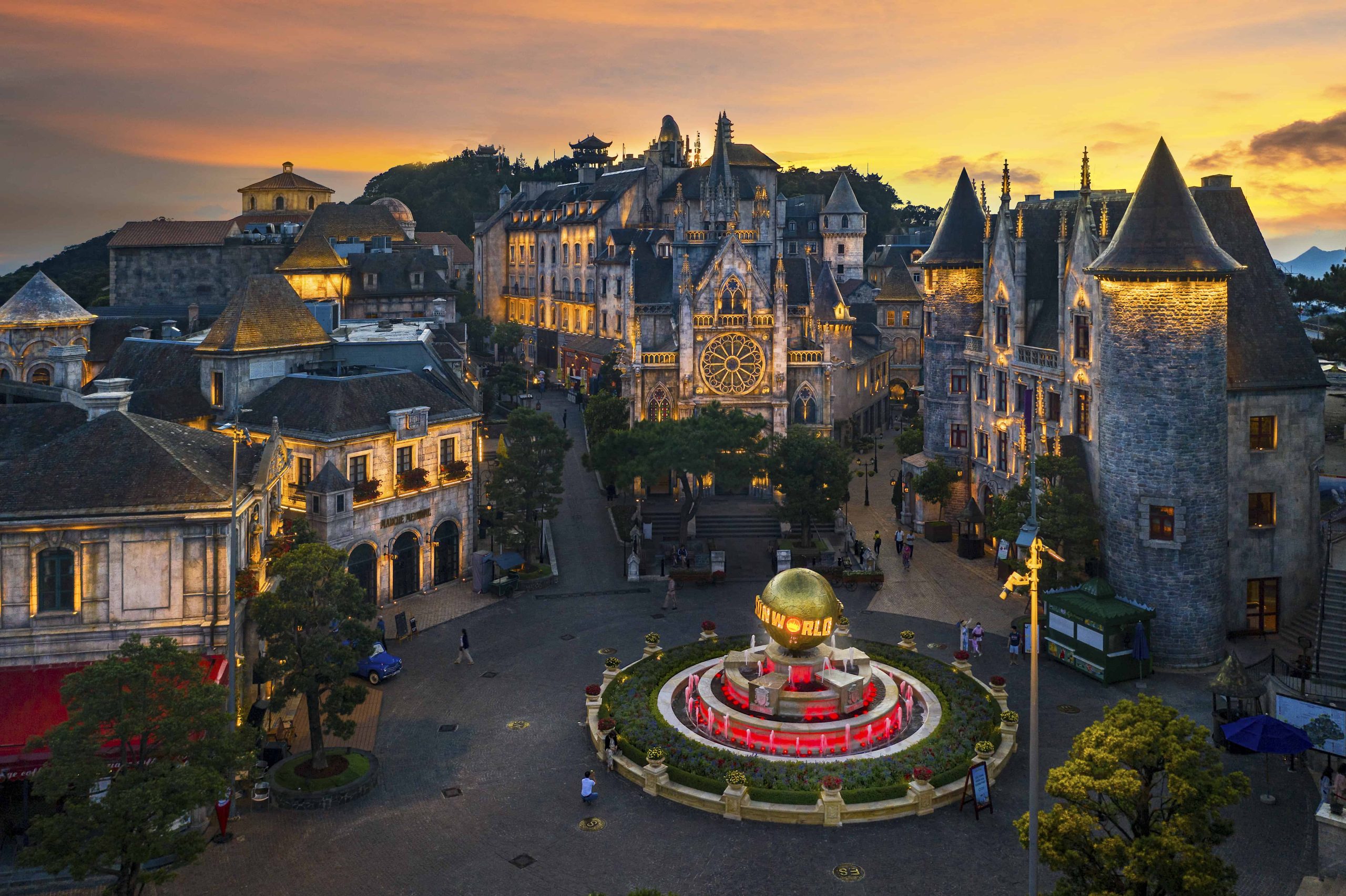 This enchanting hill station is a picturesque replica of an old European city, complete with castles, cobblestone streets, and charming courtyards. The entire complex showcases a delightful fusion of old Eastern and Western influences, with the inclusion of Buddhist statues and temples built solely for entertainment purposes. Ascending to the hill's summit requires a ride on the world's longest cable car lift, which treats visitors to breathtaking vistas of the valley below. The temperature at the mountaintop is pleasantly cool, and countless opportunities for capturing memorable photographs await at this extraordinary destination. While tickets to Ba Na Hills may come at a cost, the investment is undoubtedly worthwhile, as it grants access to stunning views and a wide array of facilities that promise to keep the entire family entertained throughout the day.
The Marble Mountains
The Marble Mountains comprise a cluster of five mountains, each named after one of the earth's elements: Kim (metal), Thuy (water), Moc (wood), Hoa (fire), and Tho (earth). Among these mountains, Thuy is the one accessible to tourists, offering a captivating labyrinth of caves and passageways to be explored. Scattered throughout the mountain, visitors will find several stunning pagodas and temples, making it advisable to obtain a small map before setting out on the hike.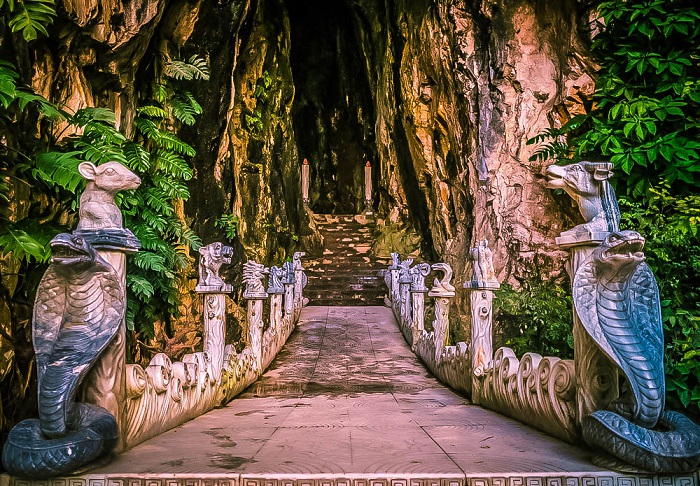 The largest cave can be found at the mountain's base and is locally referred to as the 'hell.' Inside this deep cave, one will encounter an array of eerie statues and engravings depicting a realm of suffering and torture in the afterlife. To navigate the marble steps, it is recommended to wear trainers with a good grip as they can be slippery and unsuitable for flip-flops.
The Golden Bridge Hands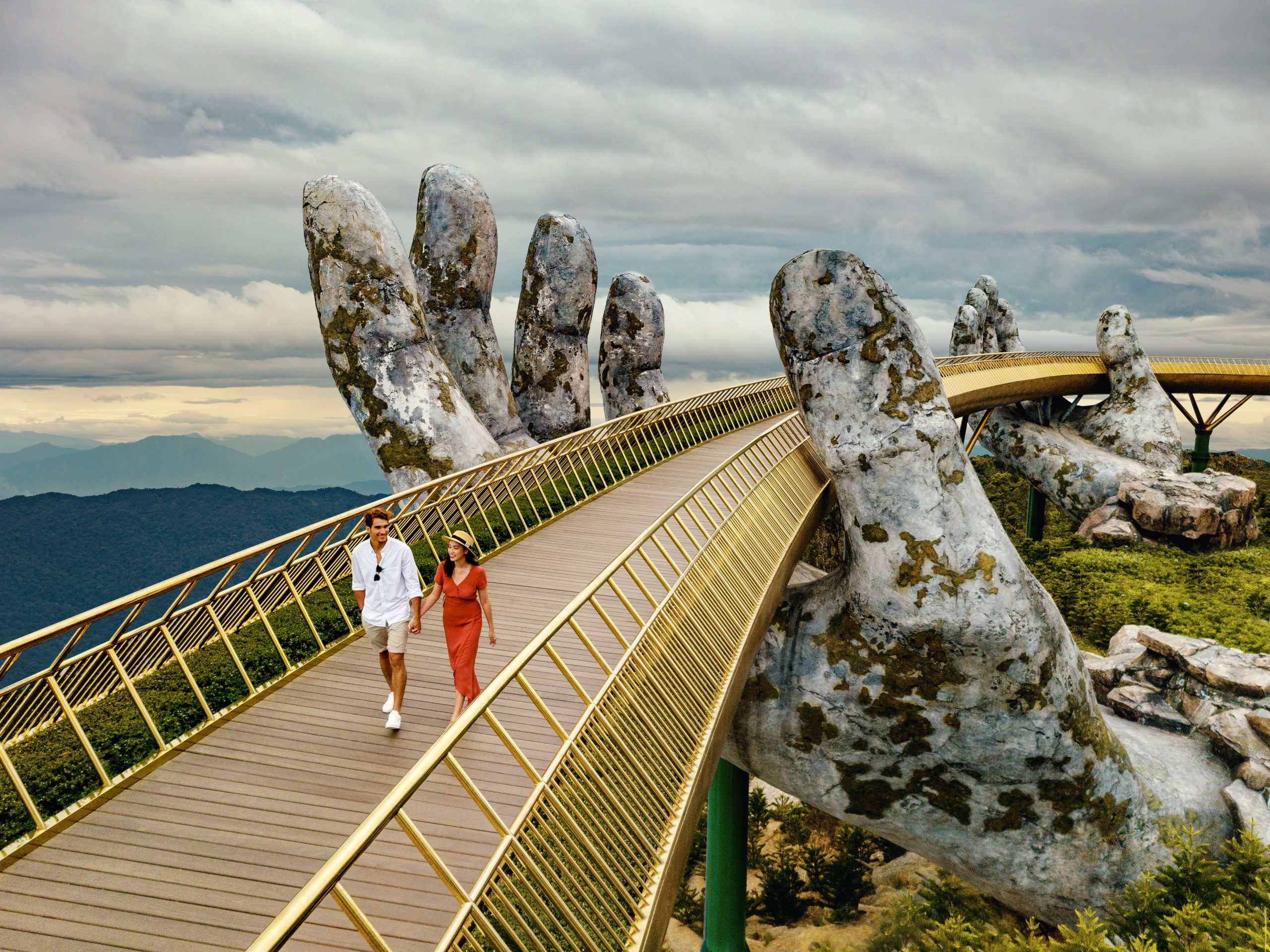 Vietnam's newly unveiled Golden Bridge has become a sensation on screens worldwide. Rising from the mountainside, two immense stone hands extend, seemingly cradling a delicate golden strand that has captivated enthusiastic tourists armed with cameras. This bridge not only provides awe-inspiring panoramic vistas of the valley below but also offers glimpses of the majestic Truong Son mountains rolling in the distance. Suspended at an astonishing altitude of approximately 4,600 feet above sea level, this architectural wonder was ingeniously crafted to allure more visitors to Danang's Ba Na Hills. Undoubtedly, the mission has been resoundingly accomplished.
Linh Ung Pagoda
Located on Son Tra Peninsula, the Linh Ung Pagoda is revered as a celestial nexus where heaven and earth meet. Among the three Linh Ung Pagodas in Danang, the one situated on Son Tra Peninsula stands out as the largest, newest, and most captivating. This splendid masterpiece encompasses a triad of structures, namely the three-entrance gate, the main chamber, and the ancestors' house, seamlessly blending contemporary and traditional Vietnamese architectural styles found in pagodas.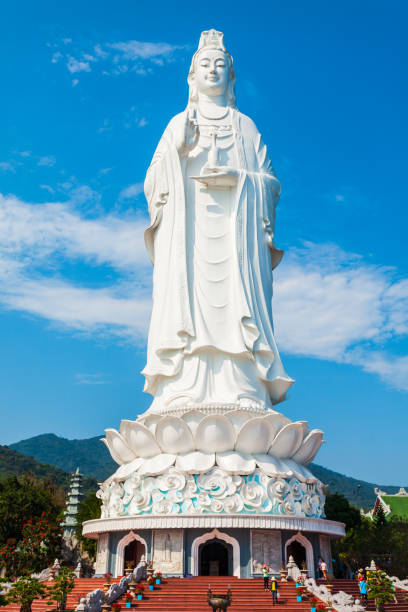 A crowning jewel of this pagoda is the awe-inspiring Quan Yin Bodhisattva statue, soaring to a height of 67 meters atop a lotus-shaped pedestal. Inside this majestic statue, each of its 17 stories houses 21 Buddha statues, each one crafted with unique forms, facial expressions, and poses. This renowned spiritual landmark beckons to visitors embarking on an exploration of the scenic Son Tra Peninsula, ensuring an experience not to be missed.
Visit Hoi An
Just a short distance of 30 kilometers or a quick half-hour drive from Danang lies the enchanting town of Hoi An. For those staying in Danang City, a half-day or full-day trip to Hoi An is easily manageable.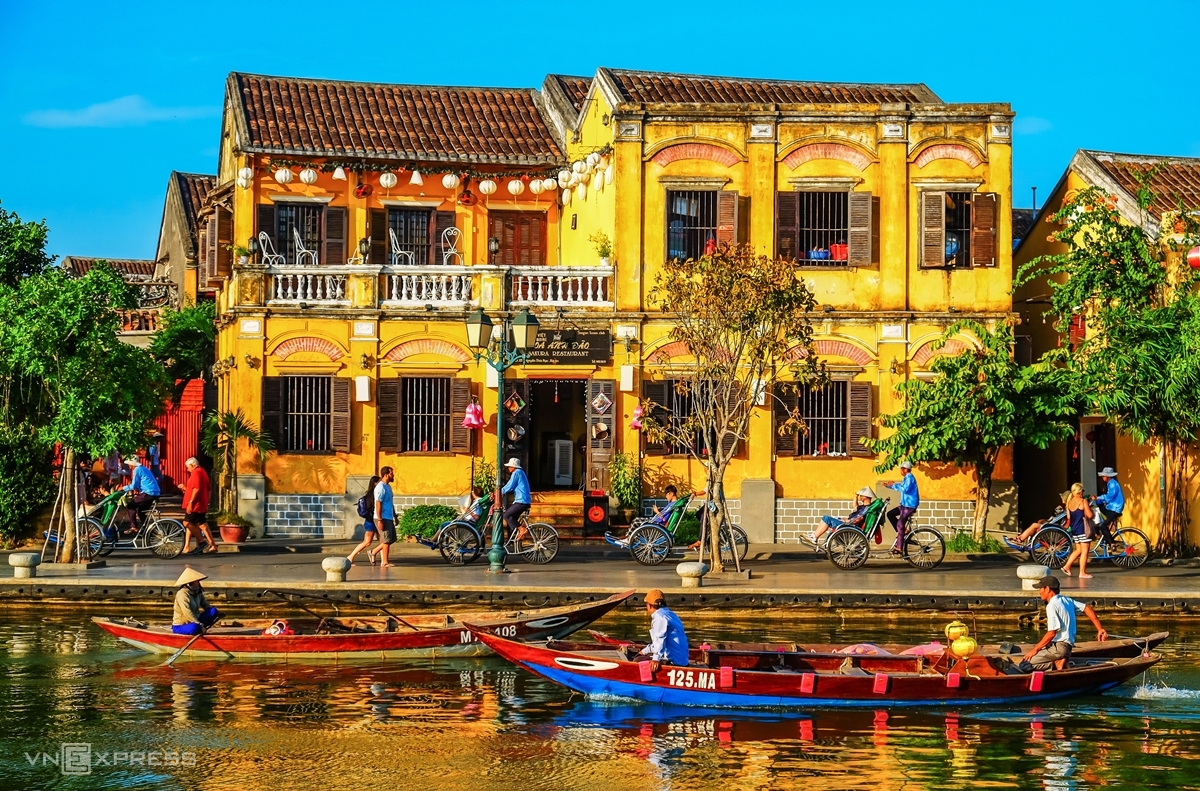 Hoi An, formerly known as Faifo, boasts a rich history spanning over 2,000 years. Once the bustling port of the Cham Kingdom, it held sway over the vital spice trade with Indonesia from the 7th to the 10th century. In the 16th and 17th centuries, it emerged as a prominent international port, leaving behind lasting traces of foreign influences that can still be witnessed today. However, there was a period when the country closed off, and Hoi An was forgotten, leading to challenging times for its inhabitants.
Fortunately, tourism arrived in the early 1990s, breathing new life into the slumbering beauty of Hoi An. Since then, it has risen to become one of Vietnam's top attractions, captivating visitors with its undeniable charm and historical significance.
To discover the journey from Danang to Hoi An, read more below.
Da Nang in the eyes of Malaysians
The climate and weather are mild and pleasant
Da Nang Viet Nam holds its own charm through its delightful climate and weather, setting it apart from the severe cold of the North or scorching summer heat. What makes Da Nang truly remarkable is its mild climate, offering respite from extreme temperatures. The city maintains an average annual temperature ranging from 25 to 28 degrees Celsius, with minimal monthly temperature variations. This pleasant climate has attracted numerous tourists seeking relaxation and exploration, as they quickly adapt to the comfortable conditions and embrace the local way of life.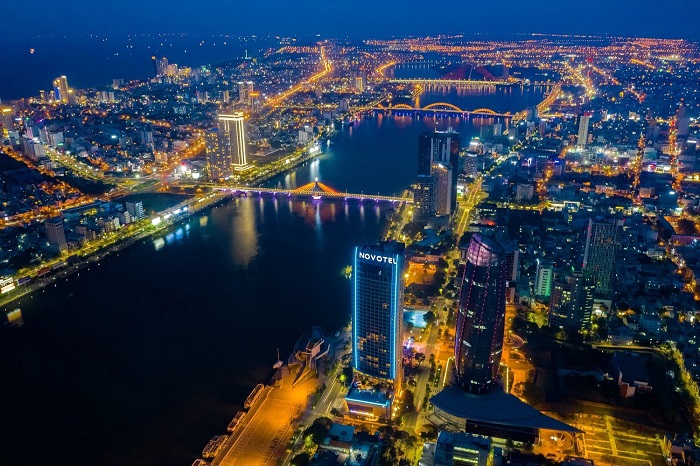 Explore the city of mountain, sea, and river
Da Nang, a vibrant city in Vietnam, is a haven for those seeking the perfect blend of mountain, sea, and river landscapes.
Let's start with the majestic mountains that grace this city. Two notable peaks, Monkey Mountain and Marble Mountain, beckon nature enthusiasts and avid hikers alike. Marble Mountain, a mere 15-minute drive from Eco Green Boutique Hotel, offers a captivating experience amidst its natural wonders. Son Tra Mountain, also known as "Monkey Mountain," rewards adventurers with breathtaking vistas of the ocean and the city. The journey to its summit takes approximately 15 to 40 minutes, depending on your desired altitude. Moreover, Da Nang boasts an extensive coastline spanning over 10 kilometers, adorned with more than ten pristine white sandy beaches.
Don't miss the iconic symbol of Da Nang, the Han River, flowing gracefully through the heart of the city. This waterway is home to four remarkable bridges, symbolizing the youthful, dynamic, and progressive nature of the city. Standing atop the Dragon Bridge, which can be conveniently reached within a 10-minute drive, offers a panoramic view of the city that is truly unforgettable.
The people are hospitable and friendly
One of the compelling aspects that contribute to Da Nang's popularity is the warmth and hospitality of its people. Despite the city's ongoing modernization and rapid urban development, the residents have managed to preserve their friendly, down-to-earth nature. It is worth noting that while beautiful destinations can be found in many places, the genuine and endearing nature of the people in Da Nang is truly special. The locals' welcoming demeanor and sincere charm make them a standout attraction, adding an invaluable touch to the overall experience of visiting this remarkable city.
Da Nang Food tour
Seafoods
Nestled along the picturesque coastline of Central Vietnam, Danang is renowned for its exquisite selection of fresh seafood. The local fisherman commence their daily market activities by offering their bountiful catch, providing a vibrant hub for seafood enthusiasts. In this culinary paradise, Danang's restaurants showcase an extraordinary range of seafood delicacies and specialties. From succulent slipper lobster and colossal jumbo shrimp to an array of freshly caught fish, the seafood options available in Danang are truly limitless.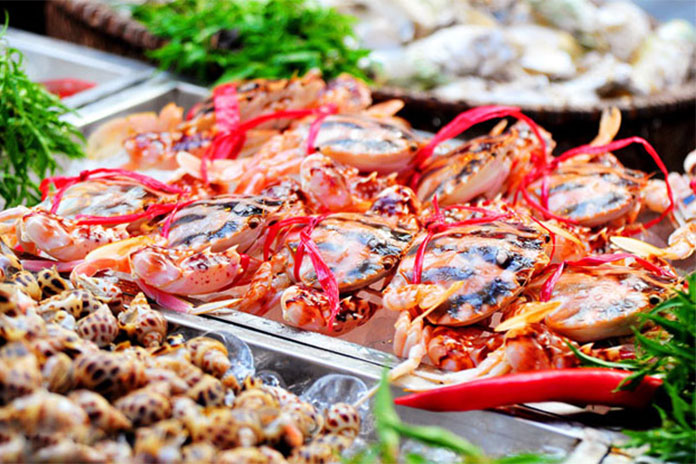 To savor the epitome of Danang's seafood delights, one must embark on a delightful journey to the beachside. Along the eastern coast, Vo Nguyen Giap Highway boasts several remarkable seafood restaurants, where one can relish the flavors of the ocean. Moreover, along the northern coast, Nguyen Tat Thanh Highway unveils an even greater multitude of options, ensuring that every seafood lover's cravings are effortlessly satisfied.
Banh xeo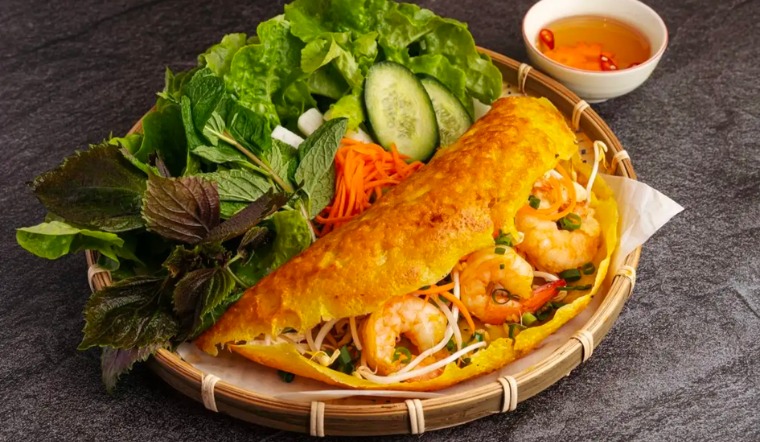 Banh Xeo, a renowned culinary gem adored throughout Vietnam, stands as one of the most iconic dishes originating from this enchanting Southeast Asian nation. Despite being commonly referred to as a "Vietnamese pancake," banh xeo bears little resemblance to its Western counterpart. This delectable creation is actually a delectably crispy rice flour and turmeric powder concoction, skillfully fried to perfection. Its savory nature delights the palate, with only a subtle hint of sweetness. The dish allows for a diverse range of fillings, catering to both vegetarian and meat enthusiasts. Often accompanied by succulent shrimp and savory pork, banh xeo is traditionally served alongside crisp bean sprouts, aromatic herbs, and vibrant green onions. And, of course, no banh xeo experience is complete without the inclusion of fish sauce for that irresistible touch of saltiness.
Mi Quang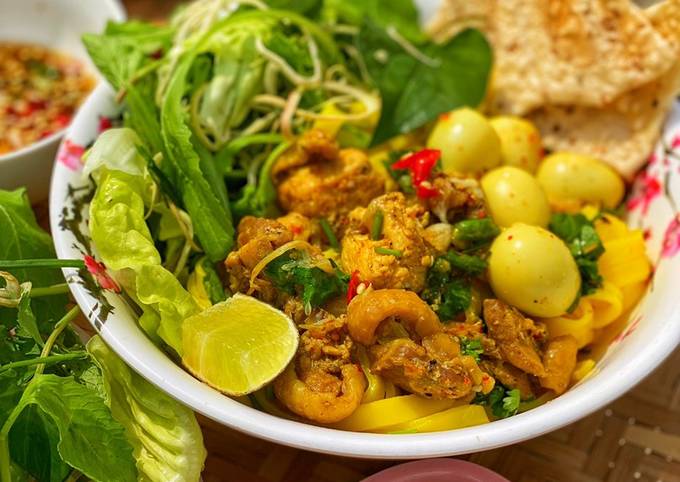 Exuding an enticing aroma and bursting with delightful flavors, Mi Quang stands tall as one of the most renowned culinary masterpieces hailing from central Vietnam. This captivating dish originated in the province of Quang Nam, drawing its name from the very land it represents. Its visual allure is undeniable, as vibrant yellow rice noodles take center stage, their hue deriving from the vibrant turmeric powder that infuses the dish with a robust and distinctive flavor. Adding to its allure, grilled meats and succulent fresh shrimp gracefully accompany the noodles, harmonizing with an aromatic broth that has been meticulously slow-cooked using the finest pork meat and bones. Vietnamese herbs such as coriander, cilantro, and crisp lettuce elegantly garnish the bowl, while a drizzle of nuoc mam (fish sauce) and a sprinkle of peanuts provide the perfect finishing touch. To relish the full depth of flavors, one can delightfully mix all the components within the bowl, creating a captivating symphony of tastes suitable for breakfast, lunch, or dinner.
Bun thit nuong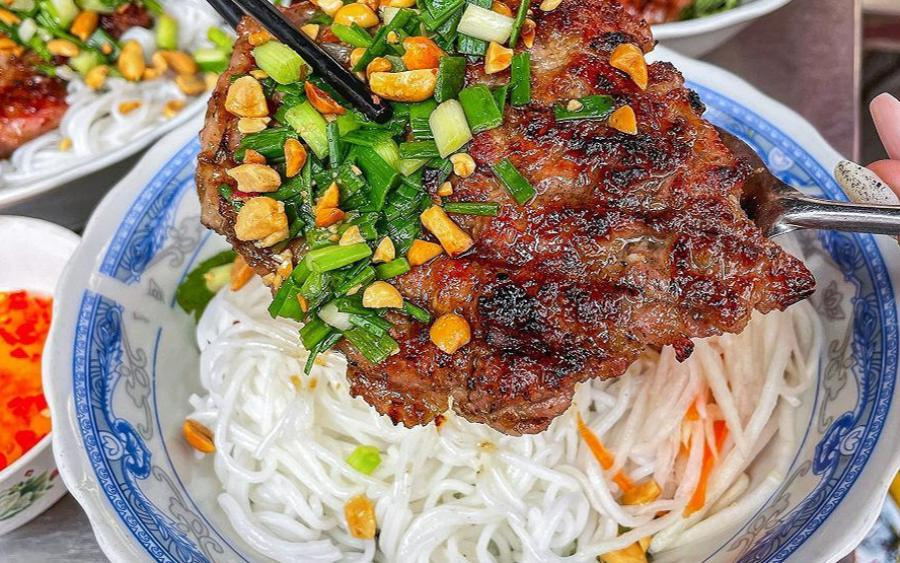 Bun Thit Nuong, a renowned delicacy cherished across Vietnam, possesses its own distinct variations in each province. In Danang, this tantalizing dish showcases its unique character by featuring wide rice noodles as its foundation. Gently nestled upon these tender noodles are succulent slices of roast pork, creating a perfect marriage of flavors and textures. To elevate the dish further, it is generously adorned with a vibrant array of Vietnamese herbs and aromatic spices. For an extra burst of flavor, the tantalizing trio of fish sauce, soy sauce, and chili peppers can be added, infusing the dish with an irresistible kick. Indulging in this culinary masterpiece guarantees a harmonious symphony of tastes, epitomizing the Danang rendition of Bun Thit Nuong.
Bun cha ca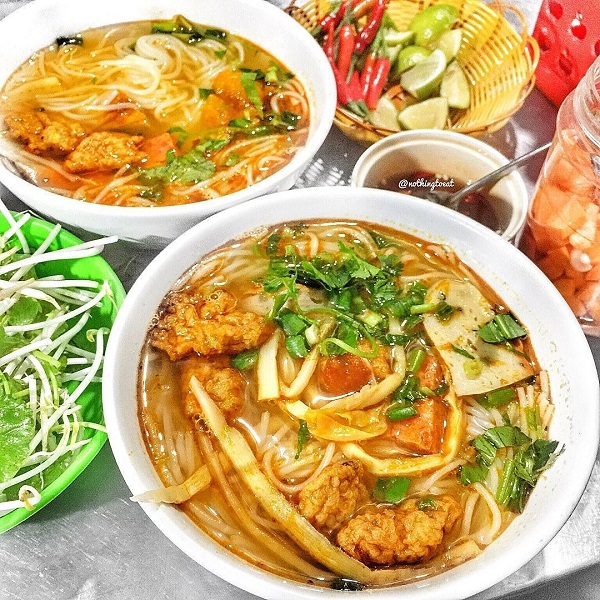 This remarkable dish has earned its rightful place as a beloved staple in the diets of countless Danang residents. Its popularity knows no bounds, transcending meal times as it graces the tables for breakfast, lunch, and dinner. Building upon the foundation of tender rice noodles, akin to the renowned Bun Thit Nuong, this dish introduces a delectable twist with the inclusion of mouthwatering fishcake. The result is a harmonious medley of flavors, enriched by an aromatic broth infused with an exquisite blend of herbs and spices, and of course, an abundant drizzle of the beloved fish sauce. Every spoonful unravels a symphony of tastes that captivate the senses, ensuring that this dish remains an unparalleled culinary experience in Danang.
 Stays in Da Nang
From a distance, Hanami has a modern and luxurious beauty. Possessing Japanese-style architecture with 2 main color tones, white and yellow. Hanami Hotel Danang always gives visitors a feeling of harmony, elegance and closeness, friendliness and peace from the very first moment.
More than a normal hotel space, when entering Hanami Hotel Danang even in the lobby and in the room, customers will be touched and overwhelmed by everything. From the overall design to every small detail, Hanami has meticulously presented in a subtle way. That makes it possible for visitors to comfortably check-in in virtual life, sharing the best moments with their family.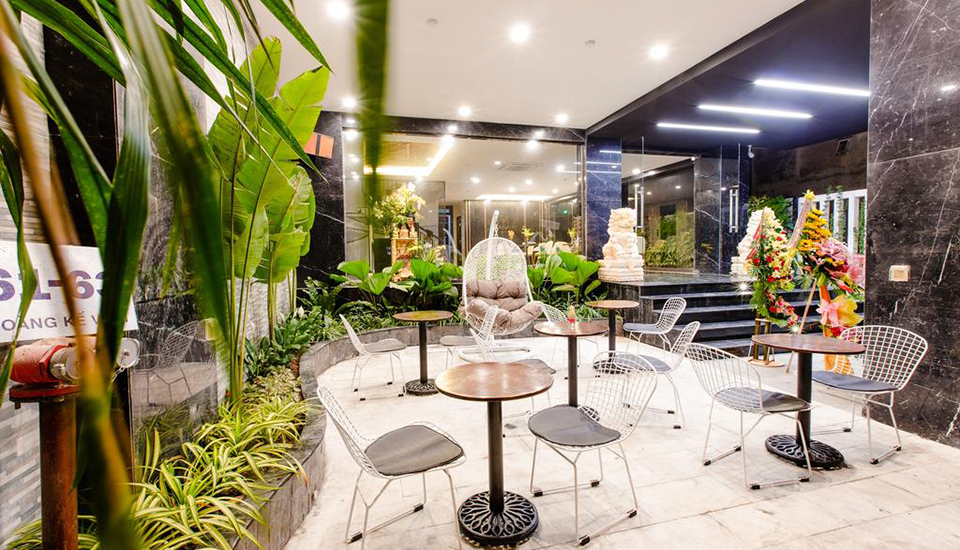 With the motto of bringing all the best amenities to visitors, all rooms at Hanami are invested with modern and convenient equipment such as: free wifi access, air conditioning, refrigerator, screen TV. flat screen, safe, bathtub, hair dryer, shower, toiletries and complimentary drinking water per room. Promises to bring maximum comfort for your stay at this cheap but luxurious hotel.
Hanami Danang Hotel has 5 main room types: Standard, Apartment, Superior Twin, Superior king, Family, divided into several classes according to the number of beds, room size and room location for guests to freely choose when staying at the hotel. This wonderful hotel.
In addition, all rooms at Hanami are designed with spacious airy space decorated elegantly and cozy, rooms with city view have wide glass doors, high floor rooms have city view. city. You will have a great experience in a luxurious room at a very affordable price.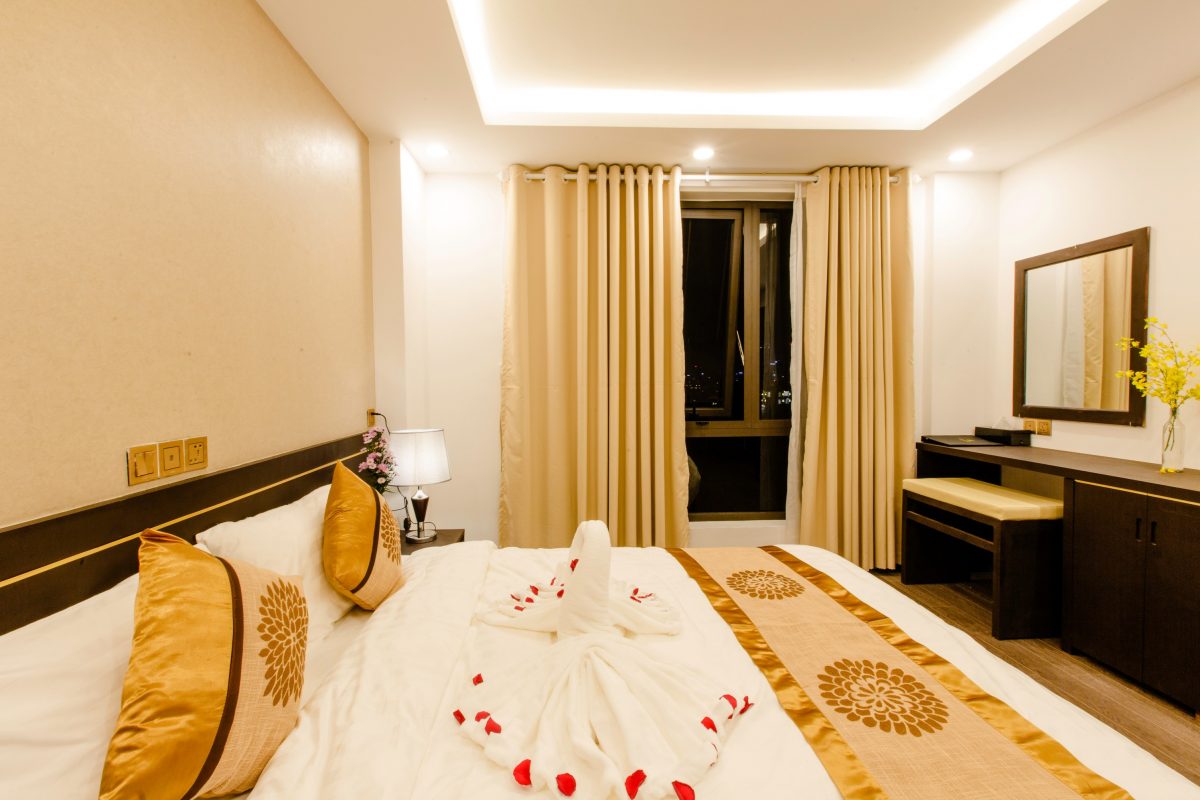 Attractions and attractions near Hanami Hotel
Hanami Hotel Danang is located at 61-63 Hoang Ke Viem, Da Nang – this is considered the most favorable location in Danang. From the hotel, guests can easily move to many famous tourist and sightseeing places of Da Nang. These include such as:
My Khe beach is only 500m from the hotel, only 5 minutes walk from the sea
Tay An Thuong Quarter – Hanami is located in the heart of Tay An Thuong Quarter.
Chau Thi Vinh Te Food Street – breaking the island with a variety of delicious and cheap dishes
Top 5 iconic bridges of Da Nang city. Only 5 minutes from Tran Thi Ly Bridge, only 7 minutes from Dragon Bridge, only 3km from the Han River and the city center.
Son Tra Night Market
Asia Park is the largest amusement park in Southeast Asia
Hanami Hotel Danang always accompanies every trip and brings the best travel experiences in life. Promises to be an interesting destination for tourists' vacation to become more complete.
Hanami Hotel Danang contact information:
Address: 61-63 Hoang Ke Viem, My An Ward, Ngu Hanh Son District, City. Danang
Website: https://hanamihotel.com/en
Maps: https://g.page/hanamihotel
Hotline: 0905432992
Email: [email protected]

Sea Me Boutique Hotel Danang – 04 An Thuong 30, Bac My Phu, Ngu Hanh Son, Da Nang
Sea Me Boutique is a 4-star hotel located near the beautiful My Khe beach. At the hotel, you can move to many different attractions and entertainment. The hotel is fully equipped with amenities such as television, air conditioning, wifi, and personal belongings.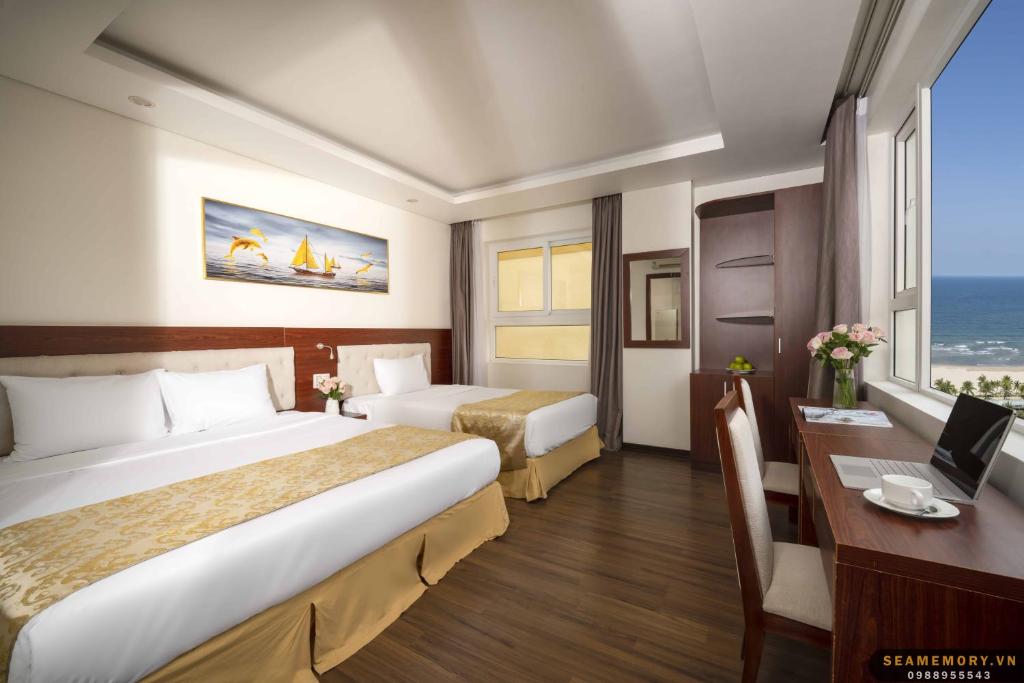 This 4-star hotel with enthusiastic, professionally trained staff.  The hotel also offers a variety of other services to its visitors. As a result, when choosing to stay here, you may refer to receive the greatest experience. From the hotel to Da Nang University of Architecture and Dong A University, visitors will take about 30 minutes by car.
Contact Info:
Address: 04 An Thuong street 30, Bac My Phu, Ngu Hanh Son, Da Nang

Hotline: 098 895 55 43
Pullman Danang Beach Resort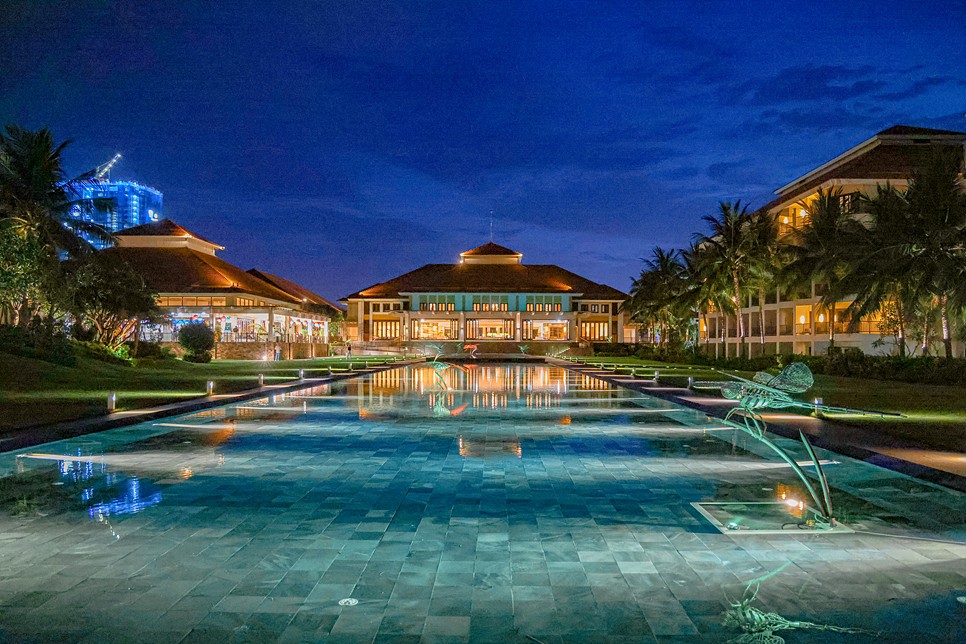 Whenever you stay at Pullman Danang Beach Resort. The hotel is very close to Bac My An Beach and Museum of Cham Sculpture. Hotel amenities include complimentary wired access to the world wide web, a 24-hour business center, and limo/town shuttle service. Planning an event in Da Nang? This 1743 square meter property includes a conference center and meeting rooms. So this is the best choice for you.
Balcona Hotel Danang – 288 Vo Nguyen Giap, Bac My Phu, Ngu Hanh Son
The 4-star Balcona Hotel Da Nang is located near Da Nang's My Khe Beach. The hotel is modern, with cutting-edge amenities to meet the needs of resort guests. If you are looking for a luxurious and Western-standard vacation, then Balcona Hotel is a great accommodation!
Balcona Hotel with a 22-storey system will meet the demands of many visitors during the peak seasons. The system of rooms is luxurious and well-equipped. Besides, the rooms are designed with a beautiful sea view balcony.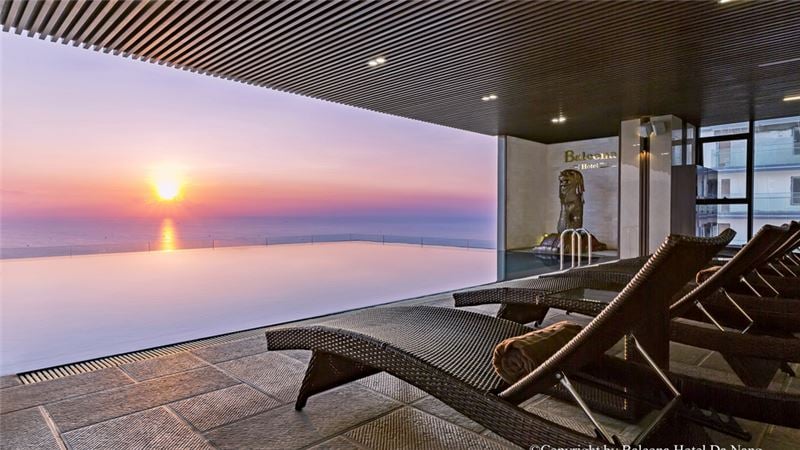 Balcona Superior Room: 37m2, 1 single bed or 1 double bed.
Balcona Deluxe Room: 37m2, 2 single beds or 2 double beds.
Balcony Premier Sea Front Room: 31m2, 1 double bed
Grand Premium Room: 45m2, 1 large double bed
Balcony Executive Premier Room: 40m2, 1 large double bed
Balcony Triple Sea Front Room: 40m2, 1 double bed and 1 single bed
Balcony Triple City Room: 40m2, 1 double bed and 1 single bed
Studio room: 75m2, 1 large double bed and 1 single bed
*-