Discover the top attractions in Kuching, Malaysia with our expert review. From historical landmarks to natural wonders – explore it all in this detailed guide.
Kuching Mosque – beautiful places to visit in Kuching
Kuching, the capital of Sarawak, is a beautiful and vibrant city that is rich in culture and history. It is one of the most famous attractions in Kuching Malaysia and attracts thousands of visitors every year.
The city's unique mix of cultures has created a vibrant and eclectic atmosphere that visitors can experience by exploring the many attractions on offer. One of the most beautiful places to visit in Kuching is undoubtedly the Kuching Mosq2ue.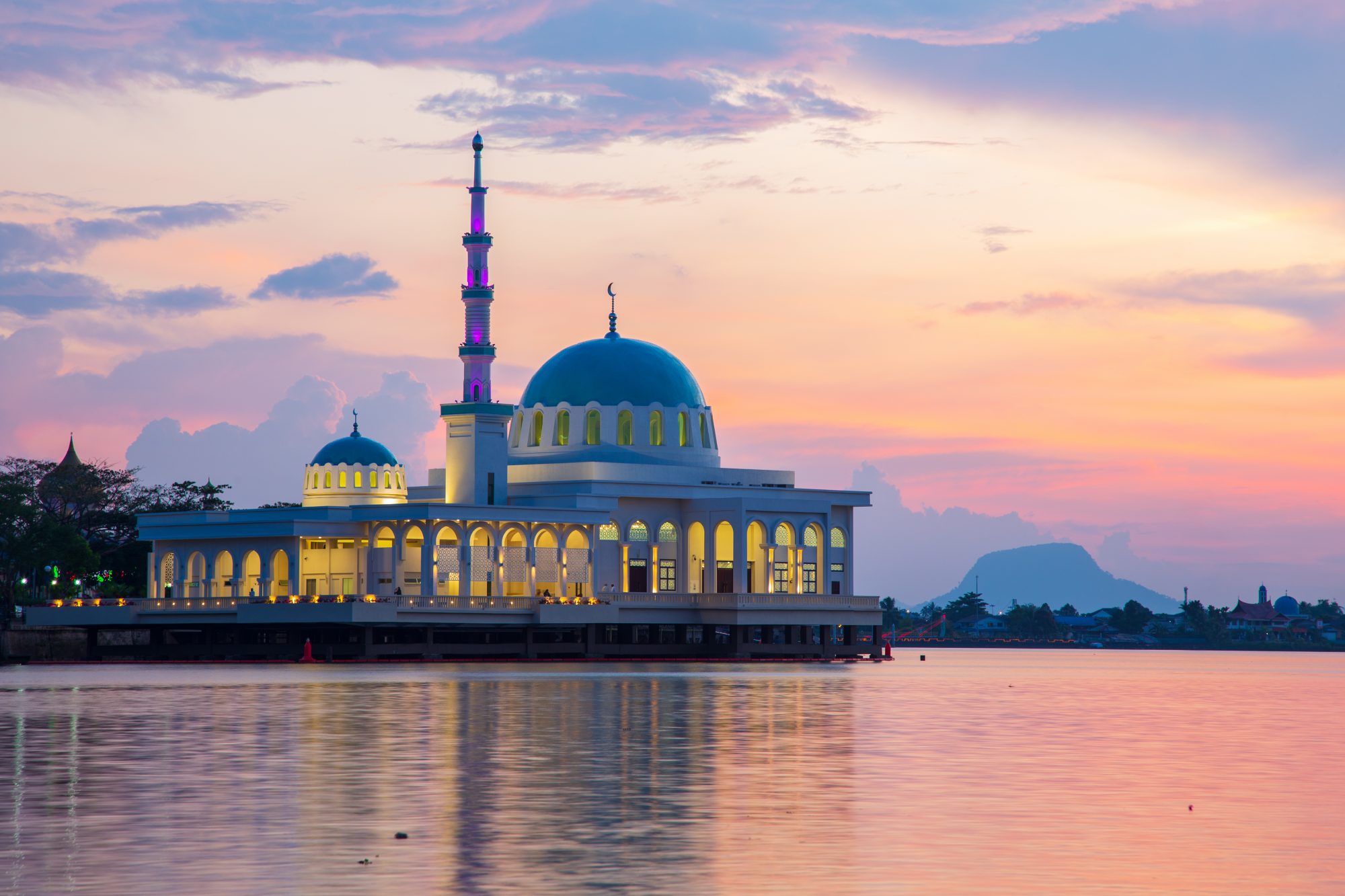 This stunning mosque is located on the banks of the Sarawak River, with its golden dome shining brightly against the palm trees. The mosque is a popular place for locals and tourists alike to come to pray or simply admire its beauty.
Built-in 1968, this mosque's architecture blends traditional Islamic design elements with modern technology. The mosque's main prayer hall can accommodate up to 4,000 worshippers at once, making it one of Malaysia's largest mosques.
Visitors are welcome to explore this impressive structure and appreciate its intricate details. The mosque's interior is equally magnificent, with beautiful stained glass windows depicting Islamic motifs and Arabic calligraphy adorning the walls.
These intricate designs are illuminated by natural light coming through skylights above creating a warm ambience for visitors. The best time to visit Kuching Mosque would be during sunset when it becomes an even more breathtaking sight as it glows orange under the last rays of sunlight for today.
It offers an incredible view across Sarawak River over Kuching city that will leave you mesmerized. Overall, Kuching Mosque should be on everyone's list when visiting Kuching and looking for things to do!
Strolling around the banks of the Kuching River
Kuching river is one of the most popular things to do in Kuching, Malaysia. In fact, it's one of the most picturesque spots in town.
The best time to take a stroll along the river is either early in the morning or late afternoon when temperatures are cooler and crowds are smaller. Walking along this riverbank is a great way to enjoy some fresh air and exercise while soaking up some local culture.
The Kuching River has several bridges that cross over it, including the iconic Darul Hana Bridge that spans 336 metres over the water and connects North City and South City. This bridge offers excellent views of both sides of the city and is especially beautiful at night when it's fully illuminated.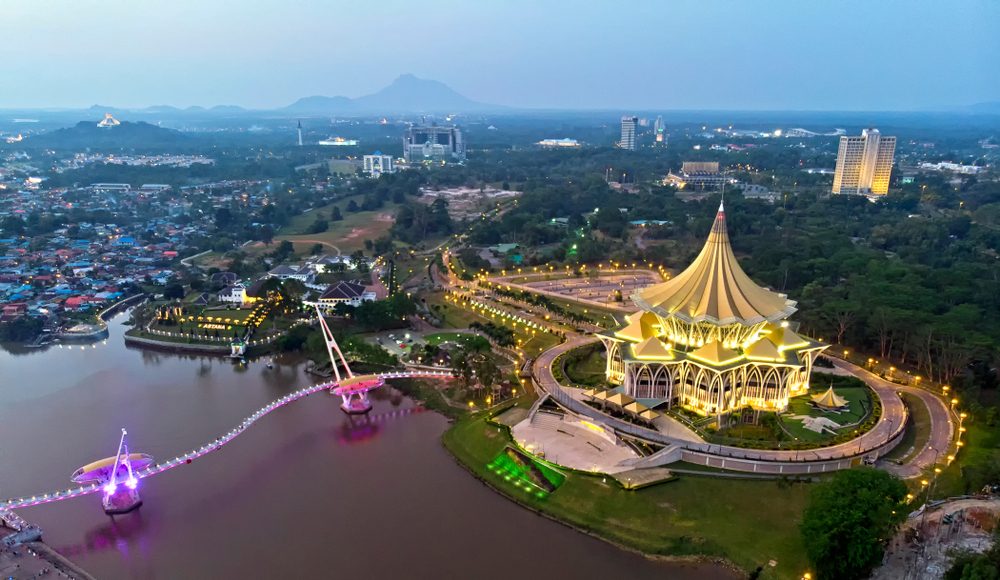 Walking across this bridge is an experience not to be missed. Along the banks of Kuching River, you'll find plenty of street vendors selling traditional snacks as well as souvenir shops selling various trinkets such as batik clothing, handmade crafts, and even hand-carved wooden statues.
There are also cafes and restaurants serving up local cuisine with outdoor seating overlooking the water giving you an opportunity to savor local delicacies while enjoying breathtaking scenery. One interesting attraction along these banks is a series of murals painted on walls near Jalan Carpenter, depicting scenes from typical life in Sarawak state.
These murals provide an insight into Borneo culture reflecting life on this side of Malaysia. If you're interested in learning more about how locals used to live alongside this river before modern times set in then head down towards Kampung Boyan where traditional wooden stilt houses still exist just beside modern buildings.Located on both sides of Sungai (River) Sarawak are rows upon rows of shop houses that have been preserved since colonial times making for a perfect walk through history.
Strolling around Kuching Riverbank gives visitors an opportunity to get away from the hustle and bustle of city life while taking in some of the best sights Kuching has to offer. A visit to Malaysia is not complete without a walk along this famous attraction in Kuching, Malaysia.
Astana Palace
Astana Palace is one of the most famous attractions in Kuching Malaysia.
It is located on the north bank of the Sarawak River, and it was originally built by the second White Rajah, Charles Brooke, as a wedding present to his wife Margaret. The palace was then used as a residence for the White Rajahs until 1946, after which it became the official residence of the Governor of Sarawak.
Today, Astana Palace serves as a museum and is open to visitors who want to learn more about its rich history. The museum has various exhibits showcasing different artifacts that belonged to the Brooke family.
Visitors can explore different parts of the palace such as its grand ballroom that features crystal chandeliers and intricate detailing on its walls and ceilings. One notable feature of Astana Palace is that it offers an excellent view of Kuching City across the river from its front lawn.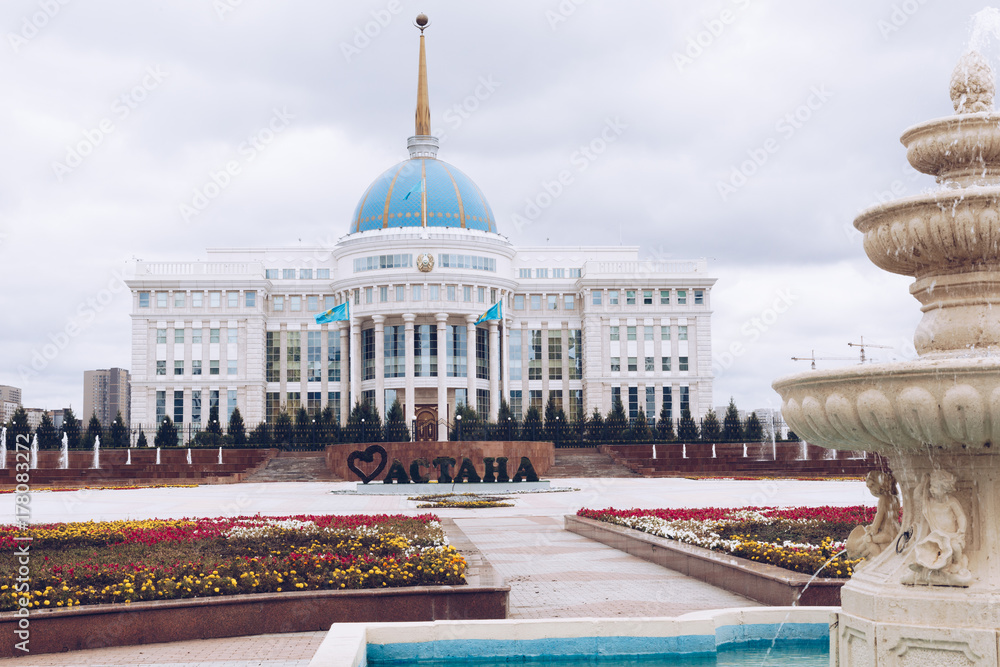 Visitors can enjoy scenic views while relaxing on benches or taking pictures with their loved ones. The palace also features beautiful gardens where visitors can take a stroll and enjoy fresh air while basking in nature's beauty.
The garden boasts well-manicured lawns, lush vegetation, large trees that offer shade during hot days, and fountains that add an extra touch of serenity to this peaceful oasis. If you're interested in history or architecture or just looking for beautiful places to visit in Kuching Malaysia, Astana Palace should be at the top of your list.
It offers an insight into how Sarawak was ruled by Brooke family under British Rule until 1963 when Malaysia gained independence from Britain. You'll be able to see how they lived their lives back then and get a glimpse into what it was like being part of royalty in Malaysia's colonial past.
Kuching Cat Museum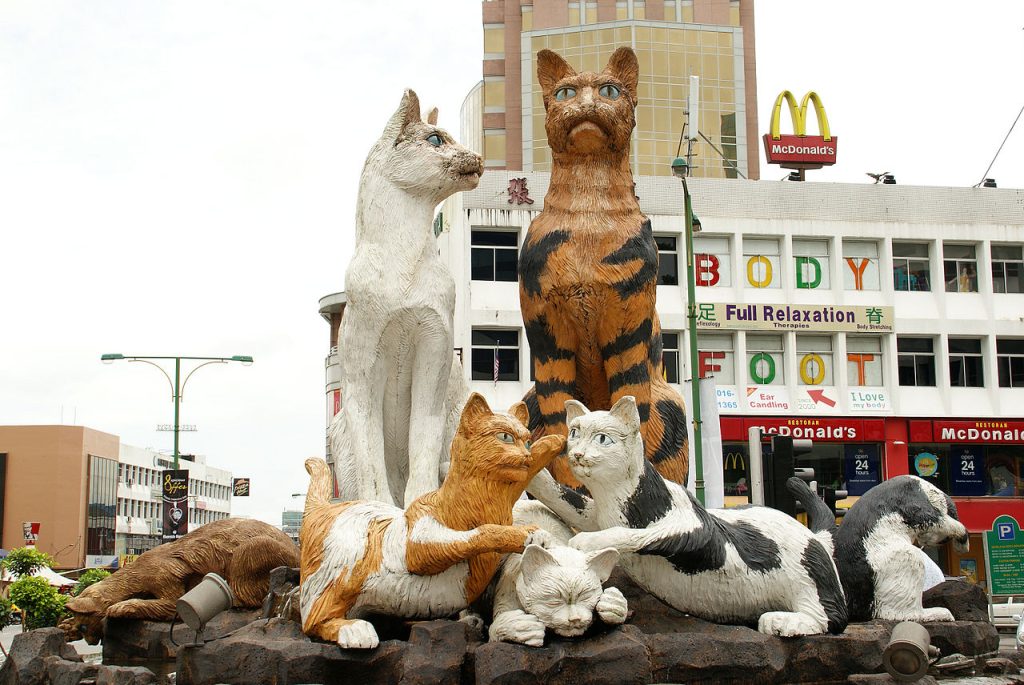 One of the famous attractions in Kuching Malaysia is the Kuching Cat Museum, a museum dedicated to the feline friends. The museum showcases various exhibits related to cats, including paintings, sculptures, and photographs.
Visitors can also learn about the history of cats in Malaysia and their significance in local beliefs. The museum is located on Bukit Siol hill and offers a panoramic view of Kuching city.
It is housed in a beautiful white building that was once a colonial-era hospital. Inside, visitors are greeted by giant cat statues at the entrance and are then transported into a world of everything-cats.
One section of the museum highlights the different breeds of cats found in Malaysia. Another section exhibits photographs and artwork from local artists inspired by cats.
Visitors can also learn about famous Malaysian cats like Mat Tiga, who was known for his ability to predict winning lottery numbers. Another highlight of the museum is its collection of cat-themed souvenirs available for purchase at its gift shop.
Visitors can buy cat-themed postcards, fridge magnets, books about cats, stuffed toys, and other mementos. Overall, if you're looking for something unique to do in Kuching Malaysia or just happen to be a cat enthusiast, a visit to the Kuching Cat Museum should definitely be on your list!
Tua Pek Kong Temple
is one of the most popular and revered places to visit in Kuching, Malaysia. Located on the banks of the Sarawak River, this temple is dedicated to Tua Pek Kong, the deity of prosperity and good fortune.
The temple has a rich history that dates back over a century and is considered one of the oldest Chinese temples in Kuching. The architecture of Tua Pek Kong Temple is impressive with its bright red roof tiles, intricate carvings, and beautiful ornamental decorations.
Visitors will be fascinated by the intricate details that cover every inch of the temple's facade. The interior of Tua Pek Kong Temple houses various altars that display various deities worshipped by devotees.
The temple has an impressive array of religious artifacts including incense burners, plaques inscribed with prayers, statues of gods, and dragons carved into wood or stone. You can also find some authentic local handicrafts sold within its compound.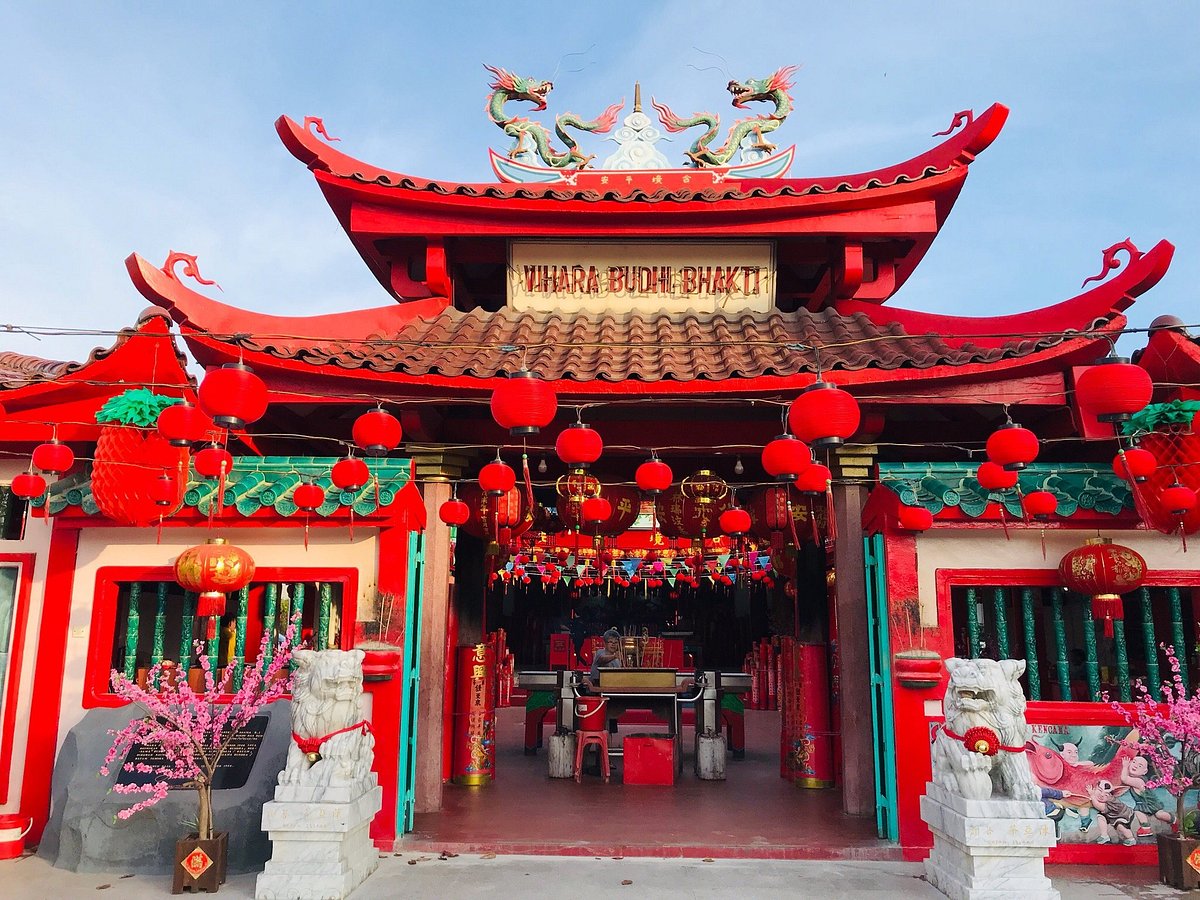 One unique feature that visitors can experience at Tua Pek Kong Temple is witnessing traditional Chinese festivals such as Chinese New Year and Mooncake Festival celebrated grandly within its walls. During these festivals, visitors can witness lion dances accompanied by drums and cymbals while enjoying traditional Chinese delicacies.
It's worth noting that visitors must show respect to those worshipping in the temple by wearing proper attire – long pants or skirts are required for both men and women – while entering inside it. Overall, visiting Tua Pek Kong Temple is an enlightening experience where you get to embrace not only Malaysian culture but also Chinese heritage deep rooted in Kuching's history.
See Rafflesia flowers in Gunung Gading National Park
Located about two hours from Kuching, Gunung Gading National Park is home to the world's largest flower, Rafflesia. Malaysia is one of the few countries where this unique flower can be found. The Rafflesia flower is a parasitic plant that grows on the Tetrastigma vine and can grow up to 3 feet in diameter.
It only blooms for a few days each year and has a pungent odor similar to rotting flesh. Visitors need to have a guide with them when visiting the national park as finding the Rafflesia flowers can be quite challenging.
The hike through the jungle requires visitors to go uphill and downhill through muddy terrain, so it is recommended that visitors wear proper hiking shoes and bring plenty of water. Once visitors find the Rafflesia flowers, they will see how unique these plants truly are.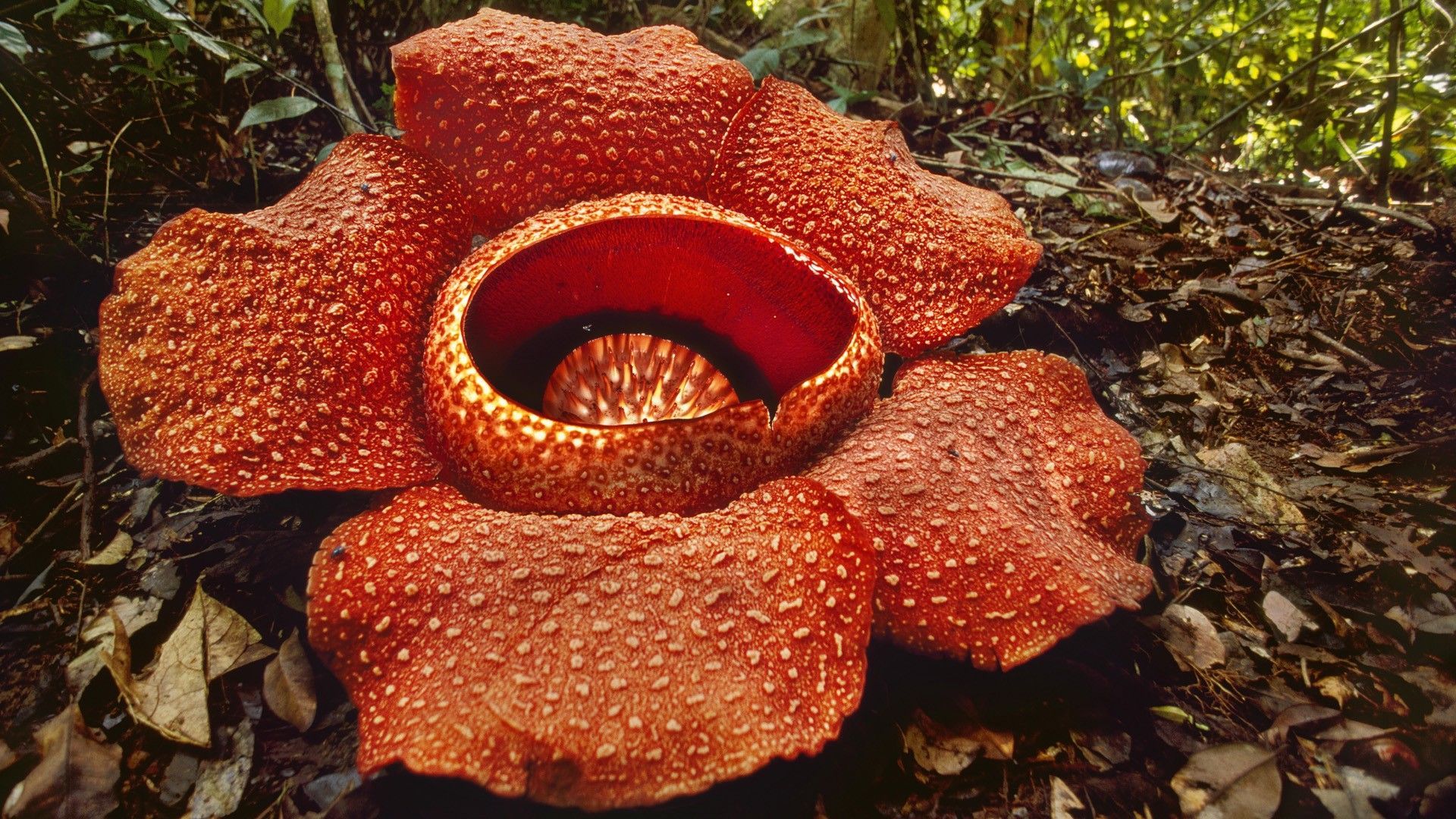 The flower has no stem or leaves and looks like it's growing directly from the ground. The petals are red with white spots that resemble scales, which contrasts beautifully against its green surroundings.
The best time to see Rafflesia in bloom is during its flowering season between November and January. Park rangers keep track of blooming times and locations for visitors who want to increase their chances of seeing this rare beauty.
In addition to viewing the Rafflesia flowers themselves, there are also other things to do at Gunung Gading National Park such as exploring its many waterfalls or taking a dip in one of its natural pools. For those looking for more adventure, there are also various hiking trails throughout the park that offer stunning views of Malaysia's lush rainforest.
Overall, visiting Gunung Gading National Park should be on every visitor's list when exploring famous attractions in Kuching Malaysia. Seeing a rare blooming Rafflesia flower up close is an unforgettable experience that cannot be found anywhere else in the world.
Fort Margherita
 Fort Margherita is one of the famous attractions in Kuching Malaysia that is worth visiting. The fort was built in 1879 by Charles Brooke, the second White Rajah of Sarawak. It was named after his wife, Margaret Alice Lili de Windt.
The fort was built to defend the city from pirates and other invaders who came from the sea. is located on a hill overlooking Sarawak River. Visitors can take a boat to reach the fort or climb a steep set of stairs leading up to it. The fort's architecture features a unique combination of Victorian and Malay styles, making it an interesting piece of history and culture for visitors.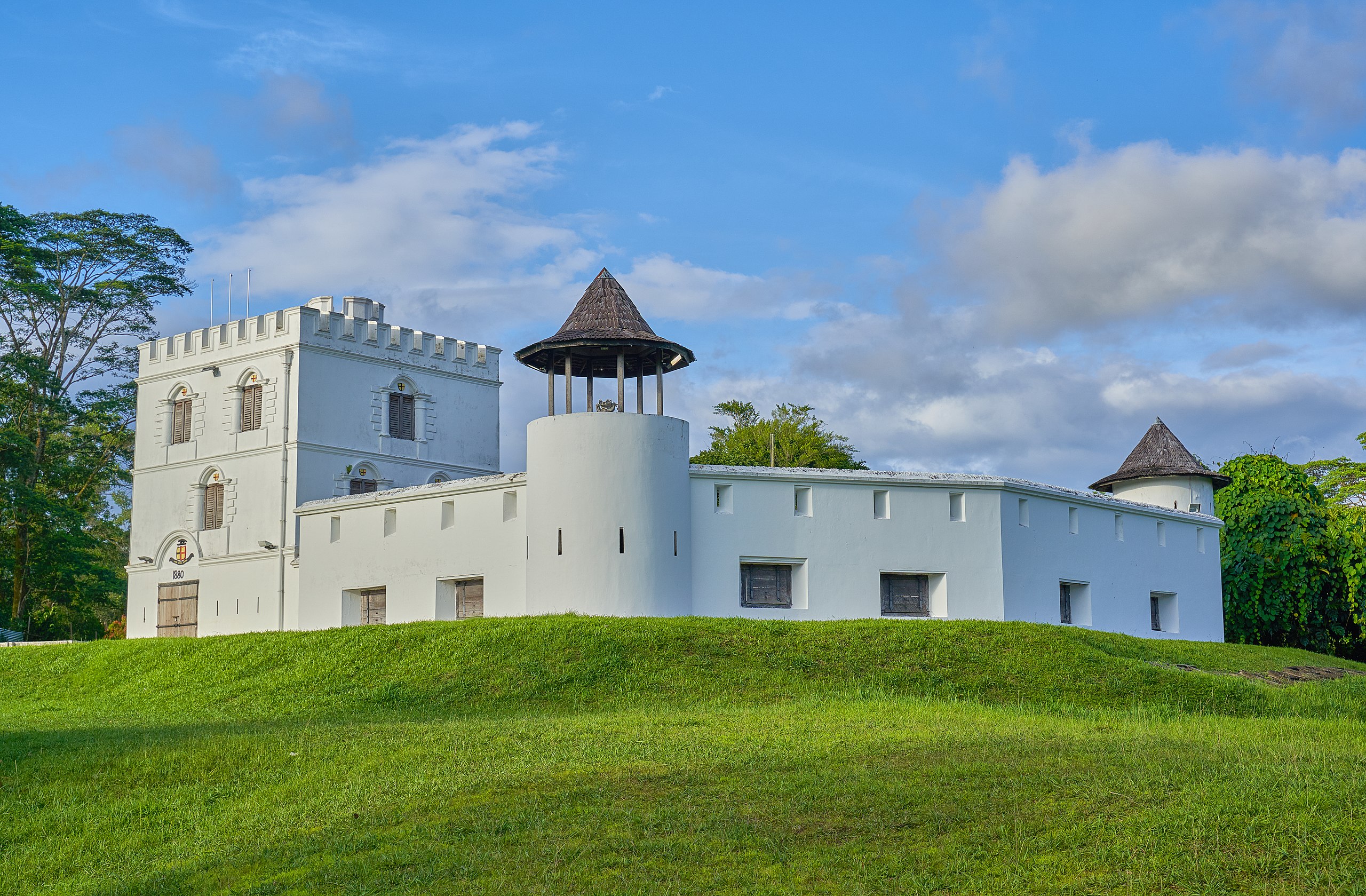 The interior of Fort Margherita has been converted into a museum, providing visitors with information about Sarawak's history under Brooke Rule. Exhibits include photographs of the White Rajahs and their families, as well as artifacts such as cannons and swords used during battles.
One of the highlights for visitors at Fort Margherita is the panoramic view it offers over Kuching city. From atop its walls, visitors can observe several landmarks such as Astana Palace across Sarawak River, Kuching Mosque nearby, and St Joseph's Cathedral in front of them.
also hosts cultural events throughout the year such as traditional music performances and local festivals like Hari Raya Aidilfitri and Chinese New Year celebrations. These events provide visitors with an opportunity to experience local customs and traditions first-hand.
Fort Margherita is one of Kuching Malaysia's most visited attractions due to its historical significance and stunning views over Sarawak River. Its unique architecture combined with its museum exhibits make it an exciting place to explore for both tourists and locals alike who want to learn more about Brooke Rule era in Malaysian history.
Satang Turtle Island National Park
Kuching, the capital of Sarawak, is known for its rich indigenous cultures and diverse wildlife. One of the most famous attractions in Kuching Malaysia is Satang Turtle Island National Park.
The park consists of two small islands, Pulau Satang Besar and Pulau Satang Kecil, located about 30 km from Kuching. The islands are a protected area and home to several species of marine turtles including green turtles, hawksbill turtles, olive ridley turtles and leatherback turtles.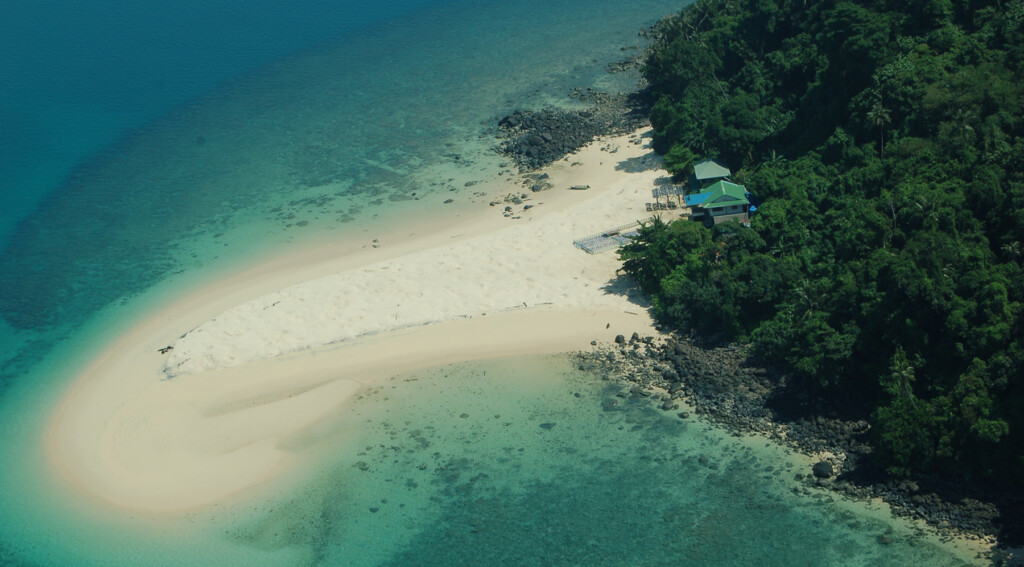 These endangered species use the beaches on these islands as their nesting grounds. Visitors can take part in turtle conservation efforts during their visit.
The park offers visitors a chance to see turtle hatchlings being released into the sea, an experience that is both exciting and educational. In addition to turtle conservation activities, visitors can also enjoy snorkeling or diving in the island's clear waters where they will find a wide variety of marine life including tropical fish, sea cucumbers and various coral formations.
The island also features beautiful beaches where visitors can relax while enjoying stunning views of the South China Sea. On one side of Pulau Satang Besar lies Telok Melano Beach which is known for its white sandy beach while on the other side lies Telok Pasir Beach which has a natural rock formation that resembles an elephant's trunk.
To preserve this natural wonderland for future generations to come, only a limited number of visitors are allowed per day. So it is essential to book your trip early to avoid disappointment.
Visiting Satang Turtle Island National Park should be at the top of your list when visiting famous attractions in Kuching Malaysia as it provides an excellent opportunity to witness nature at its best while contributing towards conservation efforts. It's truly an unforgettable experience!
Semenggoh Nature Reserve
 This is a famous attraction in Kuching, Malaysia, a must-visit destination for nature lovers. The nature reserve is home to the orangutans, an endangered species found only in the rainforests of Borneo. The Semenggoh Wildlife Centre is situated about 20 km to the south of Kuching and has been known for its successful Orangutan rehabilitation program.
It is a place where you can observe these gentle creatures as they roam freely through the rainforest canopy. The Semenggoh Wildlife Centre was established in 1975 with just two orphaned orangutans who were rescued from captivity.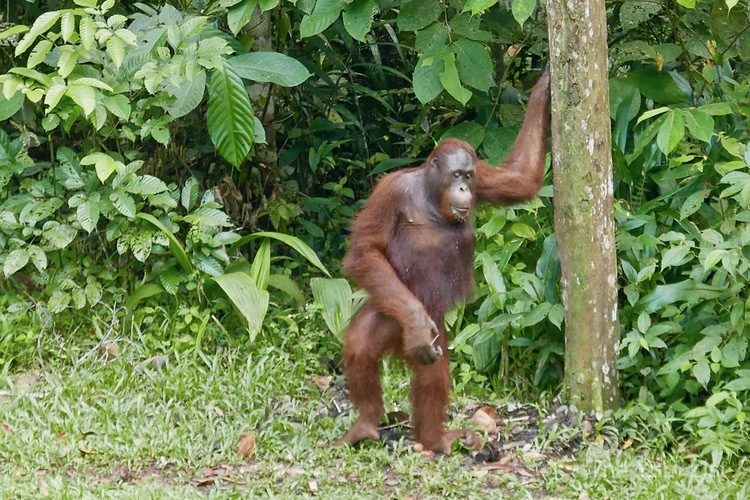 Since then, it has become one of the most successful wildlife centres in Malaysia and has helped to protect and conserve these magnificent primates. Visitors can watch the orangutans feed on fruits and other natural foods twice daily – once in the morning and once in the afternoon.
The reserve offers visitors not only an opportunity to see orangutans but also other exotic wildlife native to Sarawak, including sun bears, gibbons, hornbills, and various species of reptiles. There are also many walking trails throughout the reserve that allow visitors to immerse themselves into the lush rainforest environment.
While at Semenggoh Nature Reserve you can also learn about conservation efforts being made by local communities through interpretive displays set up on site. These displays explain how deforestation affects habitat loss for various native species such as orangutans and how various initiatives like reforestation projects are helping combat this issue.
Visiting Semenggoh Nature Reserve is an excellent way to experience Malaysia's biodiversity while learning about conservation efforts aimed at protecting natural habitats for future generations. With its fascinating history and beautiful scenery, it's no surprise that Semenggoh Nature Reserve remains one of Kuching's most popular tourist attractions today!
Main Bazaar
This is a famous attraction in Kuching Malaysia that offers visitors the chance to shop for souvenirs and local crafts. The bazaar is filled with shops and stalls selling everything from traditional textiles like sarongs and batik to wood carvings, pottery, jewelry, and more.
It's located near the riverfront, making it an easy stop for tourists exploring Kuching. Visitors should expect to bargain and haggle over prices at Main Bazaar.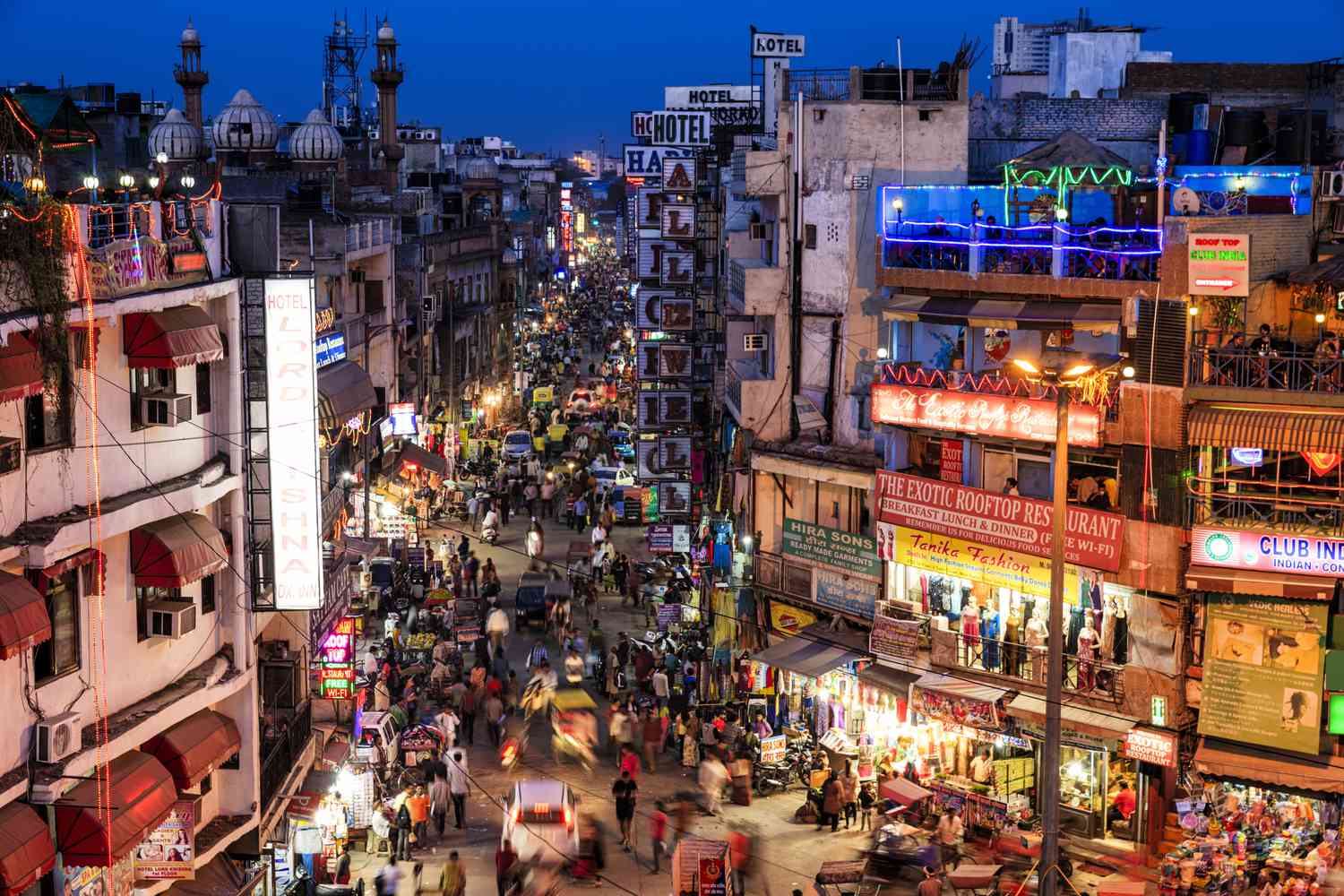 While some vendors may have fixed prices, many are open to negotiation, so don't be afraid to ask for a lower price if you feel something is too expensive. Bargaining is part of the experience at this vibrant market.
If you're looking for unique souvenirs or gifts to bring back home from Malaysia, Main Bazaar is a great place to start your search. There are countless shops selling items that are difficult or impossible to find elsewhere in the country or even the world.
You might find yourself browsing for hours just taking in all of the colorful wares on offer. Beyond shopping, there are also plenty of food stalls at Main Bazaar offering snacks and drinks like roasted chestnuts or coconut water.
Take a break from shopping and enjoy some local delicacies while taking in the bustling atmosphere of the bazaar. Overall, Main Bazaar is a must-visit destination for those interested in experiencing one of Kuching's most vibrant markets and gathering unique souvenirs or gifts from Malaysia that they won't find anywhere else.
Conclusion
Kuching is a city that never fails to fascinate and charm its visitors.
From the grandeur of the Kuching Mosque to the peacefulness of Semenggoh Nature Reserve, there is something for everyone in this beautiful city. The famous attractions in Kuching Malaysia offer visitors an opportunity to learn about the cultural heritage and natural beauty of Sarawak.
The Kuching Cat Museum is a must-visit destination for cat lovers around the world. The museum offers an extensive collection of cat-related items from Asia and beyond.
Visitors can also learn about the history and significance of cats in the culture and traditions of Sarawak. For those interested in history, Fort Margherita provides a fascinating glimpse into Sarawak's colonial past.
Built in 1879 by Charles Brooke, it was named after his wife. The fort now houses a museum displaying artefacts from Sarawak's colonial era.
The Semenggoh Nature Reserve provides an excellent opportunity for visitors to get up-close with orangutans, one of Malaysia's iconic animals. Visitors can witness feeding sessions as well as jungle trekking within this lush nature reserve.
Overall, Kuching offers a unique blend of culture, history and natural beauty that will leave visitors with unforgettable memories. Whether you're interested in exploring museums or experiencing breathtaking views at Gunung Gading National Park or Satang Turtle Island National Park, there is always something new to discover in this gem of Malaysia.
We highly recommend visiting Kuching if you're looking for a destination that promises both adventure and relaxation while exploring some famous attractions in Kuching Malaysia. With its rich history, diverse cultures and stunning scenery – it truly is one-of-a-kind city worth visiting!