Are you interested in traveling to Kuching – Malaysia's unique cat city but don't know how to go, is there anything attractive? So now, take a look at this detailed and complete Kuching travel experience.
Introduction about Kuching
Kuching, the capital city of the Malaysian state of Sarawak, is a vibrant and culturally diverse destination located on the island of Borneo. The word "Kuching" itself means "cat" in Malay, and the city is often referred to as the "Cat City" due to its numerous cat statues and feline-themed attractions. Beyond its feline associations, Kuching offers visitors a unique blend of modern development and rich traditional heritage.
With a history dating back centuries, Kuching is a melting pot of cultures, including Malay, Chinese, and indigenous tribes such as the Iban, Bidayuh, and Orang Ulu. This diversity is reflected in the city's architecture, cuisine, and festivals, creating a vibrant and multicultural atmosphere.
One of the city's main attractions is the picturesque Sarawak River, which flows through the heart of Kuching. Along its banks, visitors can enjoy a scenic waterfront promenade, lined with vibrant shops, cafes, and restaurants. The iconic Astana, a grand palace built in the 19th century, sits majestically on the riverfront, while Fort Margherita, a well-preserved fortress, stands guard on a nearby hill.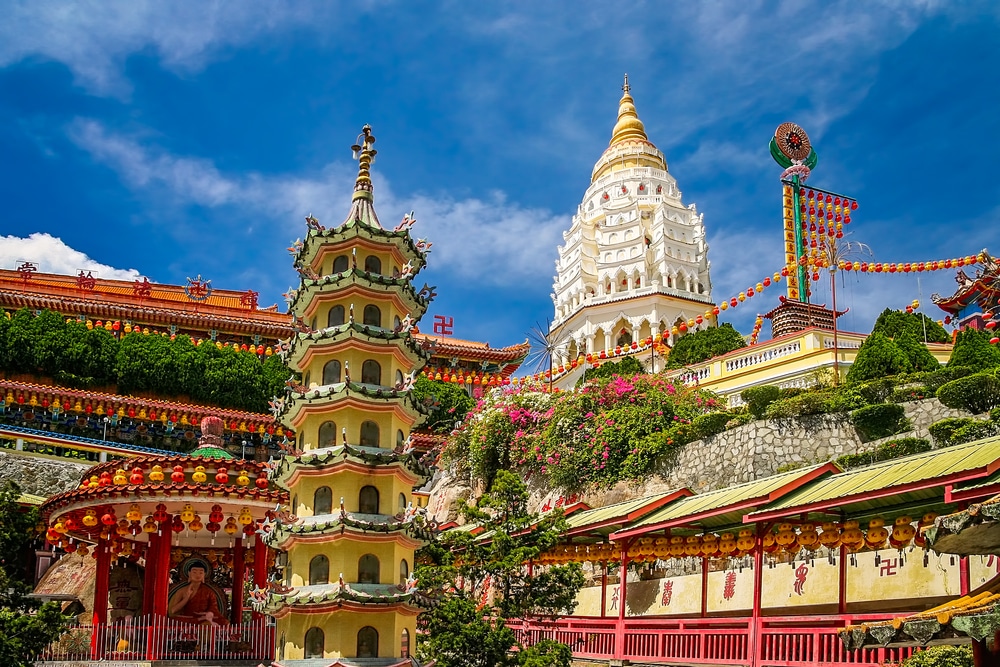 Kuching is also known for its green spaces and natural beauty. The city is surrounded by lush rainforests, making it an ideal base for exploring Borneo's diverse flora and fauna. Bako National Park, located just a short boat ride away, offers an opportunity to trek through jungle trails, observe wildlife, and relax on pristine beaches.
For those interested in culture and history, Kuching boasts numerous museums and historical sites. The Sarawak Museum, one of the oldest museums in Southeast Asia, showcases the region's rich cultural heritage and natural history. The Chinese History Museum provides insights into the Chinese community's contributions to Kuching's development, while the Sarawak Cultural Village offers a glimpse into the traditional lifestyles of the indigenous tribes.
Food enthusiasts will delight in Kuching's culinary scene, which offers a wide array of mouthwatering dishes. From Sarawak laksa, a flavorful noodle soup, to Kolo mee, a popular local noodle dish, and fresh seafood, there is no shortage of delectable options to satisfy any palate.
Kuching's charm lies not only in its attractions but also in the warmth and hospitality of its people. The locals, known as Kuchingites, are renowned for their friendliness and welcoming nature, making visitors feel right at home.
In summary, Kuching is a captivating city that blends history, culture, natural beauty, and modern development. Whether you're exploring its charming riverfront, immersing yourself in its cultural heritage, or embarking on nature adventures, Kuching offers a truly memorable experience that showcases the best of Borneo's diverse attractions.
What is the best season and month to travel to Kuching?
The best time to visit Kuching in that year is from about May to September every year. This is the time when Kuching has more sunny days than rainy days and loads of exciting entertainment activities such as:
Gawai Dayak Festival: taking place on June 1 and 2, this festival will feature delicious food markets, interesting performances and you will be able to visit the traditional Annah Rais longhouse for free. fee. Gawai Dayak festival is held in all localities in Sarawak state and Kuching is the largest local organization.
Gawai Carnival Redeems: This festival takes place at the end of June, held at the REDEEMS Center in Singai, Bau. The Gawai Carnival Redeems is organized to promote the traditions of the Bidayuh tribe to visitors.
World Music Festival: takes place on the 2nd week of July at Sarawak Cultural VIllage, Santubong. As one of the leading major festivals in Asia, inviting many famous singers from all over the world is extremely spectacular.
Bhr Padawan Nature Challenge: is a hiking and climbing competition that takes place in July at Borneo Highland Resort
Rainforest World Craft Bazaar: This fair, specializing in the sale of sophisticated and diverse handicrafts, is held on the 2nd week of July at Sarawak Cultural Village, Santubong.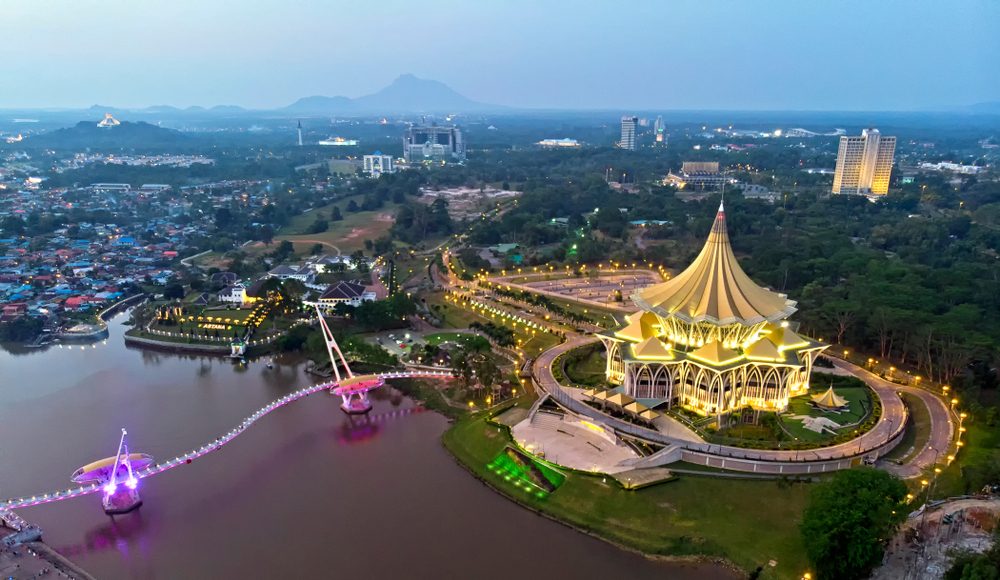 Kuching Festival: Kuching festival takes place throughout August in all over the city of Kuching. This festival will feature street marches, food fairs, and special performances.
With an interesting and self-sufficient Kuching travel experience, everyone should choose the dates of prominent festivals or events in Kuching to have the best trip.
Where should Kuching travel, which hotel has a good location?
Travel experience Kuching self-sufficient. Suggestions for choosing hotels in Kuching
Kuching tourism in which hotel is nice, good price?
Hotels in Kuching are concentrated mainly on the banks of the Sarawak River and near Kuching Airport. The following will be suggested hotels in Kuching with good location, good price with nice and comfortable rooms that you should choose:
The best hotels in Sarawak riverside area
– Astana Wing – Riverside Majestic Hotel: 5-star standard, price from 74$/night, large room from 28m2, with outdoor swimming pool, gym. 240m from Dai Ba Cong temple, 530m from Margherita fortress, 890m from Astana Palace, 910m from Sarawak museum, 8km from Kuching airport, breakfast is not free with some room types.
– The Ranee Boutique Suites: 4-star standard, priced from $70/night, large room from 27m2, free breakfast, massage service, no outdoor pool, 430m from Dai Ba Cong temple, Astana palace 460m, Margherita Fort 480m, Sarawak Museum 580m.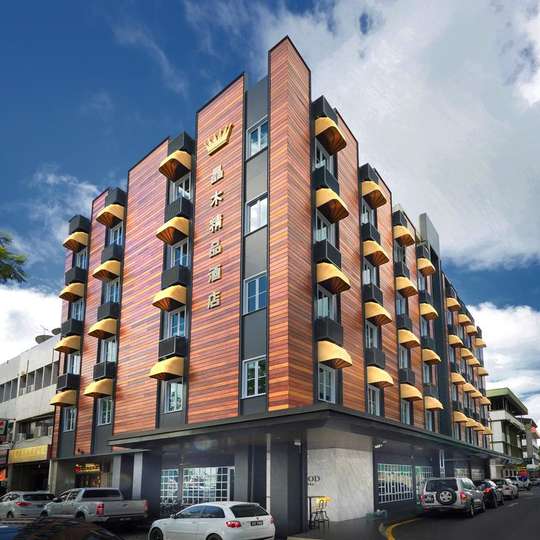 – Grand Margherita Hotel: 4-star standard, price from 47$/night, large room from 23m2, free breakfast, outdoor swimming pool and gym. 440m from Dai Ba Cong temple, 590m from Margherita fortress, 1km from Astana palace, 1.11km from Sarawak museum.
Imperial Riverbank Hotel: 3-star standard, priced from $27/night, room size from 22m2, free breakfast, 80m from Sarawak shopping center, 380m from Dai Ba Cong temple, 540m from Margherita fortress, 940m from Astana palace , Sarawak Museum 1km.
– Tune Hotel – Waterfront Kuching: 3-star standard, price from $15/night, large room from 11m2, cheap breakfast, 120m from Sarawak shopping center, 210m from Dai Ba Cong temple, 560m from Margherita fortress, museum Sarawak 880m, Astana Palace 910m.
Good hotels near Kuching . Airport
– Imperial Hotel: 4-star standard, price from $ 40/night, room from 32m2, with outdoor swimming pool, gym, massage, spa, wet sauna, 2.4km from Kuching airport, area along the Sarawak River about 5km
– Memoire Hornbill Hotel: 3.5-star standard, priced from 18$/night, large room from 20m2, free breakfast, 4.2km from Kuching airport, about 3.5km riverside area Sarawak
Traveling to Kuching, Malaysia, where should you go to play and visit?
The following are the famous tourist attractions in Kuching, Malaysia that you cannot ignore:
– Kuching Waterfront: located along the Sarawak River, this is the most beautiful night view in Kuching that you cannot ignore in this Kuching travel itinerary.
Cheap Kuching travel experience. Where to go to play in Kuching? Water front
Visit the Water Front in Kuching
– Upside Down House Kuching: In this house, everything is completely reversed and you will be spoiled for taking pictures, checking in.
Kuching travel experience: Attractive places to visit in Kuching – Upside Down House
Upside Down House in Kuching
– Take a boat to explore the Sarawak River: you can buy a ticket to board a boat to explore both sides of the Sarawak River and admire the beautiful scenery.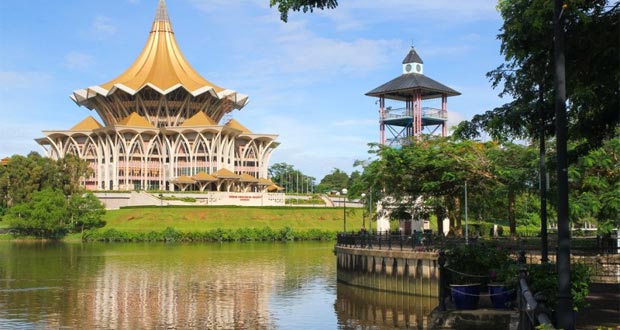 Kuching travel guide self-sufficient, cheap. Sailing on the Sarawak River in Kuching
Sailing on the Sarawak River in Kuching
– Kuching Mosque: Visit the architecture of the mosque is super beautiful and unique
Travel experience Kuching self-sufficient. Where to go to play in Kuching? Kuching Mosque
Kuching Mosque
– Sarawak Museum: A place to store a lot of artifacts and documents related to the formation and development of Kuching
Cat Museum Cat Museum, Petra Jaya, Sarawak: In this cat museum, there will be many models of cats of all sizes and colors, not in this there are many breeds of cats.
Kuching travel experience. Popular tourist destination in Kuching. Cat Museum
The Cat Museum in Kuching
– Bako National Park: If you love nature and like to immerse yourself in the tropical forest with many beautiful flowers, streams, beaches, birds for you to enjoy. With a fun Kuching travel experience, you should spend at least 1-2 days to explore Bako National Park.
Guide to the tour schedule, travel to Kuching Malaysia. Where to go and visit in Kuching, Malaysia
Bako National Park in Kuching
– Sunday Market Sunday Market: This market is open all day on Sunday, in the market there will be many items on sale with delicious dishes.
Kuching travel experience: Where to go and play in Kuching, Malaysia?
Sunday Market in Kuching
What should Kuching tourism buy as a gift, where to buy?
There are many things for you to buy in Kuching such as pottery, handicrafts, clothes, shoes, jewelry. If you don't know where to buy it, here are the famous markets and shopping centers in Kuching that you can choose from:
Plaza Merdeka: 88, Jalan Pearl, 93000 Kuching, Sarawak, Malaysia
Sunday Market Sunday Market at Medan Niaga Satok, District 309, Petra Jaya, 93050 Kuching, Sarawak, Malaysia
Kuching Waterfront Bazaar: Jalan Main Bazaar, 93000 Kuching, Sarawak, Malaysia
un Jugah Shopping Center: 57, Jalan Tunku Abdul Rahman, 93100 Kuching, Sarawak, Malaysia