If you like your towns and cities steeped in history, with atmospheric streets lined with heritage architecture, George Town in Malaysia should be on your travel bucket list.
George Town is one of those rare frozen-in-time cities which mingles with today's modern lifestyle lusts. It caters to the history buff and travel photographer but also the shopaholic and foodie fanatic.
George Town, the capital city of Penang state, is located on Penang Island in the North-West of Malaysia. It might be Malaysia's second largest city after Kuala Lumpur, but it's nowhere near as crazy and in your face as the country's capital. Especially in its quaint old town center.
We fell in love with George Town five years ago and have been going back ever since. We can't get enough of its unique multicultural charm and have seen it change over the years.
It's become a popular place to visit, but even with a growing number of tourists, it still maintains its laid-back vibes that keep us coming back for more.
 UNESCO World Heritage Site
Over the course of more than 500 years, George Town, which began as a humble village in Malaysia, has evolved into the vibrant city it is today. Throughout its history, the fusion of Asian and European influences has contributed to its distinctive multicultural heritage, evident at every turn. In recognition of its rich historical and architectural significance, George Town was granted the esteemed UNESCO World Heritage Site status in 2008.
George Town boasts a remarkable collection of over 12,000 old buildings that encompass a range of architectural styles. These include traditional Chinese shophouses, charming residential jetties, elegant churches, ornate temples, graceful mosques, and grand edifices representing the British colonial era. Many of these captivating structures are concentrated within the Lebuh Acheh historical enclave, allowing visitors to easily explore the area on foot.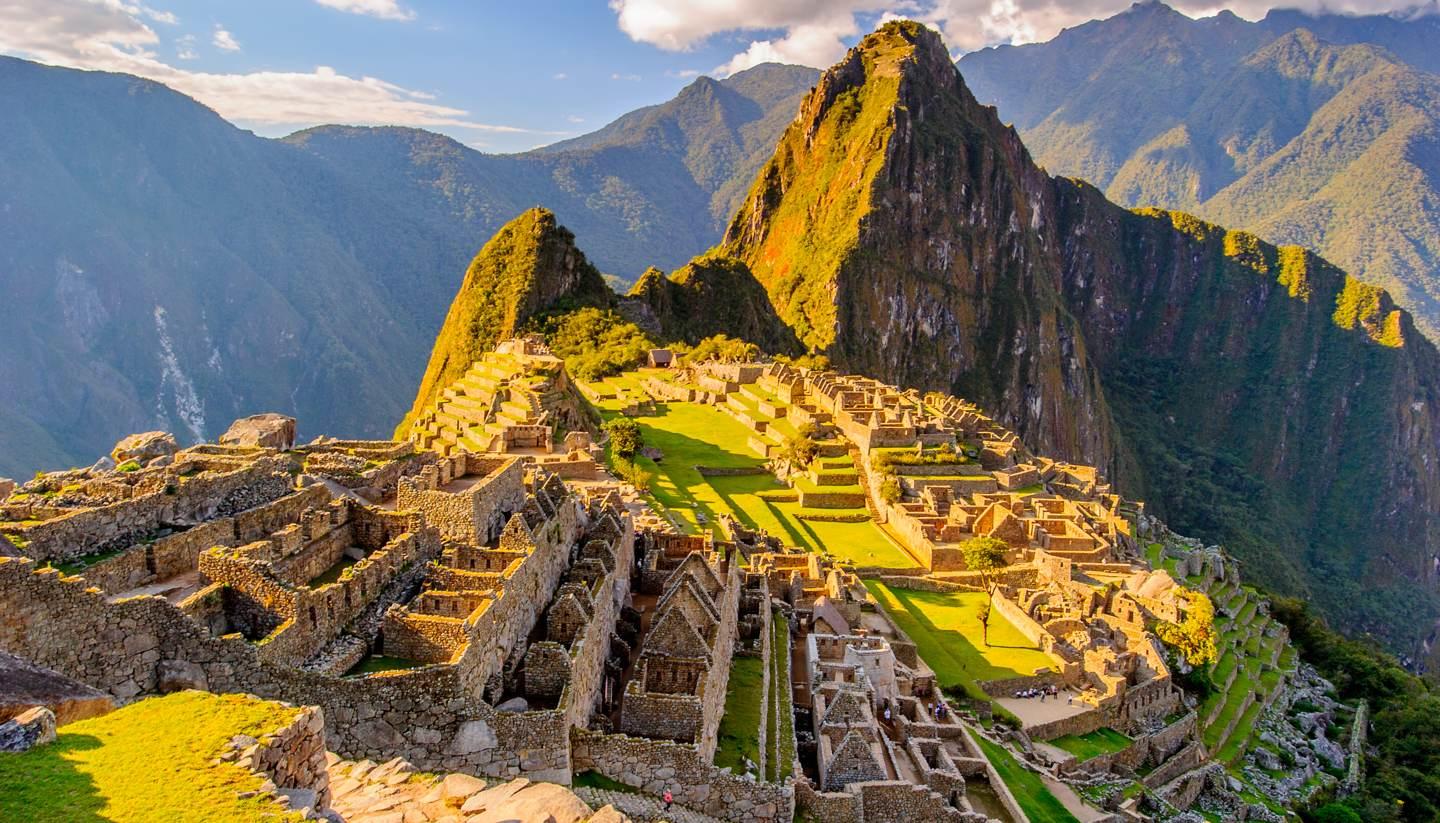 Wandering through the streets of George Town, one can immerse themselves in the living history of the city. The Chinese shophouses, adorned with intricate facades and vibrant colors, offer a glimpse into the past as bustling centers of commerce. The residential jetties, built on stilts above the water, provide insight into the unique way of life of the city's waterfront communities.
Religious diversity is another hallmark of George Town, with an array of churches, temples, and mosques that showcase the city's multicultural fabric. These sacred sites stand as testaments to the harmonious coexistence of different faiths within the community.
Additionally, the grand British colonial government offices and monuments add a touch of colonial splendor to the cityscape. These architectural gems reflect the historical importance of George Town as a significant trading port during the colonial era.
Together, these well-preserved buildings and landmarks weave a captivating tapestry of George Town's rich past, offering visitors a delightful journey through time. The UNESCO World Heritage Site designation serves to safeguard and celebrate the city's cultural and architectural treasures for future generations to explore and appreciate.
Street Art in Penang
Ever since receiving its UNESCO distinction, George Town has experienced an extraordinary surge in its street art scene. The catalyst for this creative explosion was the government's commissioned exhibition called "Sculpture at Work" in 2008. This captivating display featured 52 ironwork masterpieces that are now scattered throughout the old town, offering glimpses into the rich history and diverse community of George Town.
Since the initial exhibition, numerous artists have been invited to contribute their talents, adorning the weathered walls of heritage buildings with their artistic expressions. Notable contributions include the captivating works of artists such as Ernest Zacharevic and Julia Volchkova, which have become iconic symbols of the city's vibrant street art culture.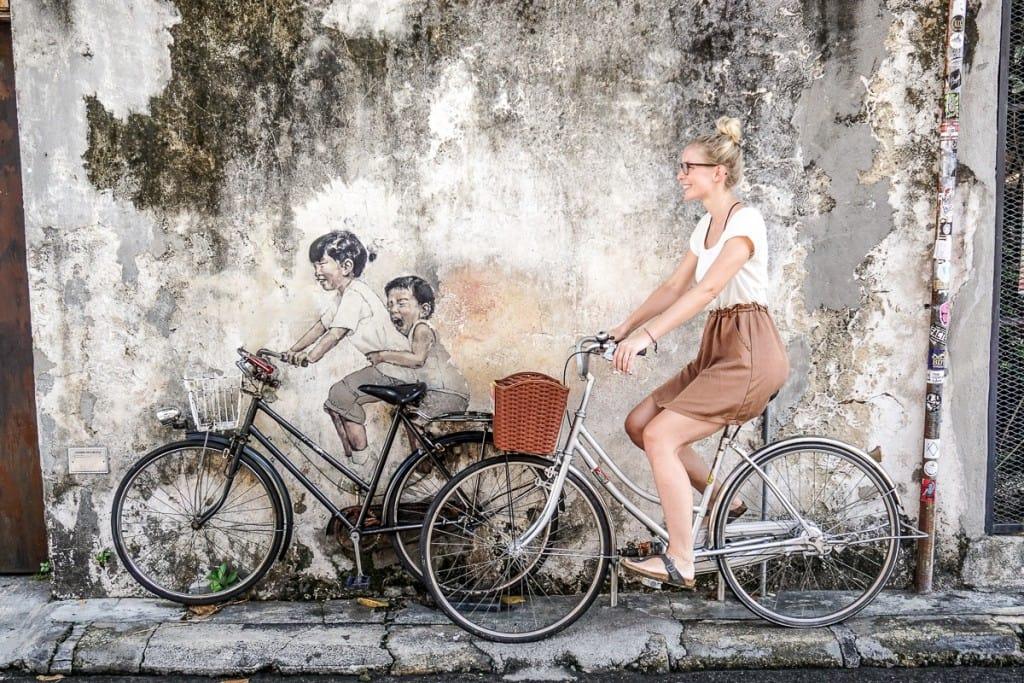 Exploring the street art has become a popular endeavor for tourists, who often embark on a mission to discover and photograph each piece. Street art maps are readily available to aid visitors in navigating the streets, ensuring no artwork is left unseen. With cameras at the ready, enthusiasts capture Instagram-worthy shots of the diverse and thought-provoking artworks that grace George Town's walls.
For a more immersive experience and to ensure you don't miss any hidden gems, consider joining a street art tour led by a knowledgeable local guide. These tours not only provide insights into the artwork but also offer an opportunity to engage with the guide, who can share their favorite local restaurants, lesser-known attractions in Penang, and other insider tips.
Exploring George Town's street art scene has become a delightful pursuit, as it allows visitors to appreciate the fusion of art, culture, and heritage that defines the city. The UNESCO recognition has not only preserved the historical essence of George Town but has also fostered a dynamic and captivating street art culture that continues to evolve and inspire.
Coffee Shops in Penang
In recent years, George Town has witnessed a remarkable surge in its coffee shop culture, reminiscent of the burgeoning scene found in many Asian towns and cities. These coffee shops not only excel in crafting exceptional coffee but also provide inviting and offbeat spaces for patrons to enjoy their brew. The artistic ambiance that originated on the streets has permeated the interior spaces, contributing to the growth of creative coffee shops, bars, and restaurants that exude a trendy, hipster vibe reminiscent of London, Berlin, and New York.
One option is to immerse yourself in the contemporary coffee scene, where you can discover a plethora of unique coffee shops that showcase exceptional craftsmanship and a quirky atmosphere. These establishments have embraced the artistic flair of George Town and have become havens for creativity, offering a delightful blend of delicious beverages and visually appealing surroundings.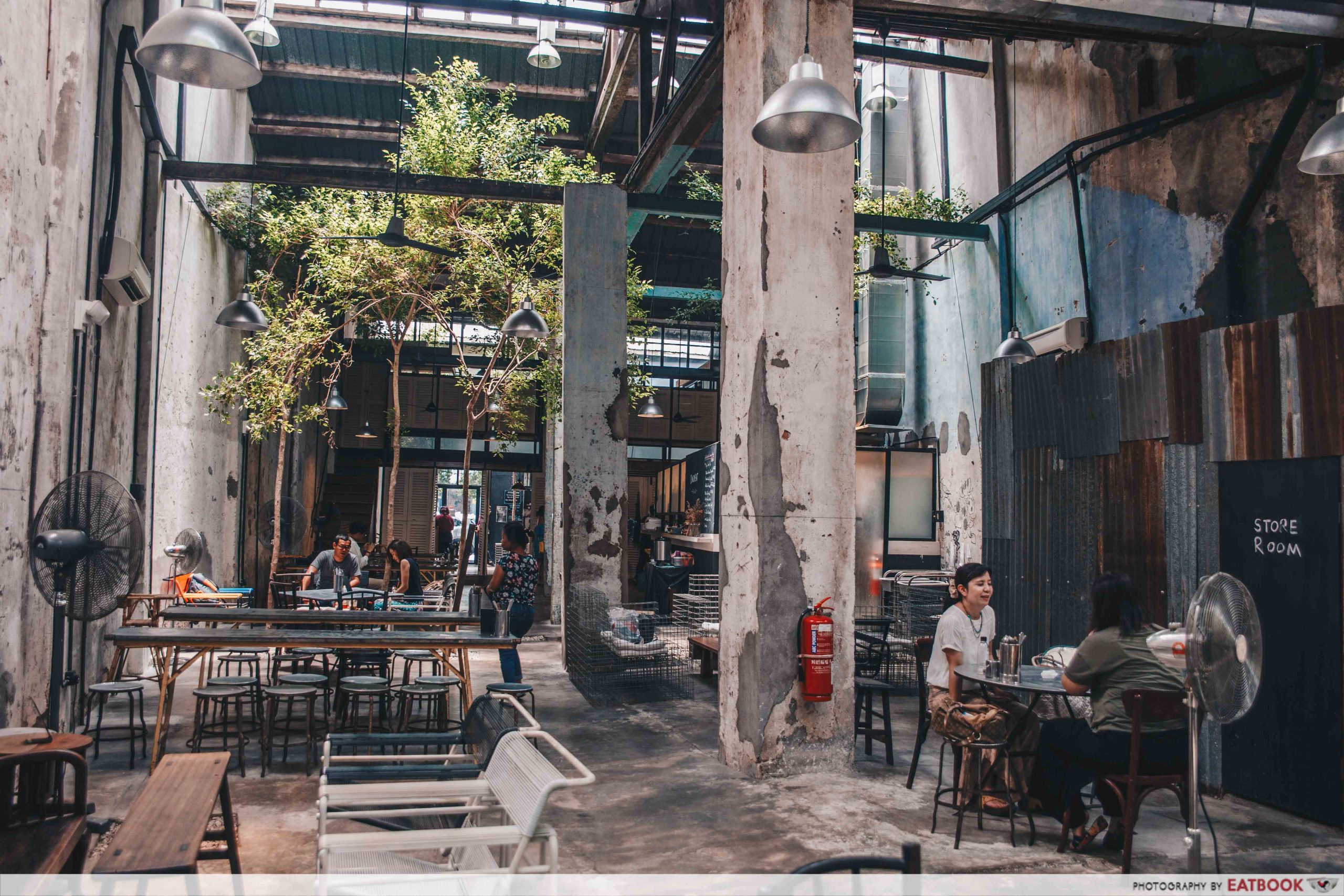 On the other hand, a more traditional experience awaits at the cherished Kedai Kopi shops, where you can savor the famous Ipoh White Coffee that has captured the hearts of many. These establishments provide an authentic taste of Malaysian coffee culture, allowing you to indulge in the rich flavors while enveloped in the historic ambiance of the Chinese shophouses that house these delightful cafes.
Whichever path you choose, most coffee shops in George Town are nestled within the iconic Chinese shophouses, presenting an opportunity to enjoy your cup of Joe within the confines of Malaysian history. The fusion of coffee, culture, and heritage creates a unique and memorable experience, where you can sip your coffee while appreciating the architectural charm and historical significance of these cherished buildings.
George Town's coffee shop scene has truly flourished, offering a range of options to cater to every taste and preference. Whether you find yourself in a contemporary artistic space or a traditional Kedai Kopi shop, the coffee culture in George Town is sure to delight both coffee aficionados and history enthusiasts alike.
 Street Food
Penang, known across Malaysia for its culinary wonders, stands unrivaled when it comes to gastronomic delights. The streets of George Town offer an abundance of mouthwatering dishes that showcase the region's culinary prowess. If any concerns arise about street food, rest assured that Malaysia has made significant strides in enhancing food hygiene standards, making it a safe and enjoyable experience.
For a mere $1.50 per plate, you can relish in the flavors of some remarkable dishes, including:
Assam Laksa – A delightful noodle soup with a perfect blend of sweetness and sourness, prepared using fruit juice.
Char Kway Teow – A spicy, stir-fried noodle dish featuring prawns, cockles, chicken, and shallots, bursting with robust flavors.
Pasembur – An Indian salad featuring potatoes, tofu, fish, and cucumber, generously coated in a delectable sweet and nutty sauce.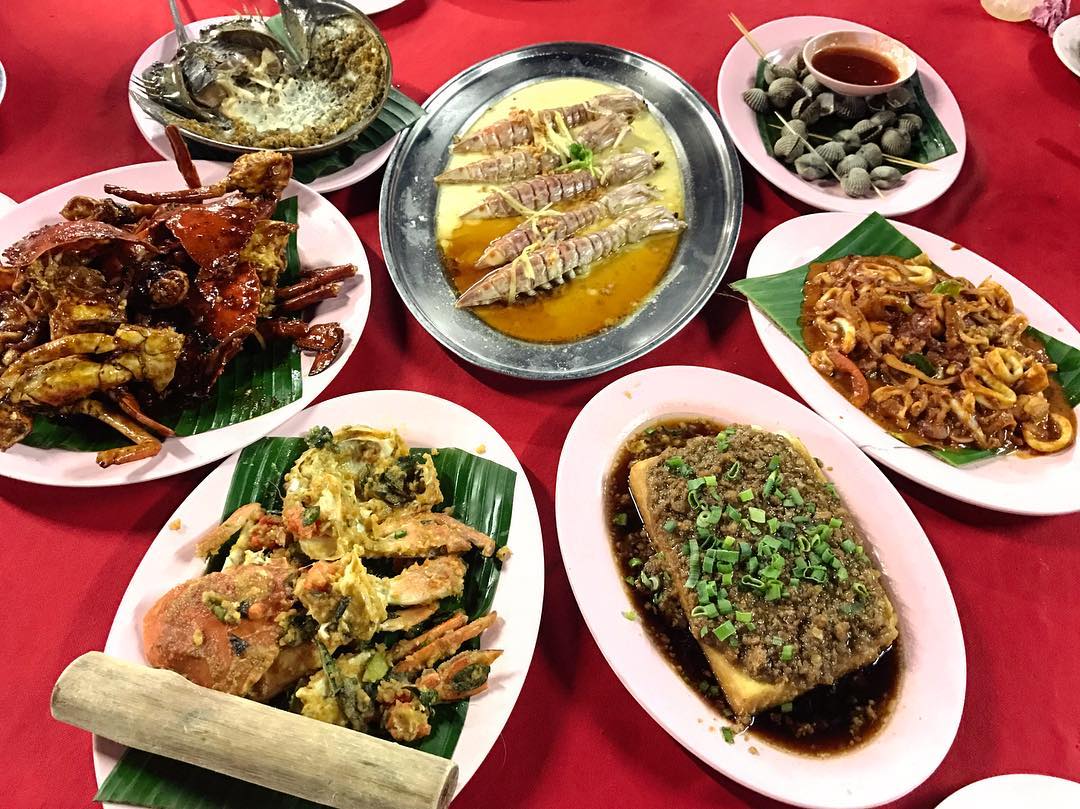 Popiah – A delectable spring roll filled with soybean curd, eggs, vegetable stew, and Chinese lettuce, offering a delightful mix of textures and flavors.
Nasi Kandar – A delectable medley of rice and an assortment of curry sauces, resulting in a delightful explosion of flavors.
Cendol – A refreshing shaved ice dessert sweetened with palm sugar and coconut milk, topped with red beans and sweet corn, creating a harmonious blend of flavors.
If you're eager to sample a wide array of local delicacies, embarking on a food tour in Penang is highly recommended. By joining a food tour, you'll have the opportunity to indulge in a diverse range of culinary delights and explore the local food scene to its fullest.
For a concentrated hub of street food vendors, make your way to Lebuh Chulia, Lebuh Kimberley, and Medan Renong food court. These areas are teeming with food stalls offering an array of delectable treats that will leave your taste buds fully satisfied.
Penang's street food scene is an adventure for the senses, inviting you to embark on a delightful culinary journey. From the bustling streets of George Town to the hidden gems of food courts, Penang's culinary offerings are sure to leave you craving for more.
Little India
Nestled within the historic old town, George Town's Little India is a vibrant and bustling Indian neighborhood that holds a special place among the various Little India communities we have explored worldwide.
As you step into Little India, you'll be greeted by a kaleidoscope of colors adorning the streets. The vibrant sari shops offer a mesmerizing array of rainbow-hued garments, while the air is filled with the enticing aroma of spices emanating from Indian grocery stores. The neighborhood is adorned with Hindu temples, their ornate facades standing as a testament to the rich cultural heritage.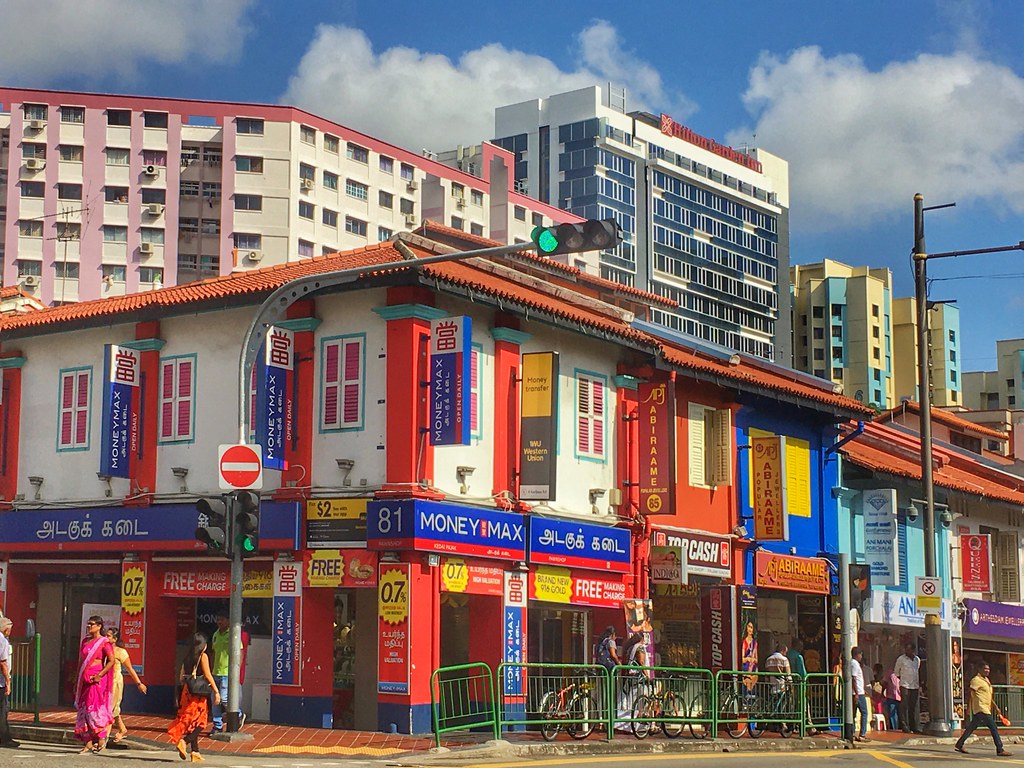 One cannot resist the allure of the Indian eateries that line the streets, tempting passersby with the tantalizing flavors of authentic Indian cuisine. As you stroll through Little India, the lively beats of Bollywood music reverberate through the air, adding a lively ambiance to the surroundings.
For an enchanting experience, visit Little India in the evening when the neighborhood comes alive. The streets are illuminated by hanging multicolored lights, creating a magical atmosphere. Stallholders set up their vibrant displays, offering a variety of Indian sweets and treats that are simply irresistible.
George Town's Little India encapsulates the spirit and charm of Indian culture, providing a delightful escape into a vibrant world of colors, flavors, and traditions. It's a place where the senses are awakened, immersing visitors in a rich tapestry of sights, sounds, and tastes that will leave lasting memories.
 Shopping
There are some nice little boutique shops within the Chinese shophouses selling things like crafts, home furnishings, fashion, and jewelry, but if you want a full-on shopping experience, head to Komtar. Just on the very edge of old town, the Komtar shopping mall has five levels of high street and designer shops. Brands include H&M, Sony, Cotton On, Nikon, and Digi.
On the top floor is the Komtar food court, with a large selection of Malaysian and Western dishes to choose from. Prices are only a few cents higher than food stalls found on the streets, but portions are much bigger!
 Hotels in Penang
George Town attracts every kind of traveler, so it doesn't matter if you're looking for 4-star luxury or a bunk in a budget hostel, George Town has it covered. There are plenty of modern hotels to choose from with all the amenities you'd expect, but the best places to stay in George Town are within the restored colonial buildings.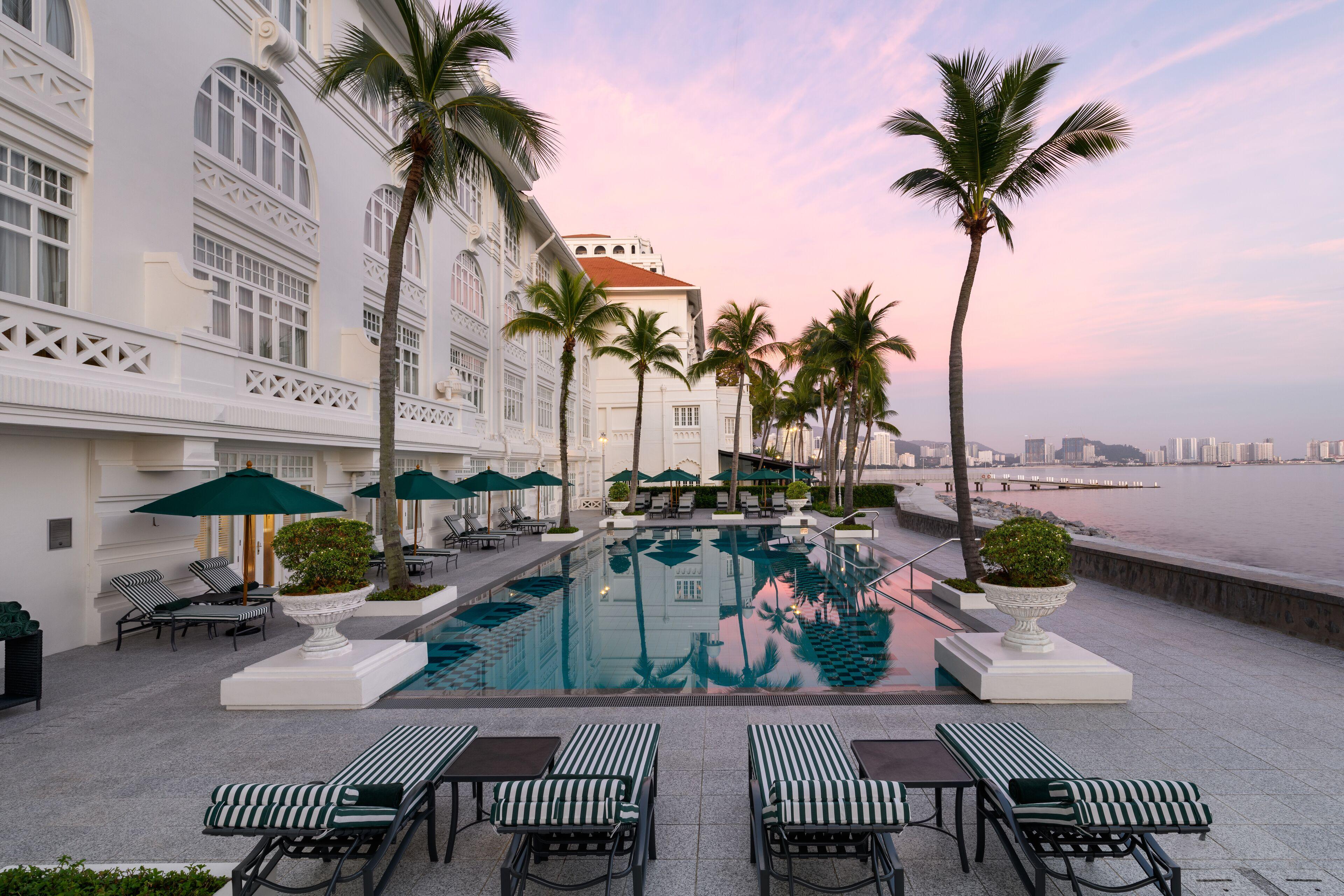 These places have bags of character. Epically high beamed ceilings, creaky wooden floorboards, and atmospheric internal courtyards. Choose the right place, and you'll want to stay forever!
Penang National Park
If you feel like escaping the mild crowds in George Town, Penang National Park is an awesome place to explore. At just 90 minutes away, by a single public bus from George Town's old town, the park requires minimal effort to get to. It might be Malaysia's smallest National Park, but it's full of signposted walking trails through lush jungle.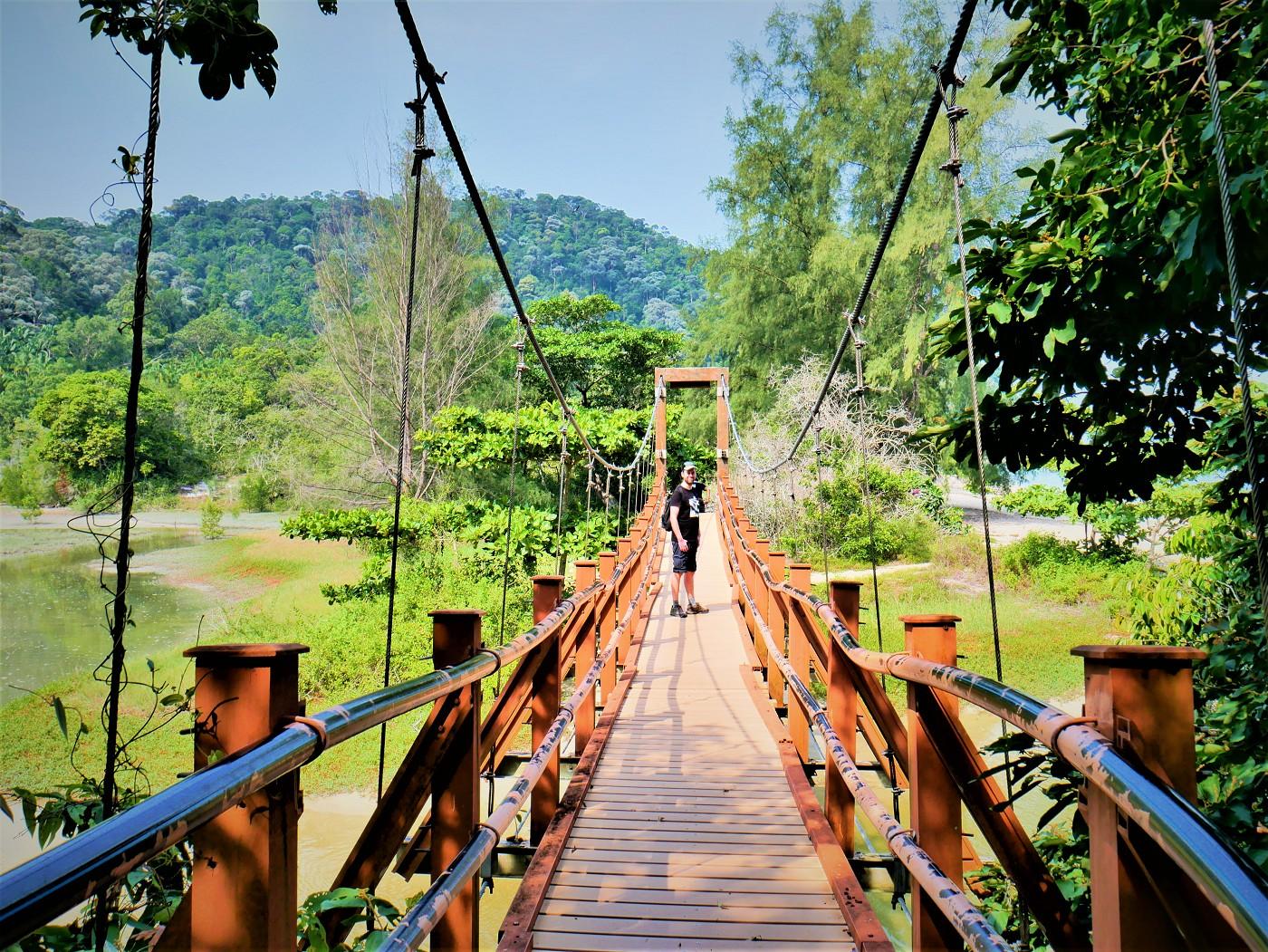 The trails, taking an average of 3 hours return to compete, lead to some almost empty sandy beaches. The most popular are Monkey Beach and Turtle Beach, but there are others to choose from depending on the distance you want to walk.
If you're feeling lazy, then there are also boats from where the bus drops you off that make trips to all of the beaches. But we recommend walking at least one way through the jungle to see wildlife like monitor lizards and monkeys.