With so much culture and nature to explore, this state has something for any traveler, but I know it can be hard to choose where to start and especially where to stay in Penang to make the best out of this idyllic destination. To help you with that, I researched all the best booking sites and put together a neighborhood guide with all the best areas with top accommodations for any budget and interest!
So make yourself comfortable and just keep reading to decide where to stay in Penang, but make sure you book your hotel way in advance! Being a small island with a lot to offer, the chances of finding a good hotel at the last minute is very rare.
GEORGE TOWN – WHERE TO STAY IN PENANG FOR THE FIRST-TIME
George Town stands as the vibrant capital of Penang for a multitude of compelling reasons. This captivating city encompasses all that a first-time visitor seeks and surpasses expectations with its myriad offerings. Embark on a journey through its historical landscapes, marvel at magnificent temples, immerse yourself in a world of vibrant street art, indulge in delectable cuisine, and discover the essence of Penang through its local bars. George Town is an enchanting tapestry that captures the true soul of this remarkable destination.
Nestled in the northeastern region of Penang Island, George Town emerges as an alluring city brimming with a kaleidoscope of colors and an abundance of captivating facets. Its diverse suburbs add to its charm, but it is the historic center that takes center stage, captivating the hearts of visitors. Recognized as a UNESCO World Heritage site, this area pulsates with historical allure, offering treasures such as the renowned Fort Cornwallis—an 18th-century British fort that bears witness to the notorious East India Trading Company's influence.
Among the architectural gems that grace George Town, the temples reign supreme and hold an irresistible allure for those seeking extraordinary experiences. Delve into the rich religious tapestry of the region by exploring the Chinese Goddess of Mercy Temple, the Hindu Sri Mahamariamman Temple, or the tongue-twisting Wat Chaiyamangkalaram Temple, home to one of the world's longest Buddha statues!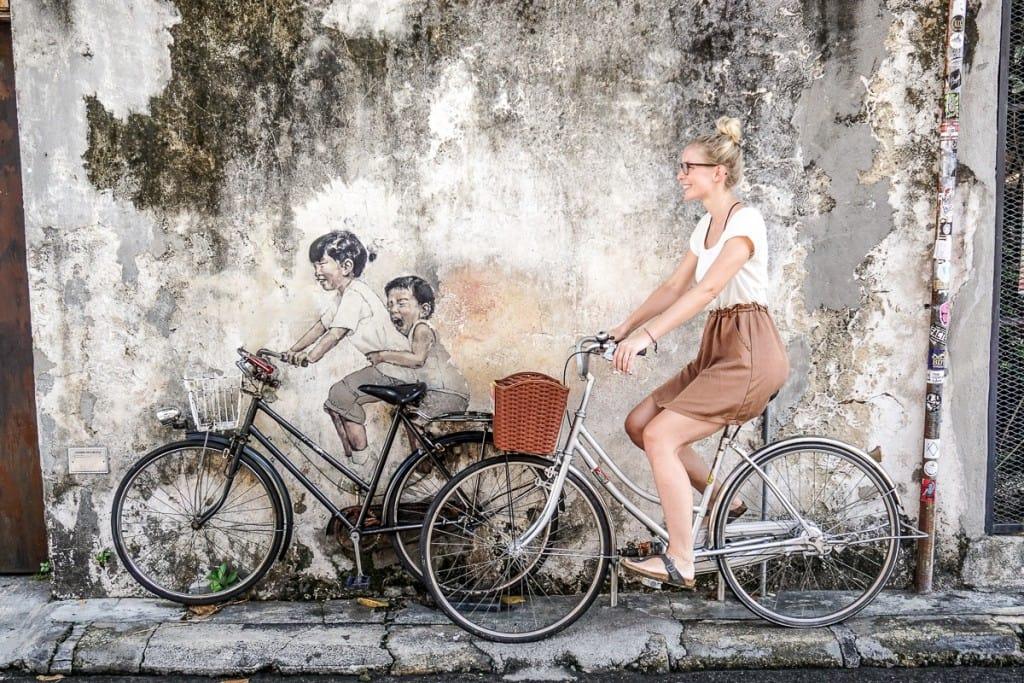 Once you have savored the multitude of cultural attractions, lose yourself in the pedestrian-friendly streets of George Town. Uncover the treasures hidden within handcrafted and vintage shops, savor the ambiance of hipster cafes and nightclubs, immerse yourself in the captivating realm of creative street art, and embark on a culinary adventure like no other, indulging in the street food that will leave an indelible mark on your taste buds.
In George Town, the convergence of history, art, cuisine, and urban charm creates an extraordinary symphony, inviting you to experience the city in all its vibrant glory.
When exploring George Town, a plethora of captivating activities await, ensuring an unforgettable experience:
1. Immerse Yourself in Religious Marvels: Discover the rich tapestry of religious culture by visiting the awe-inspiring Goddess of Mercy Temple, the vibrant Sri Mahamariamman Temple, or the remarkable Wat Chaiyamangkalaram temple with its impressive Buddha statue.
2. George Town Festival: If you find yourself in George Town in August, don't miss the George Town Festival, where you can witness the mesmerizing sight of hot air balloons taking flight, adding an extra touch of magic to the city's vibrant atmosphere.
3. Private Tour of Kek Lok Si Temple: Embark on a private tour to the magnificent Kek Lok Si Temple, a Buddhist marvel nestled amidst lush greenery. Marvel at its grandeur and soak in the tranquil ambiance of this sacred site.
4. Fort Cornwallis: Take a step back in time and explore the iconic Fort Cornwallis, an 18th-century British fort that serves as a testament to the colonial history of George Town. Stroll along its historic walls and delve into the stories of the past.
5. Penang State Museum and Art Gallery: Satiate your curiosity about Penang's history, art, and culture by visiting the Penang State Museum and Art Gallery. Engage with the exhibits that showcase the region's rich heritage and artistic expressions.
6. Orchid Garden: Find solace in the serene beauty of the Orchid Garden. Explore the two-hectare park dedicated to orchids and hibiscus flowers, marvel at their vibrant colors and exquisite blooms, and immerse yourself in nature's tranquility.
In George Town, every corner reveals a new adventure, allowing you to delve into the city's religious, historical, and cultural wonders while embracing the beauty that surrounds you.
GURNEY DRIVE – WHERE TO STAY IN PENANG FOR SHOPPING
Deep within the enchanting confines of George Town lies the renowned thoroughfare known as Gurney Drive. This bustling street, Persiaran Gurney, stands as the vibrant epicenter of the capital's gastronomic delights, shopping havens, and vibrant nightlife. Prepare to be captivated as you traverse this lively avenue, lined with a plethora of the city's finest restaurants and tantalizing street food stalls. Indulge your taste buds with delectable seafood dishes, including the iconic and fiery "asam laksa" noodles.
Gurney Drive has transformed into a veritable tourist magnet, offering a seamless blend of modernity and allure. Boasting expansive shopping malls adorned with prestigious brands (make sure to explore the colossal Gurney Plaza!), towering skyscrapers, and pulsating nightclubs, it has firmly established itself as one of Penang's premier attractions and an ideal base for travelers.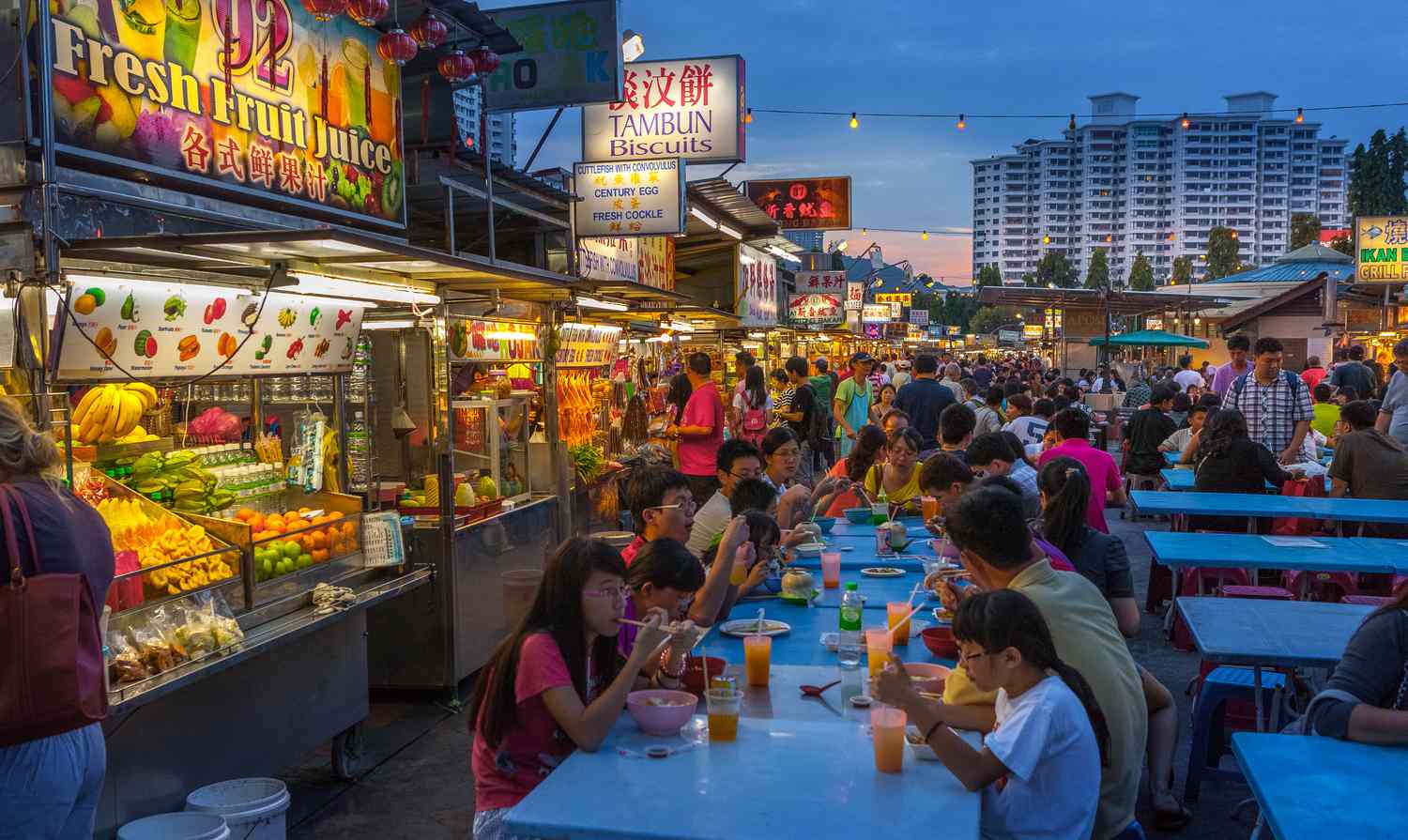 Whether you seek affordable accommodations that cater to budget-conscious backpackers or seek lavish and trendy hotels that spare no expense, Gurney Drive in George Town has you covered. Its eclectic range of lodging options beckons all types of travelers. Are you a thrifty adventurer or an indulgent luxury-seeker? Discover the perfect accommodation tailored to your preferences and secure your booking without delay.
Gurney Drive is a realm of possibilities, where culinary delights, retail therapy, and unforgettable nights converge. Allow yourself to be immersed in its vibrant energy and find your place amidst the rich tapestry of experiences it has to offer.
THINGS TO DO IN GURNEY DRIVE
Have a stroll on the promenade and do some window shopping
Eat some delicious and tasty Chinese food at Canton-i Restaurant
Lose yourself in the huge Gurney Plaza shopping Mall and do some crazy shopping!
Check out the Wat Chaiya Mangkalaram and Dharmikarama, two historical and temples dating back to the 1800s
BATU FERRINGHI – BEST AREA TO STAY FOR FAMILIES
Nestled in the northern part of the island lies Batu Ferringhi, a Malaysian haven that embodies the essence of paradise. This idyllic destination is renowned for its pristine white sand beaches, such as the enchanting Batu Ferringhi Beach, where azure waters beckon travelers to indulge in their embrace. Moreover, Batu Ferringhi offers an irresistible culinary scene, inviting you to savor a plethora of delectable delights once again!
The relaxed ambiance that permeates this area is perfectly complemented by a diverse range of thrilling water sports, including paragliding and surfing. This combination makes Batu Ferringhi an ideal retreat for families, catering to the energetic pursuits of children and providing parents with a tranquil setting for unwinding.
Among the highlights of this captivating locale is the famous night market, drawing both locals and tourists alike each evening. As the sun sets, the sidewalks transform into a bustling bazaar, showcasing an array of stalls where local traders ply their goods. From traditional souvenirs to eclectic merchandise, the night market offers a treasure trove of unique finds. After indulging in some late-night shopping, venture further to explore the trendy bars, lively pubs, and enticing restaurants scattered throughout the area, ensuring a memorable night out.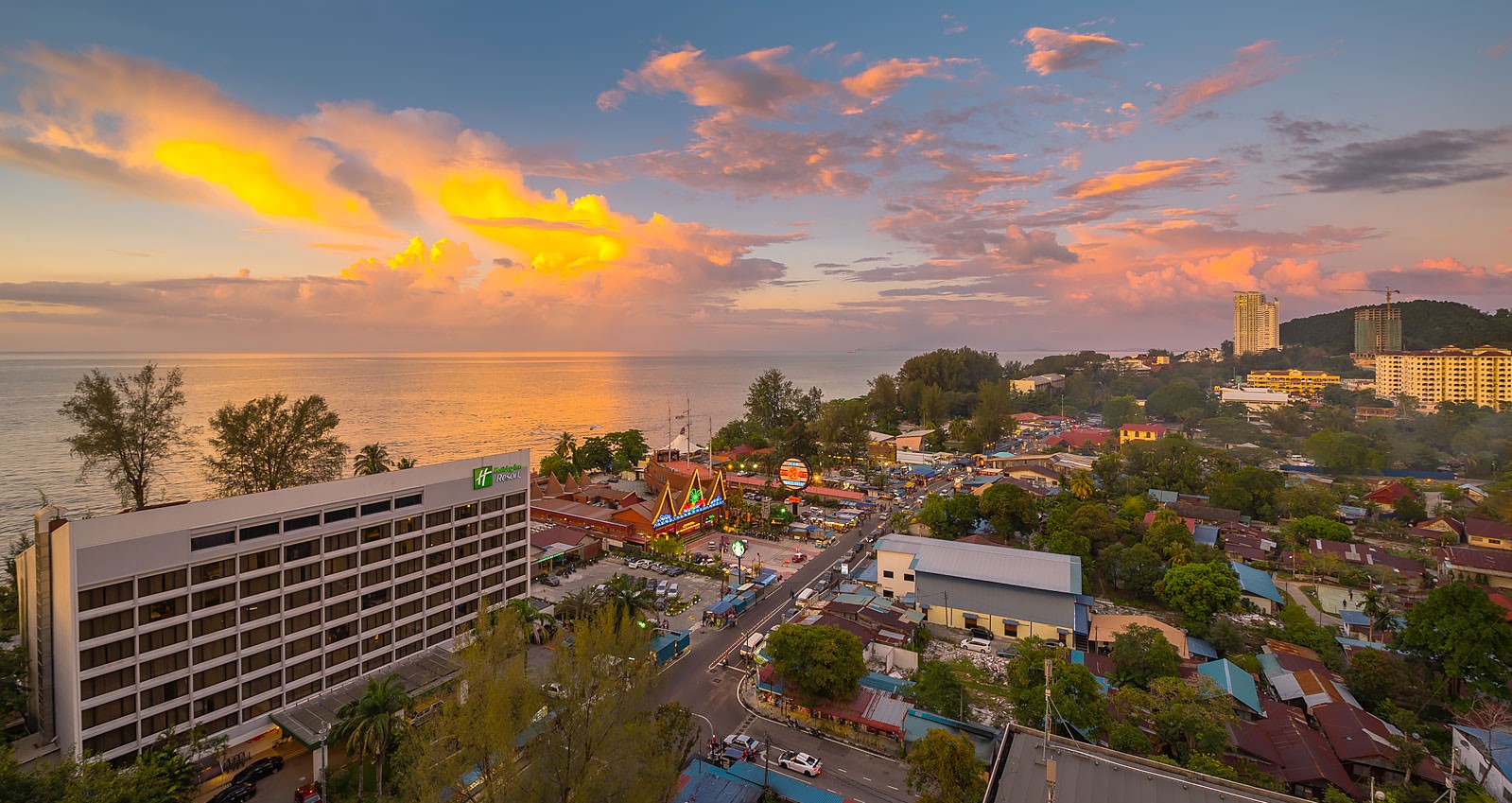 With its proximity to downtown George Town, Batu Ferringhi presents an enticing option for those seeking easy access to the city center without being ensnared in its hustle and bustle. Here, you can revel in the sun's warm embrace and the gentle sea breeze, basking in the tranquil surroundings while immersing yourself in the vibrant Asian culture.
If the idea of a vacation spent lounging on sun-kissed beaches while fully immersing yourself in the rich tapestry of Asian culture resonates with you, be sure to explore other splendid Malaysian destinations as well, such as Kuala Lumpur and Langkawi. These towns offer a multitude of captivating experiences that are sure to leave a lasting impression on your journey of discovery.
In the captivating realm of Batu Ferringhi, a myriad of captivating activities awaits, ensuring an unforgettable experience:
1. Thrilling Water Sports: Dive into adventure by trying exhilarating water sports like paragliding and surfing. Feel the rush as you soar through the skies or catch waves in the azure waters.
2. Batu Ferringhi Beach: Bask in the sun's warm embrace and surrender to relaxation at the renowned Batu Ferringhi Beach. Let the gentle lapping of the waves and the soft sand beneath your feet create a serene and idyllic atmosphere.
3. Culinary Delights at Ferringhi Garden: Indulge your taste buds with delicious local cuisine at Ferringhi Garden. Savor a delectable culinary journey amidst a charming garden setting.
4. Yahong Art Gallery: Immerse yourself in the world of art at the Yahong Art Gallery, where you can admire the creative works and handicrafts by both Malaysian and Asian artists. Allow the vibrant expressions to captivate your senses.
5. Batu Ferringhi Night Market: Take a stroll through the bustling Batu Ferringhi Night Market, where a vibrant array of stalls awaits. Lose yourself in the enchanting atmosphere as you peruse the local souvenirs and immerse yourself in the vibrant street scene.
6. Entopia Butterfly Farm: Reconnect with nature at the nearby Entopia Butterfly Farm. Surround yourself with the kaleidoscope of colors as you marvel at the enchanting world of butterflies, immersing yourself in their captivating beauty.
7. Penang Toy Museum: Let your inner child roam free at the Penang Toy Museum. Take your kids on a delightful adventure as you explore the vast collection of toys, sparking imagination and creating cherished memories.
In Batu Ferringhi, each moment presents an opportunity for adventure, relaxation, and cultural exploration. Embrace the diverse range of activities available and allow yourself to be captivated by the enchanting wonders this Malaysian paradise has to offer.
TANJUNG BUNGAH – THE COOLEST PLACE TO STAY IN PENANG
Nestled between the bustling George Town and the tranquil Batu Ferringhi, lies Tanjung Bungah, a picturesque haven in the northwest of the island. Originally a quaint fishing village, this suburb has blossomed into a sought-after beach destination, particularly beloved by expatriates. Tanjung Bungah offers a plethora of modern accommodation options, catering to all budgets and providing the perfect backdrop for a sun-soaked holiday filled with comfort and luxury.
However, it is not just the hotels that draw tourists to Tanjung Bungah. The suburb has earned a reputation as one of Penang's premier destinations for water sports. The Penang Water Sports center is situated here, offering a thrilling array of activities such as kayaking and boating. For those who prefer the sand to the water, the beach also presents opportunities for beach volleyball, beach soccer, and even fishing.
Moreover, Tanjung Bungah showcases untouched natural landscapes that captivate the senses. From serene stretches of shoreline to lush greenery, the suburb invites visitors to immerse themselves in the beauty of their surroundings. In addition to the pristine beaches, Tanjung Bungah boasts prominent shopping centers and captivating tourist attractions such as the floating Mosque and the Penang Toy Museum. These diverse offerings ensure that Tanjung Bungah caters to the tastes and desires of every traveler.
Whether you seek adventure on the water, relaxation on the beach, or exploration of captivating attractions, Tanjung Bungah is a destination that promises to delight and satisfy. Allow yourself to be enchanted by its natural splendor, indulge in retail therapy, and discover the unique allure that sets this suburb apart.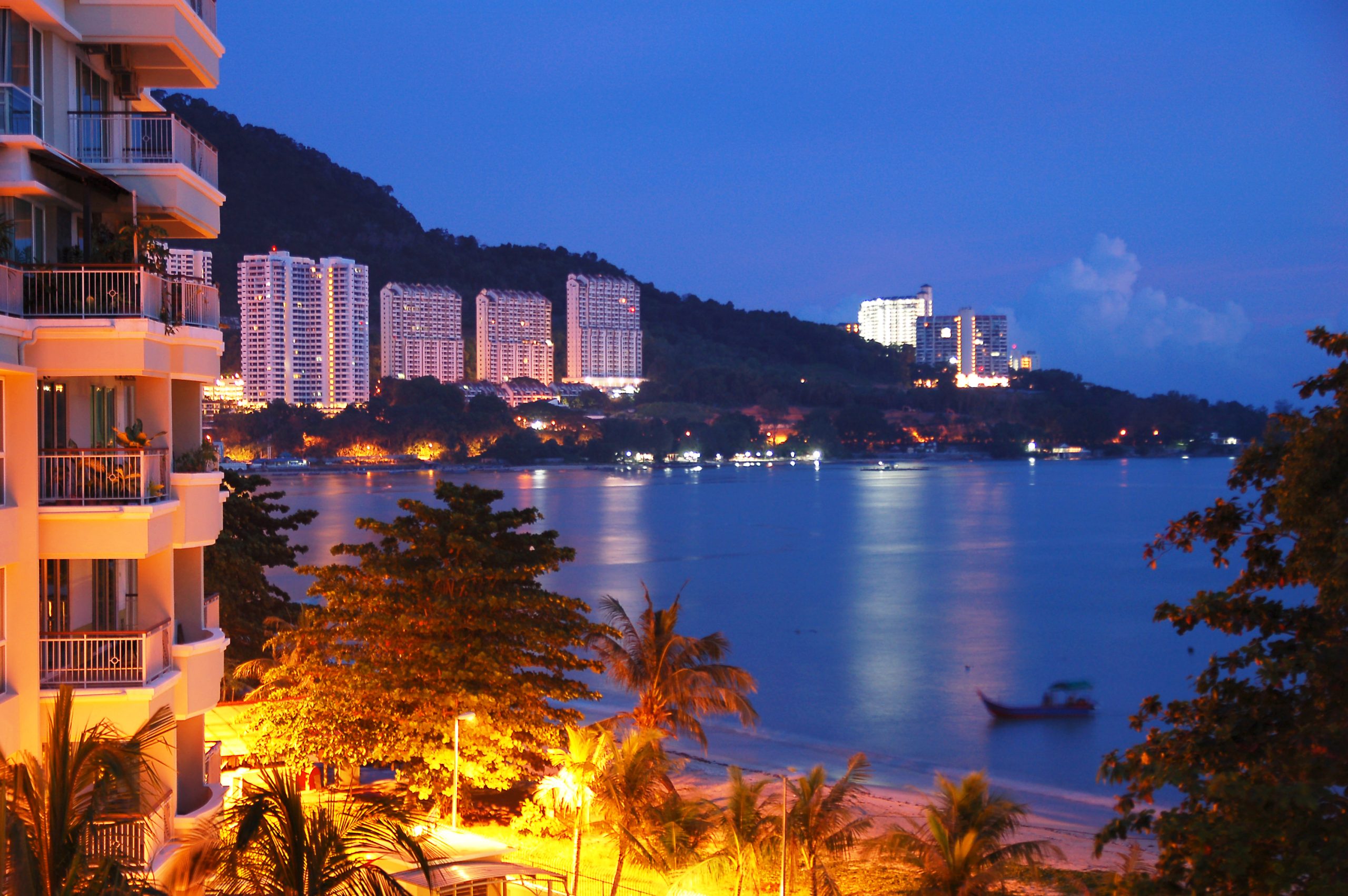 In the captivating realm of Tanjung Bungah, a multitude of exciting activities awaits, ensuring a memorable experience:
1. Watersports Adventure: Embark on an exhilarating watersports adventure by renting boats, kayaks, or canoes from the Penang Water Sports center. Explore the azure waters and embrace the thrill of discovery.
2. Tanjung Bungah Night Market: Delight your taste buds with delectable street food at the vibrant Tanjung Bungah Night Market. Indulge in a culinary journey, savoring the flavors and aromas of local delicacies.
3. Retail Therapy at Island Plaza: Immerse yourself in a shopping extravaganza at Island Plaza. Discover an array of shops, boutiques, and eateries, where you can indulge in a leisurely evening of browsing and purchasing.
4. Mount Erskine Exploration: Wander through the hilly streets of Mount Erskine and immerse yourself in the charm of the neighborhood. Enjoy a leisurely stroll, marvel at the scenic vistas, and soak in the tranquil ambiance of the surroundings.
5. Floating Mosque: Marvel at the unique architectural wonder of the Floating Mosque. Built on pilings and stilts above the sea, this majestic structure captivates with its grandeur and offers a glimpse into the intersection of faith and nature.
Tanjung Bungah invites you to immerse yourself in a world of adventure, culinary delights, shopping indulgence, and cultural exploration. Discover the hidden treasures this Malaysian paradise has to offer and create cherished memories amidst its captivating landscapes.
SUNGAI DUA – WHERE TO STAY IN PENANG ON A BUDGET
Nestled along Penang's east coast, south of George Town, lies the charming town of Sungai Dua. Once an agricultural area, this small town has recently undergone a transformation, emerging as a vibrant residential zone.
A notable feature of Sungai Dua is the presence of Universiti Sains Malaysia, infusing the town with a youthful and lively ambiance. This, in turn, has led to the availability of affordable accommodations, making it a welcoming destination for budget-conscious backpackers exploring Malaysia.
Just like the other captivating locations in Penang, Sungai Dua is not exempt from the delectable and flavorful cuisine the region is renowned for. The town boasts numerous restaurants and typical Asiatic hawker centers, offering a diverse range of affordable and mouthwatering culinary delights. Indulge in a variety of tantalizing dishes, immersing yourself in the rich flavors that Penang is celebrated for. It's a perfect combination of affordability and gastronomic satisfaction.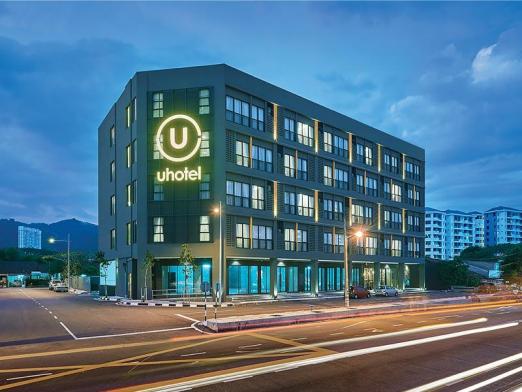 Given its nature as a budget-friendly destination, luxury hotels are not prevalent in Sungai Dua. However, if you're seeking the pinnacle of deluxe accommodations, I recommend exploring Eastin Hotel Penang in the nearby Bayan Lepas area. For all other budgets, consider the following suggestions for a comfortable stay in Sungai Dua:
1. Hotel Seri Malaysia Penang: Offering affordable rates and comfortable rooms, Hotel Seri Malaysia Penang provides a pleasant stay for budget-conscious travelers.
2. U Hotel Penang: This budget hotel offers clean and cozy rooms, ensuring a comfortable stay at an affordable price.
3. Olive Tree Hotel Penang: While not specifically located in Sungai Dua, Olive Tree Hotel Penang in Bayan Lepas offers a stylish and affordable option for those seeking modern comforts.
BAYAN LEPAS – WHERE TO STAY IN PENANG CLOSE TO THE AIRPORT
Embrace the allure of Sungai Dua, immerse yourself in its lively atmosphere, and embark on a budget-friendly adventure filled with mouthwatering culinary delights.
Bayan Lepas, conveniently located near Penang's international airport, is an ideal area to consider for your stay in Penang. With its close proximity to the airport, it offers convenience for travelers, especially those with early or late flights. Here are some accommodation options that provide easy access to the airport and ensure a comfortable stay:
1. Eastin Hotel Penang: This upscale hotel in Bayan Lepas offers a luxurious stay with modern amenities. Its proximity to the airport makes it a convenient choice for travelers seeking comfort and convenience.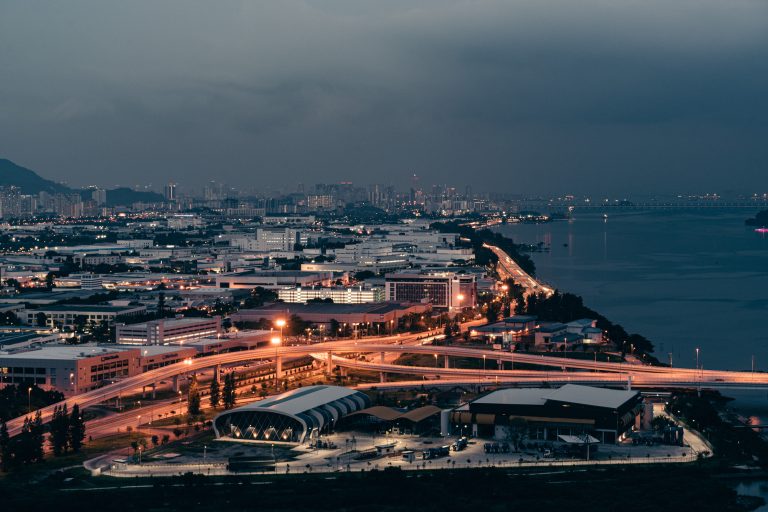 2. Hotel Equatorial Penang: Situated in the heart of Bayan Lepas, Hotel Equatorial Penang offers a blend of comfort and elegance. It features well-appointed rooms and a range of facilities, including a golf course, swimming pools, and multiple dining options.
3. Olive Tree Hotel Penang: Located in Bayan Lepas, Olive Tree Hotel Penang offers contemporary accommodations with stylish interiors. It provides a comfortable stay with convenient access to both the airport and major attractions in Penang.
4. Hotel Seri Malaysia Penang: A budget-friendly option, Hotel Seri Malaysia Penang provides comfortable rooms and basic amenities. It offers affordability without compromising on convenience, making it a suitable choice for budget-conscious travelers.
By choosing to stay in Bayan Lepas, you can enjoy the convenience of being close to the airport while still being within reach of popular attractions in Penang. Whether you prefer a luxurious experience or seek a budget-friendly option, these accommodations ensure a pleasant stay near the airport.
BUKIT MERTAJAM – WHERE TO STAY IN PENANG FOR NATURE
Nestled on the Malay Peninsula, Bukit Mertajam shines as the capital of the Seberang Perai Tengah district, showcasing a hidden gem brimming with rich heritage, delectable cuisine, and breathtaking green landscapes. This neighborhood offers a tranquil haven, perfect for those seeking a respite from tourist crowds and a reconnection with nature.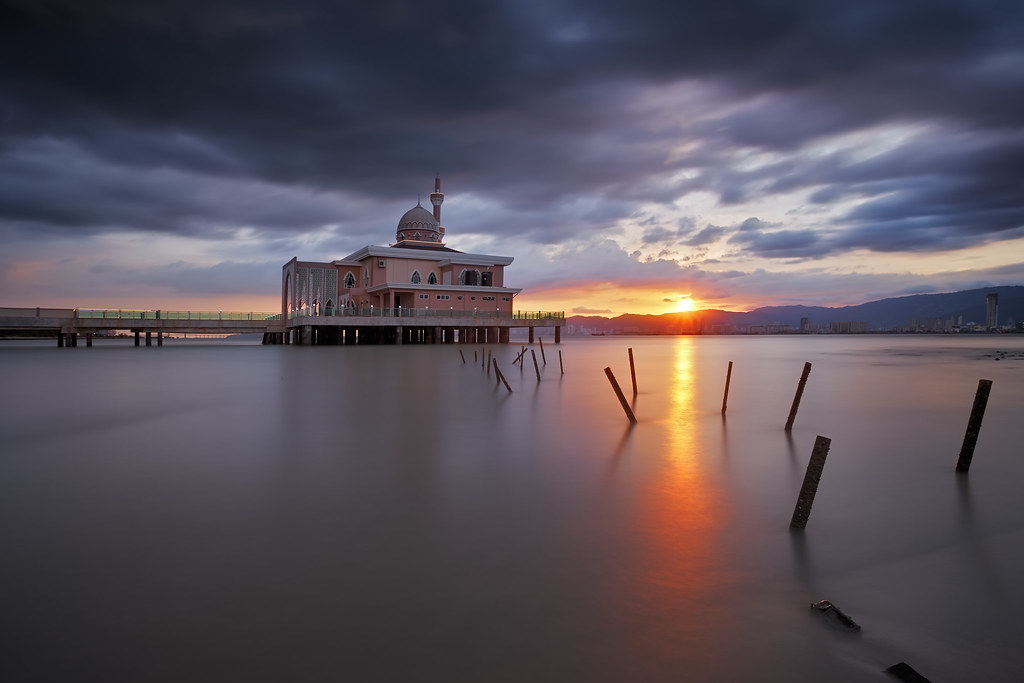 During your stay in Bukit Mertajam, make sure to explore the region's magnificent hills and parks, each offering unique experiences:
1. Bukit Mertajam Recreational Forest: Immerse yourself in the beauty of nature as you embark on a hike through the Bukit Mertajam Recreational Forest. Marvel at the indigenous flora and fauna that grace this enchanting forest sanctuary.
2. Bukit Berapit and its Buddhist Temple: Trek up the slopes of Bukit Berapit, where you'll encounter a Buddhist temple nestled amidst durian, mangosteen, and nutmeg trees. Find solace in the serene surroundings and embrace the spiritual ambiance.
3. Cherok Tokun Nature Park: For adventure enthusiasts, Cherok Tokun Nature Park beckons with its pristine jungles. Engage in exhilarating treks or biking expeditions, discovering the diverse array of trees, herbs, and bushes that thrive within this natural wonderland.
Bukit Mertajam's allure lies in its peaceful ambiance, authentic heritage, and lush landscapes. Embrace the opportunity to explore the region's natural wonders and experience a truly immersive encounter with Penang's hidden treasures.