Penang is one of the most beautiful places in Malaysia and is home to many great tourist attractions, unbelievably delicious food, hipster cafe, exciting nightlife, and not forgetting its stunning beaches. When mention about beaches in Malaysia, people often think about Langkawi, Redang and Tioman. However the beautiful beaches in Penang are just as good or better than those places.
Staying close to the beach gives you a the luxury of a beautiful view just outside your doorstep.This list is for those who are looking for a relaxing stay beside a beautiful beautiful beach. With that said, here are 10 Best Hotels In Penang With Amazing Beach View.
Hard Rock Hotel Penang
Nestled along Jalan Batu Ferringhi, Hard Rock Hotel stands as a premier luxury resort, offering a unique experience with its Hollywood and music-themed guest rooms and suites. Immerse yourself in the world of entertainment with state-of-the-art amenities, including a BOSE Sound System, a 50-inch LED screen TV, and a selection of HD Blockbuster movies available on demand, ensuring round-the-clock entertainment.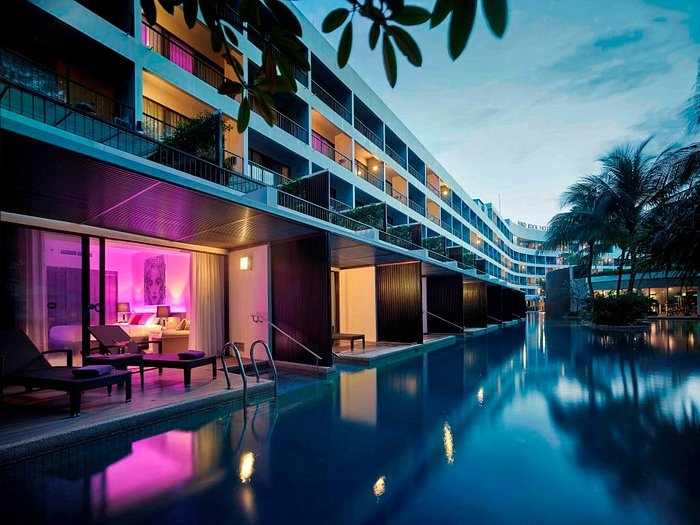 Indulge your taste buds at the impressive array of restaurant establishments within the hotel. A visit to the renowned Hard Rock Café is an absolute must, where you can relish delectable cuisine while enjoying the vibrant atmosphere. Additionally, make sure to experience the culinary delights at Starz Diner, perfect for those seeking a relaxed dining experience by the poolside.
At Hard Rock Hotel, you'll find yourself immersed in a world of luxury, entertainment, and gastronomic delights, creating an unforgettable stay in the heart of Batu Ferringhi.
Lone Pine Hotel Penang
Nestled within Batu Ferringhi, Lone Pine Hotel stands as the sole luxury boutique hotel in the area, exuding an enchanting colonial ambiance with its European-inspired design. Immerse yourself in the timeless charm of this hotel, where every detail reflects a bygone era of elegance.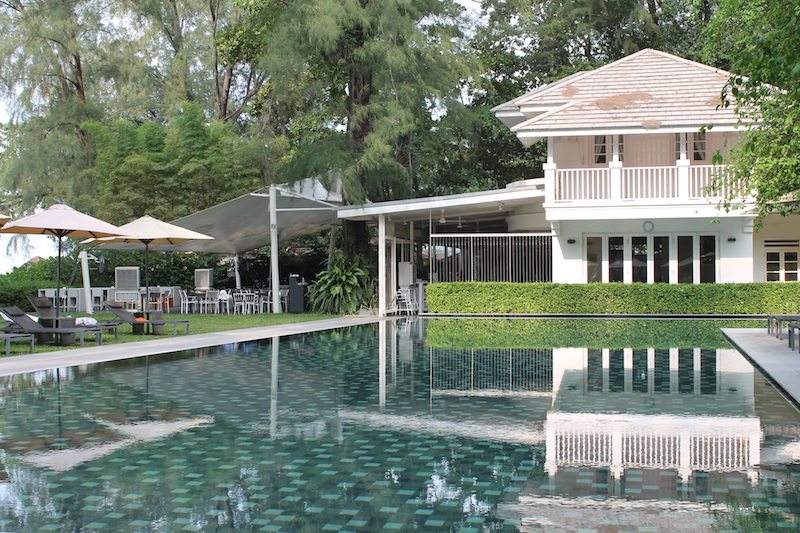 One of the highlights of your stay at Lone Pine Hotel is undoubtedly the opportunity to spend a leisurely day on the private sand beach. Bask in the sun, sink your toes into the warm sand, and even try your hand at thrilling water skiing adventures, creating unforgettable memories by the shimmering waters.
When it comes to dining experiences, The Bungalow restaurant beckons with its international buffet breakfast, providing a delightful start to your day. For a taste of modern Japanese cuisine, Matsu offers an exquisite culinary journey, while Batubar invites you to savor delectable tapas accompanied by a selection of fine wines, all within an inviting setting.
At Lone Pine Hotel, immerse yourself in a world of colonial elegance, unwind on the private beach, and indulge in an array of culinary delights. Experience a truly unforgettable stay that seamlessly blends history, luxury, and natural beauty.
Shangri-La's Rasa Sayang Resort & Spa
Nestled gracefully along the picturesque Batu Feringgi Beach, Shangri-La's Rasa Sayang Resort & Spa stands as an impeccably maintained upscale hotel, seamlessly blending historic charm with modern comforts. Immerse yourself in the serene surroundings of lush tropical gardens as you revel in the spacious rooms, designed to showcase the natural beauty of the environment.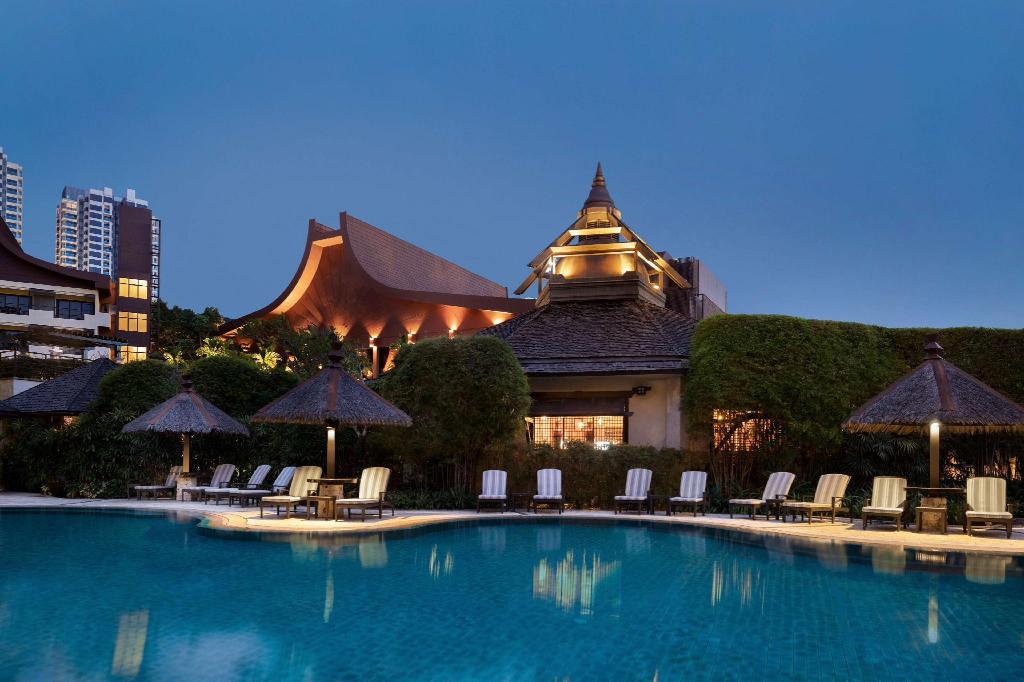 Take a refreshing dip in the pool, where you can admire the breathtaking views and relish in the tranquility of the surroundings. The resort offers a truly immersive experience, allowing guests to celebrate the beauty of nature.
Indulge your palate at Feringgi Grill, one of the resort's five exquisite restaurants. Inspired by the climate and flavors of Penang, their fine dining menu showcases a diverse blend of culinary influences from around the world, attracting a global mix of discerning diners.
At Shangri-La's Rasa Sayang Resort & Spa, you will discover a haven where historic charm meets modern luxury. Delight in the captivating beauty of the natural surroundings, savor exquisite dining experiences, and create lasting memories in this idyllic beachfront retreat.
Lexis Suites Penang
Lexis Suites Penang stands out as the sole beachside hotel that deviates from the bustling Batu Feringgi area, offering a distinct advantage of being the nearest accommodation to Penang International Hotel in this collection. The hotel has been capturing attention for its stunning beach views, captivating guests with its picturesque setting.
A noteworthy highlight of Lexis Suites Penang is its unique offering: every suite is equipped with a private swimming pool and sauna room right on the balcony. This exceptional feature sets a new record in Malaysia, providing guests with an unparalleled level of luxury and exclusivity.
Immerse yourself in the ultimate indulgence as you unwind in your own personal oasis, taking refreshing dips in the pool and unwinding in the comfort of your private sauna. The combination of breathtaking beach vistas and these extraordinary facilities ensures an unforgettable stay.
Lexis Suites Penang invites you to experience the epitome of luxury, complemented by mesmerizing beach views. Delight in the one-of-a-kind amenities, setting a new benchmark for exceptional accommodations in Malaysia.
DoubleTree Resort by Hilton Penang
Nestled in the tranquil enclave of Batu Ferringhi, DoubleTree Resort by Hilton Hotel Penang provides a scenic and cozy retreat for a truly relaxing holiday. Just a leisurely 2-minute stroll away, you'll find yourself on the pristine shores of the beach, where you can bask in the sun and unwind.
Indulge your taste buds at Makan Kitchen, the resort's main dining outlet, offering a delightful all-day dining experience with a captivating view of the swimming pool. Immerse yourself in a culinary journey, savoring an array of flavors and dishes that will tantalize your senses.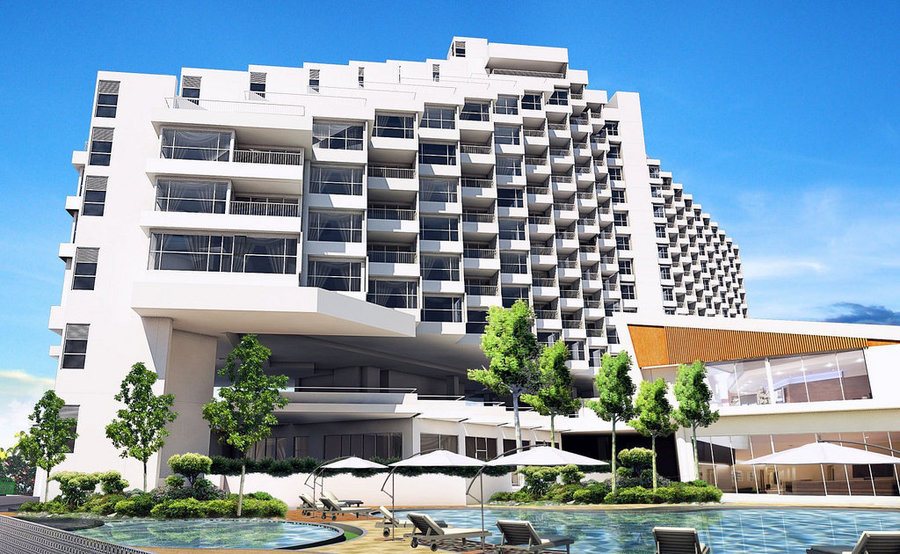 For a unique and charming experience, make sure to visit Teddyville Museum, a delightful Teddy Bear-themed museum that showcases the rich local culture of Penang. Explore the museum's exhibits, which beautifully blend the world of teddy bears with the heritage and traditions of the island, creating a truly memorable and whimsical encounter.
DoubleTree Resort by Hilton Hotel Penang is the perfect destination for a serene and enjoyable getaway. Experience scenic surroundings, delectable dining, and a touch of enchantment at Teddyville Museum, all combining to create an unforgettable stay in Penang.
Lost Paradise Resort
Positioned in the idyllic setting of Tanjung Bungah, Lost Paradise Resort offers a strategic location embraced by lush greenery and vibrant blossoms. The resort provides a picturesque haven with sweeping views of the majestic Andaman Sea, creating an ideal environment for leisurely beach strolls and an array of thrilling water activities.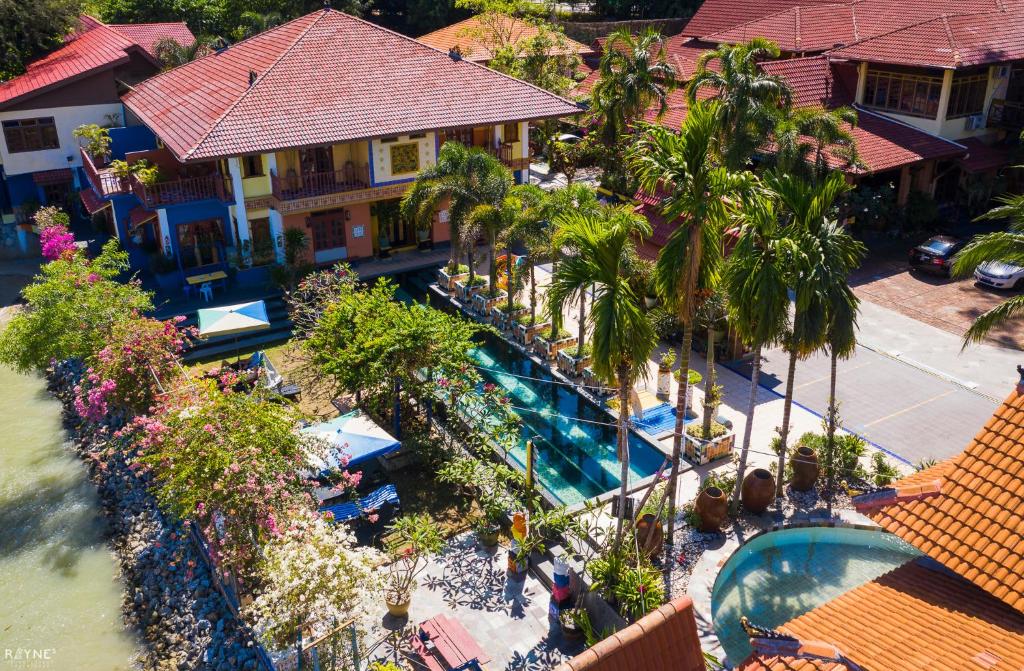 The guest rooms at Lost Paradise Resort exude cleanliness and comfort, adorned in a charming Balinese style. Throughout the resort, you will discover a captivating collection of exquisite art pieces from India, adding a touch of cultural richness to your stay.
Immerse yourself in the serene ambiance of Lost Paradise Resort, where nature's beauty intertwines with tranquil seascape views. Whether you seek relaxation by the beach or adventure in the water, this resort promises a delightful escape complemented by the allure of Balinese-inspired aesthetics and captivating Indian artistry.
Flamingo Hotel By The Beach, Penang
Nestled in a prime location, a mere 2-minute walk from the beach, Flamingo Hotel By The Beach presents a delightful blend of value and serenity for discerning travelers. This strategically positioned hotel offers a tranquil haven, allowing guests to experience the best of both worlds.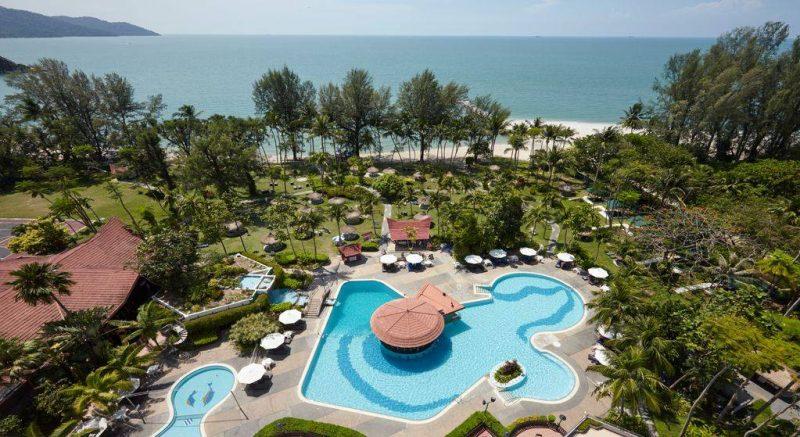 With 280 well-appointed rooms, ranging from deluxe to presidential suites, Flamingo Hotel ensures a comfortable and tailored experience for every guest. The rooms boast trendy furniture, inviting beds adorned with soft pillows, LCD TVs, hairdryers, and private balconies. The majority of these balconies offer breathtaking beach views, allowing guests to revel in the beauty of the surroundings.
Flamingo Hotel By The Beach is committed to providing exceptional amenities and a serene ambiance, ensuring guests enjoy a memorable and rejuvenating stay. Whether you seek relaxation on the pristine shores or wish to explore the wonders of the beach, this hotel offers the perfect retreat, where comfort and natural splendor converge.
PARKROYAL Penang Resort
Situated in the vibrant Batu Ferringhi area, PARKROYAL Penang Resort Rooms stands as a premier choice for discerning travelers seeking exceptional accommodations. Boasting an enviable location that caters to beach enthusiasts, this hotel immerses guests in the heart of the lively beach scene.
The spacious rooms and suites at PARKROYAL Penang Resort Rooms are designed to provide utmost comfort and convenience. Each well-appointed accommodation is equipped with modern amenities, including a luxurious marble bathroom, satellite TV, in-room movies, and a tea/coffee maker.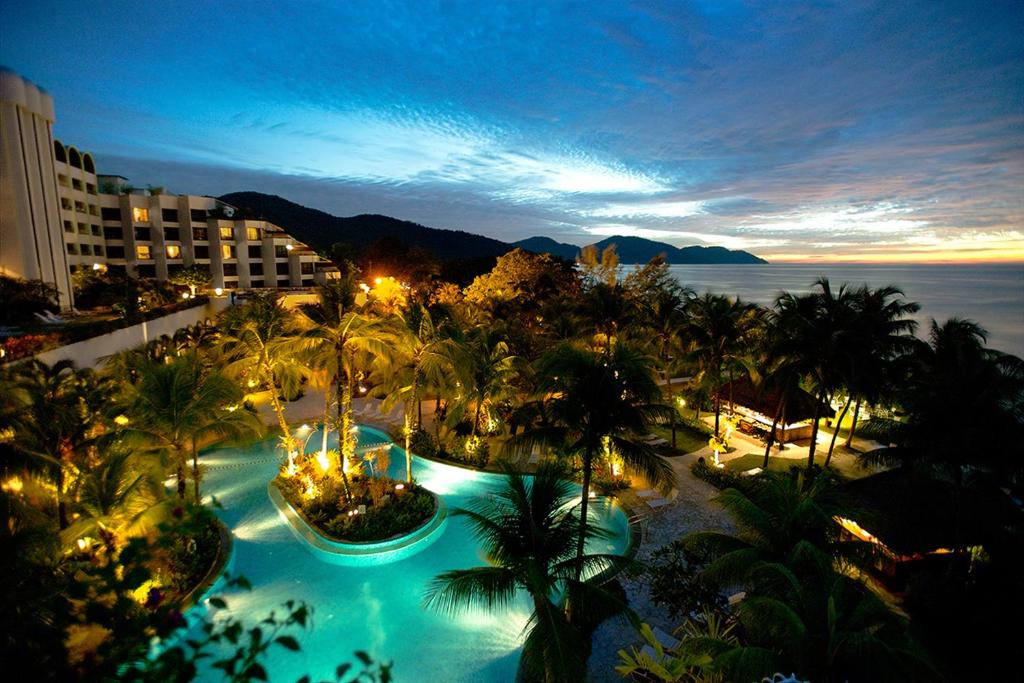 For those seeking recreational activities, the hotel offers tennis courts and a state-of-the-art fitness center, ensuring guests can stay active and engaged during their stay. Additionally, the renowned St. Gregory Spa is a haven for relaxation, offering a range of rejuvenating facial and body treatments.
PARKROYAL Penang Resort Rooms epitomizes luxury and convenience, promising a memorable and indulgent experience for all guests. Whether you're a beach lover or looking for top-notch amenities, this hotel surpasses expectations, delivering a seamless blend of comfort and leisure.
Golden Sands Resort – Penang
Nestled along the pristine shores of Batu Ferringhi Beach, Golden Sands Resort is a highly regarded 4-star hotel offering a host of amenities for a memorable stay. The hotel provides complimentary Wi-Fi access and a convenient 2-way shuttle service to Georgetown, a UNESCO World Heritage site.
Families will find endless entertainment options at Golden Sands Resort. The hotel features a dedicated kids' club, an adventure zone entertainment center, a children's swimming pool, and even children's menus available at select restaurants.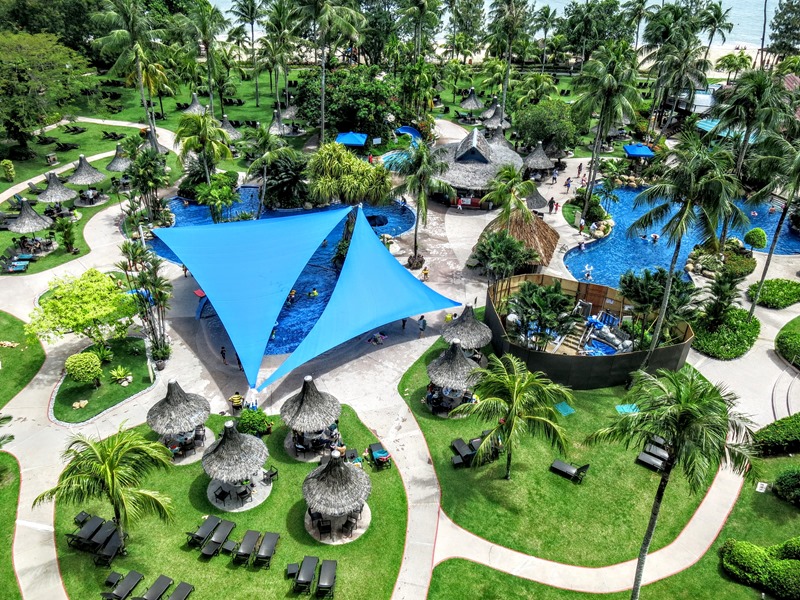 Overlooking the lush tropical grounds, Garden Café offers delectable international buffet spreads, catering to diverse culinary preferences. Guests can also indulge in a delightful dining experience at Sigi's Bar & Grill on the Beach, known for its delectable dishes and scenic ocean views. For a more relaxed atmosphere, the resort offers two cozy lounges where guests can unwind and enjoy a refreshing drink.
Golden Sands Resort is the perfect destination for families and beach lovers alike, offering a range of activities and dining options amidst its picturesque surroundings. Enjoy a fulfilling stay where comfort, relaxation, and culinary delights intertwine seamlessly.
Holiday Inn Resort Penang
Holiday Inn Resort offers guests a delightful stay with its well-appointed rooms, particularly the Beach Wing that provides stunning beach views and breathtaking vistas of the sea. This makes it an ideal choice for those seeking a serene and picturesque experience.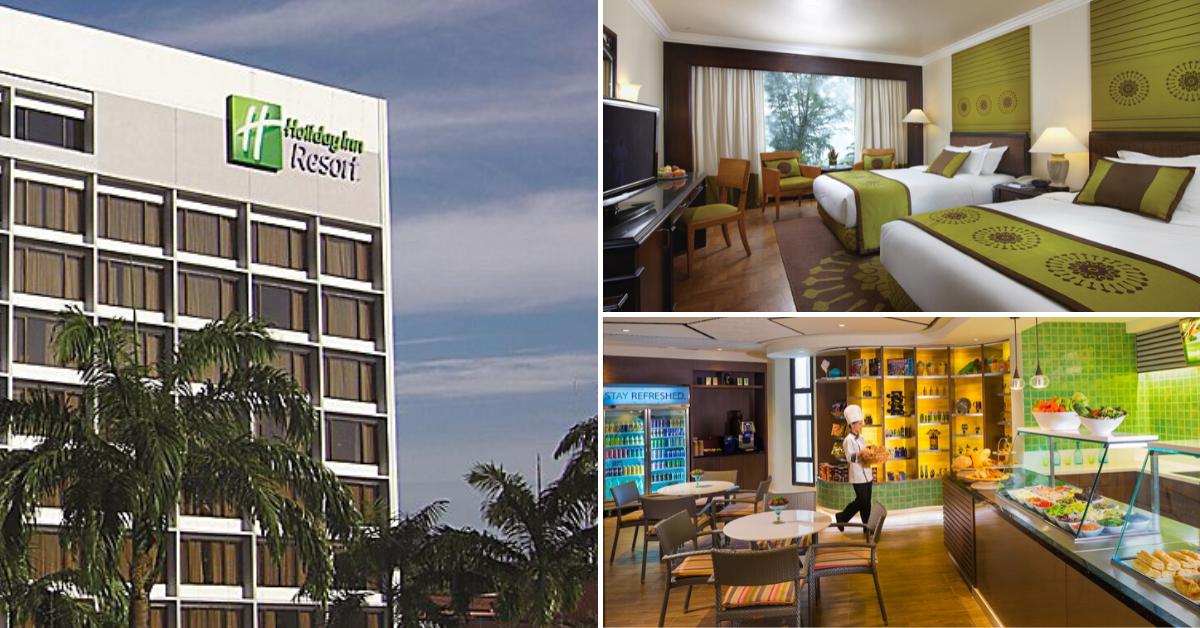 Families will find Holiday Inn Resort particularly appealing, as it offers a range of child-friendly facilities. The Playlab, an interactive kids' club, boasts a Mac Station, arcade games, and a dedicated Lego room, ensuring endless fun and entertainment for the little ones. Additionally, guests can indulge in a variety of wellness treatments at the in-house child-friendly SPAcation, providing a rejuvenating experience for both parents and children.
For those who prefer a leisurely evening with a refreshing drink in hand, Hari's Bar offers a welcoming ambiance with its breathtaking sea views. Guests can unwind and savor delicious cocktails while enjoying the tranquil surroundings.
Holiday Inn Resort caters to the needs of both families and individuals seeking relaxation and entertainment. With its range of amenities and picturesque setting, it promises a memorable stay for all guests.