Batu Caves is a prominent sightseeing spot near Kuala Lumpur and a must-see destination in many people's Malaysian travel itinerary. If you plan to visit this cave complex in the near future, please refer to the Batu Caves experience we share below to better understand how to move, ticket prices as well as points of interest. The most interesting part of this place.
Experiencing Batu Caves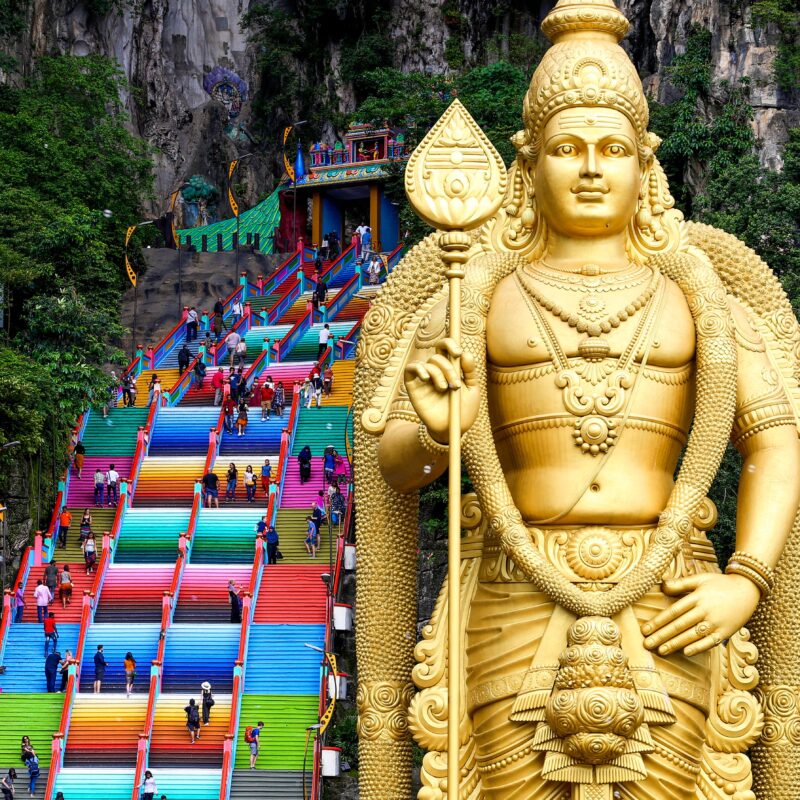 Where is Batu Caves located? Batu Caves is located in Gombak district, Selangor, Malaysia. It is only about 13 km north of the capital Kuala Lumpur and well connected with Kuala Lumpur by KTM's metro system, so moving here is very easy. Because of that, every year, Batu Caves attracts millions of tourists to visit each year and has become one of the hottest tourist destinations in Malaysia.
Basic information about Batu Caves
Batu Caves is located inside a limestone mountain including a cave system with many temples and is known as one of the largest Hindu shrines in Malaysia.
Legend has it that it was discovered in the 19th century by an Indian merchant named Thambusami. But in the twentieth century, when searching for a place to worship the gods, people discovered Batu Caves and built it into a religious center of Hinduism.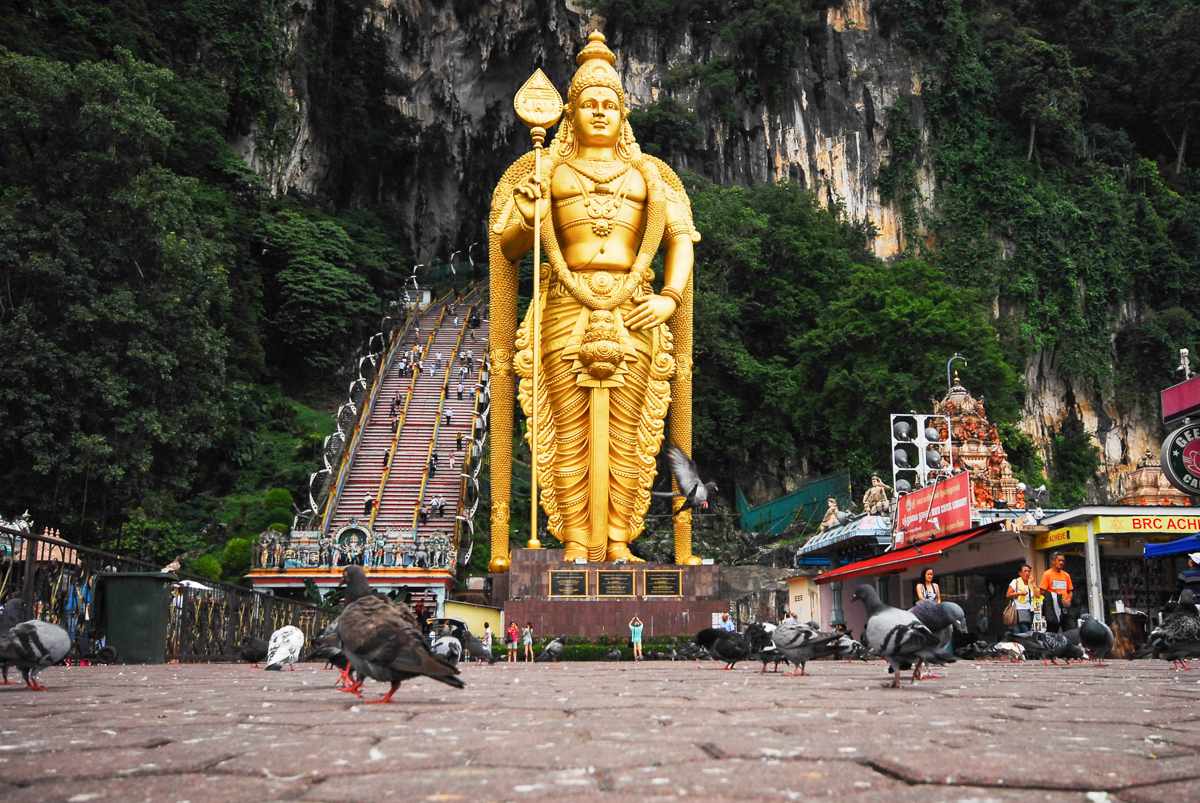 Experiencing Batu Caves, if compared with other caves, the landscape and nature in Batu Caves are not too outstanding, but what attracts visitors here is the massive architectural treasure due to the tables. The skillful hands of Indian sculptors and statues of all sizes are placed throughout the cave, depicting Hindu myths and legends.
Experience going to Batu Caves, the statue of the god Subramaniam is the most prominent feature
The statue of the god Subramaniam is the most prominent feature
Outside the cave door is the statue of Subramaniam (Lord Murugan) – the most powerful god of Hinduism 42.7m high painted in gold. Inside is a cave system consisting of large caves and many small caves scattered on the limestone mountains, the spacious and airy cave can accommodate thousands of visitors.
How to get to Batu Caves from Kuala Lumpur
Travel from Kuala Lumpur to Batu Caves by train
To get from Kuala Lumpur to Batu Caves, the easiest way is to take a train from KTM Komuter.
You just need to go to KL Sentral station to easily find the train going to Batu Caves. The last stop is at Batu Caves station and it only costs about MYR 2 one way.
Experience visiting Batu Caves, there are more than 22 trains from Kuala Lumpur to Batu Caves between 5:15 and 22:30, there is one trip every half an hour and the travel time is about 40 minutes. .
Batu Caves Station is located right next to the cave entrance. When you get off the bus, you just have to go east to reach the limestone cliffs and the giant golden statue.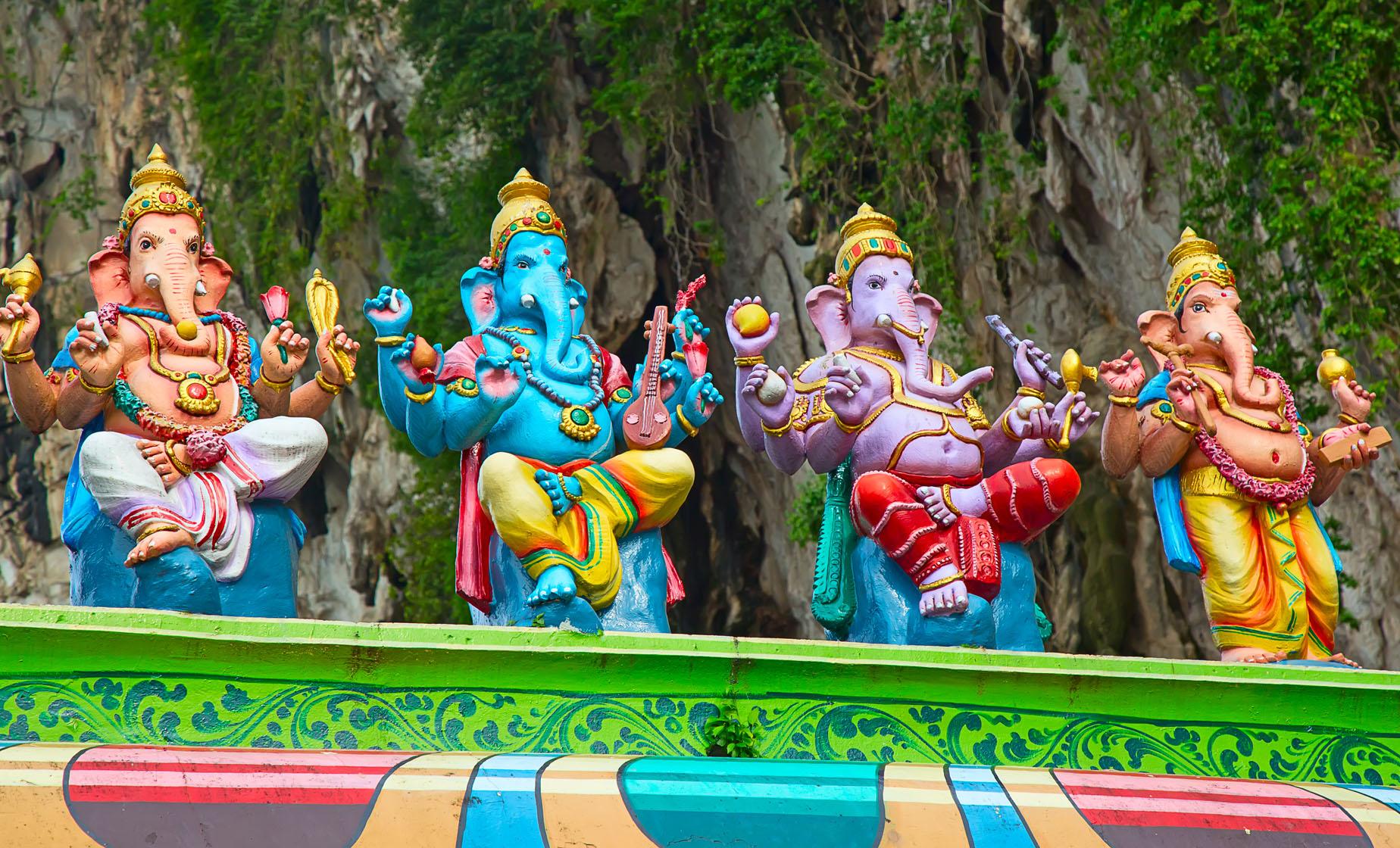 Travel from Kuala Lumpur to Batu Caves by bus
There is a convenient way chosen by many tourists is to take the bus from Kuala Lumpur to Batu Caves. This way is very reasonable if your group has elderly people, children because you will be able to move on very comfortable Hop On Hop Off cars.
Travel from Kuala Lumpur to Batu Caves by taxi
You can also take a taxi from Kuala Lumpur to Batu cave, so book through Grab or Uber to save money and avoid being scammed. The estimated cost of taking a taxi will be about MYR 15-20.
Ticket prices, opening hours of Batu Caves
Opening hours of Batu Caves
The caves at Batu Caves are open from 7:00 to 21:00. As for the dark cave – Dark Cave is open from 10:00 to 17:00 (Saturday, Sunday, the dark cave is open from 10:30 to 17:30).
Batu Caves travel experience, if you want to get away from the crowd and want to take lots of good photos, it's best to go right before 7:00 am or later in the afternoon.
How much is the ticket price to visit Batu Caves?
If you are interested in the price of admission to Batu Caves, the good news for you is that the main attractions in Batu Caves are all FREE.
There are only 2 cave areas and there is an entrance fee, namely Villa cave for MYR 15 and Ramayana cave for MYR 5. Both of these places are colorful attractions and very attractive to young children.
In case you want to visit the Dark Cave in Batu cave, you are required to hire a guide. The price to rent a guide at Dark Cave will be MYR 35 for an adult and MYR 25 for a child.
How many caves are there in Batu Caves, what are they interesting?
Traveling to Batu Caves, where to go, what to do? During the journey to explore Batu caves, you will pass through a total of 5 main caves in all. Maybe when you google information about Batu Caves, you usually only see an image of a golden statue of a god with colorful stairs, but that's just the path up to Temple Cave – it is one of the 5 main caves.
Batu Caves has five main caves, including: Ramayana cave, 2 Villa caves, Temple cave and Dark cave.
Ramayana Cave
If you arrive at Batu Caves by train, the first thing you see upon entering the temple grounds is a large green-faced monkey sculpture on the left, also known as the Hindu god Hanuman. After paying the MYR 5 entrance fee, you'll head to Ramayna Cave to admire the colorful sculptures.
Cave Villa
After exploring the Ramayana cave, you move on to the next caves, you will see the Sri Venkatachalapathi & Alamelu temple, where the priests bless the devotees.
Right next to the shrine is the entrance to the Cave Villa, entry costs MYR 15 and you'll see countless birds, rabbits, iguanas and a swimming pool with giant fish. This is also a place for you to learn a lot about the Hindu religion through murals and sculptures.
Going further inside is the second Cave Villa with more colorful works, and the end of the cave is a reptile exhibit. Reptiles can sometimes be captured for visitors to take pictures with. There is also a large koi pond with an artificial waterfall, and bridges leading to different entrances/exits.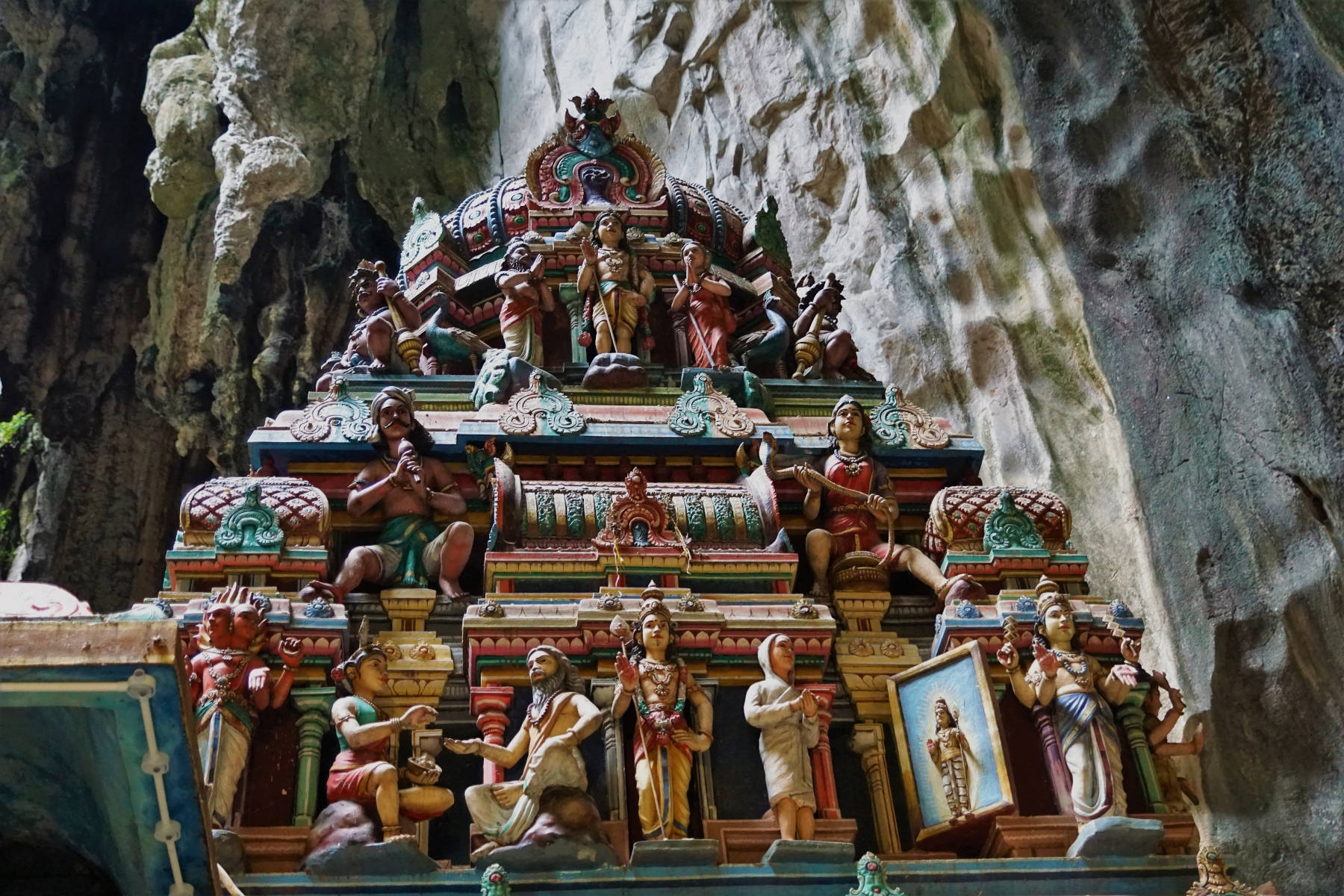 Temple Cave – Temple Cave
What is special about Batu Caves? The largest and most prominent is Temple Cave – Temple Cave. To get here, you have to climb 272 colorful stairs and you will definitely want to take many photos at these very steps.
Temple cave is about 200m long, the ceiling dome is up to 100m high and the interior is illuminated. You will find many ornate Hindu temples with many mythical meanings associated with people's lives here.
Dark Cave – Dark Cave
The entrance below the Temple Cave is called Dark Cave, which is the wildest of the caves in Batu Caves. Inside this 6,500-foot-long cave contains brilliant limestone cliffs and is home to many rare creatures, including the endangered Trapdoor spider.
To explore Dark Cave, you need to book a guided tour (MYR 35 for an adult) and you must be in good health to participate in crawling and crawling activities in the cave. Guides are usually cave scientists, biologists, geologists, entomologists… and they speak English very well. If you have any questions, just ask them, they answer very enthusiastically. It is expected that the exploration of the dark cave will last 15-20 minutes.
How should I wear clothes when going to Batu Caves?
What to wear when traveling to Batu Caves? There is a strict dress code when visiting Batu Caves and if you don't meet it, chances are you won't be able to enter the cave.
Batu Caves is a religious site, and they require separate attire for both women and men:
For men: T-shirts and shorts are acceptable, but shorts need to be knee-length. Don't wear a tank top, tank top, or flip flops.
For women: Do not wear revealing clothes and skirts should not be too short.
Experience traveling Batu Caves, if you don't dress appropriately, you can rent a costume for about MYR 5 to continue the journey.
Notes when going to Batu Caves in Malaysia
To have the smoothest discovery journey, do not miss some of the Batu Caves travel experiences below:
The minimum time to visit Batu Caves is 2 hours. Taking into account the travel time which would be around 4 hours, you can arrange yourself a half day trip from Kuala Lumpur.
Experience visiting Batu Caves, where there are many monkeys and this is almost their home. You can take pictures with them to have unique moments, but be careful because they love to snatch things from people's hands, especially food.
There is a lot of mud inside the cave, so bring a spare set of clothes if you intend to participate in spelunking.
What to eat at Batu Caves? There are shops specializing in Indian food located outside the entrance, but you can also head back to Kuala Lumpur for delicious food at a more affordable price.
Don't forget to sample some Indian specialties such as Pulled Tea, Green Bean Cake, Rice Paper, Milk Tea… and buy some sophisticated souvenirs from the locals on sale at the stalls outside the door. motion.
It is recommended to bring some food and drinks and store them in your backpack when starting your journey to visit Batu Caves.
After sharing our Batu Caves experience, do you want to try coming to this place once? Exploring Batu Caves will help you better understand the culture and characteristics of Hinduism, and you will surely always be impressed by their extremely unique architecture. Dulichlive wishes you a smooth, convenient journey to Batu Caves and lots of interesting experiences.