Along with the Petronas Twin Towers, the Menara Tower in Kuala Lumpur is one of the top attractions you cannot miss if you come to this country. So what's so special about Menara KL tower, let's find out the experience of visiting Menara Kuala Lumpur tower that Dulichlive shared below to be able to explore this iconic tower in the most perfect way.
Visiting Menara Tower Kuala Lumpur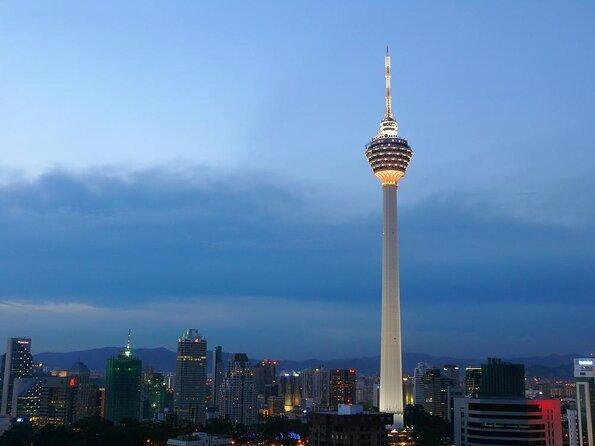 Menara Kuala Lumpur Tower also has many other names such as KL Tower or KL Tower for short. You can see this Menara KL tower all over the city by its 421m height. And when climbing to the top, you will admire the panoramic view of Kuala Lumpur, from the skyline to the entire Bukit Nanas hill.
Where is the Kuala Lumpur menara tower?
You can find the address of Menara KL tower at:
No. 2, Jalan Puncak, Off Jalan P. Ramlee, KLCC, Kuala Lumpur.
Opening hours: 09:00 – 22:00 daily.
Phone: +603 2020 5444
Menara Kuala Lumpur Tower is located in the heart of Kuala Lumpur, 58km from KLIA Airport, 5km from KL Sentral, 3.7km from Chinatown, just 2km from Bunkit Bintang and 2.5km from Petronas Twin Towers. Therefore, you can easily move to KL tower from anywhere in the city by public transport.
How to get to Kuala Lumpur Menara Tower?
How to go to Menara KL tower? You can go to KL menara tower by the following means:
Go to Menara KL Tower by LRT
Direction 1, if you get off at Dang Wangi LRT station:
Get off Dang Wangi LRT station and then head towards Monorail Bukit Nanas.
Go to the bottom stairs of the station located at the traffic light junction, turn right and go straight.
Go through Concorde Hotel, Hard Rock Cafe (left), Shang-Ri La Hotel (right), continue to another junction like the police room on the left, turn right and go straight.
You continue to pass Menara Hap Seng (left) and then move to the right junction of Jalan Punchak off Jalan P.Ramlee.
Turn right and walk up the hill until you see Guard House with free shuttle service to Menara Kuala Lumpur.
Direction 2, if you get off at Masjid Jamek LRT station, you can take a taxi to go to Menara KL tower, or if you prefer to walk, follow these directions:
From Masjid Jamek LRT station, go straight along Jalan Raja Chulan where you will find Muzium Telekom (on the left).
Continue going straight down until you come to a red light junction, you turn left.
Walk a few meters, you turn left onto Jalan Punchak off Jalan P.Ramlee, and there you will find a free shuttle service to KL tower.
Go to Menara Tower KL bus
You can take the free bus, Go KL Bus Purple line, and get off at the stop near Menara Hap Seng (ask the bus driver about the stop).
From the stop, Menara Hap Seng will be on your left and keep walking further until you reach the right junction of Jalan Punchak off Jalan P.Ramlee, there will be a shuttle to take you to KL tower.
Walk from Petronas Twin Towers to Menara KL . Towers
Due to the relatively close distance, people often combine to visit these 2 towers in the same trip, you can take a taxi from Petronas Twin Towers to Menara KL Tower, or walk as directed:
From Petronas Tower, turn left and follow Jalan P Ramlee.
Walk for about 20 minutes, then turn right onto Jala Punsuk street (you will see KL Tower from the corner).
Walk up the hill until you see the guard house at Menara Kuala Lumpur tower on your left, then use Guard House's free shuttle bus service to get to the tower, or walk if you wish.
What's interesting about Kuala Lumpur menara tower?
Explore Sky Deck & Sky Box
Sky Deck is a deck in the Menara KL tower located at an altitude of 300m and can be considered the most impressive highlight of the Merala KL tower. Standing from here you will have a 360-degree view of the whole Kuala Lumpur, enjoy the breeze blowing through your hair and you will definitely want to take lots of photos to show off to your friends.
Experience visiting the Menara Kuala Lumpur tower, the Sky Deck is not always open because it depends on the weather. So plan to visit KL tower on a nice weather day or just to be sure, call and ask them in advance if Sky Deck is open today.
However, the most interesting thing about the Sky Deck is the Sky Box in the Menara Kuala Lumpur tower, a transparent glass box that protrudes from the deck. If you are brave and not afraid of heights, challenge yourself by stepping into this glass and looking down into the face below.
At each Sky Box, there is a guard on duty to remind you not to bring bags and shoes into the Box. They are also very friendly and are always willing to take pictures for you if you have a need.
How to get to Sky Deck at Menara KL tower? The fastest and easiest way is to take a ladder (it takes about 54 seconds to go up, and 52 seconds to go down). And if you want to experience, the experience of going to Menara KL tower is to try walking 2058 steps to reach the top of the tower, but we think no one wants to try the feeling of climbing stairs like that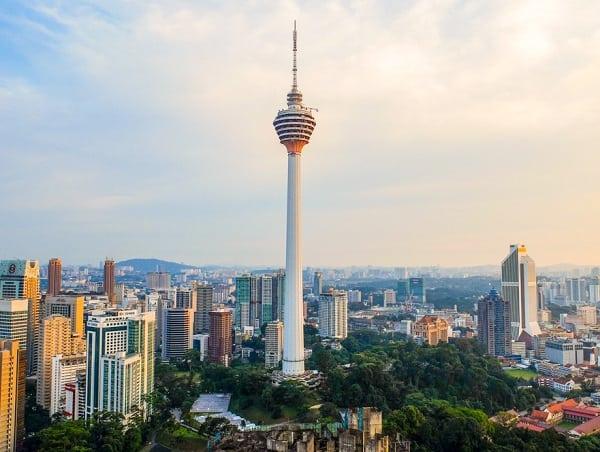 Observation Deck
If you are visiting the Kuala Lumpur menara tower on the day the Sky Deck closes, or you are not interested in going up to the outdoor deck due to fear of heights, then the observation deck at Menara KL tower will suit you.
KL Tower observatory is located at 276m, is a floor in the tower with giant glass windows. Although in terms of altitude as well as the view may not be as good as the Sky Deck, but from here you can still admire the very beautiful Kuala Lumpur.
In general, the Observation Deck is a place to visit in KL tower that is very suitable for families.
Opening hours 9:00 – 22:00 every day.
Ticket price: Adults MYR 52, Children MYR 31.
Canopy Walkway in Kuala Lumpur Eco Park
Did you know, surrounding Menara KL tower is a verdant rainforest called Kuala Lumpur Forest Eco Park, formerly known as Bukit Nanas forest reserve. It is one of the oldest surviving rainforest reserves in Malaysia.
The Canopy boardwalk is located just below the Kuala Lumpur tower, taking you through the forest in the treetops. The aisle is wide and solid, can accommodate 2 people parallel to each other. This can be considered an oasis amidst the hustle and bustle of the city. It's so peaceful and calm that you'll forget you're in the heart of a metropolitan city.
Opening hours: 7:00 to 18:00
Admission to Kuala Lumpur Forest Eco Park: Free.
Atmosphere 360 ​​revolving restaurant
What to eat at menara KL tower? There are a number of restaurants and cafes in kiosks below the tower, but if you want a hearty meal in a dreamlike atmosphere, head to Atmosphere 360, a revolving restaurant located atop Menara Tower in Kuala Lumpur.
This restaurant is located at an altitude of 282m above the ground and its view has fascinated many visitors. Here you can order food or eat buffet as you like. Experience visiting Menara KL tower, if you are not hungry, you can also come here to order a drink and see the majestic view of the city center.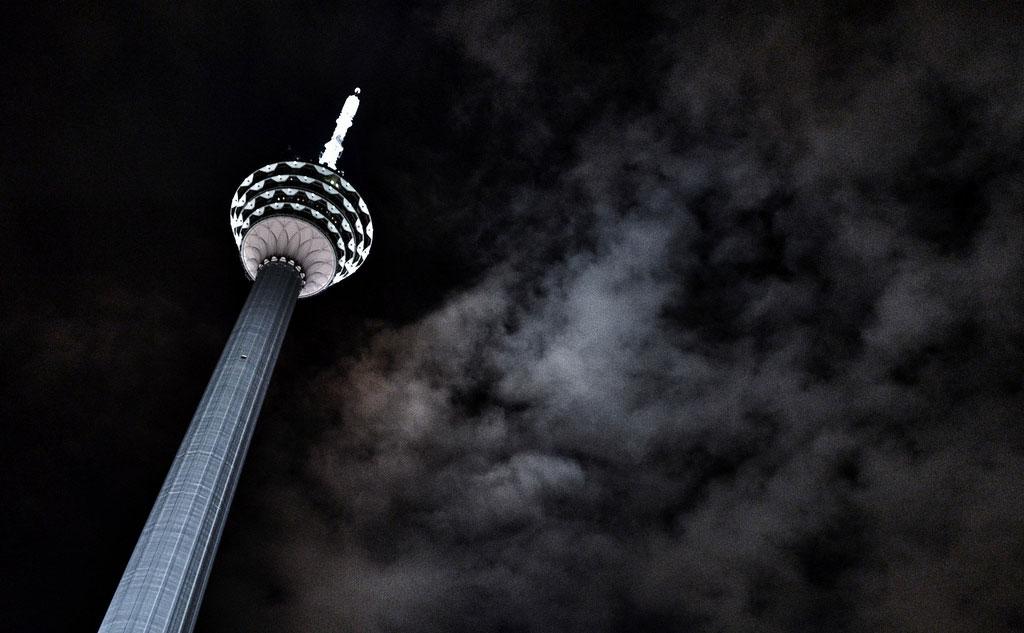 Opening hours: 11:30 to 23:00 every day.
Buffet price at Atmosphere 360:
Lunch buffet MYR 128, dinner buffet MYR 232, afternoon tea buffet MYR 76.55.
Visit Jelutong tree over 100 years old
To the left of the Kuala Lumpur Tower lobby there is a giant Jelutong tree over 100 years old (Dyera Costulata). When building this Menara Kuala Lumpur tower, they relocated the tower to avoid cutting or hurting the tree.
In addition, the Malaysian government has done a lot of planning and awareness building to preserve the tree with a total cost of up to MYR 430,000, so this is a very special old tree that you definitely have to check in when you visit. to visit Menara KL tower.
Mini Zoo
If you travel to Kuala Lumpur with young children, in the basement area of ​​KL tower there is a small zoo for the children to play. Although it is not as big as the famous KL bird park, it still has a lot of interesting animals to explore.
Here, you can meet giant pythons, cheeky squirrels, cute monkeys, colorful parrots, fluffy monkeys or adorable rabbits. Your kids will surely love this place.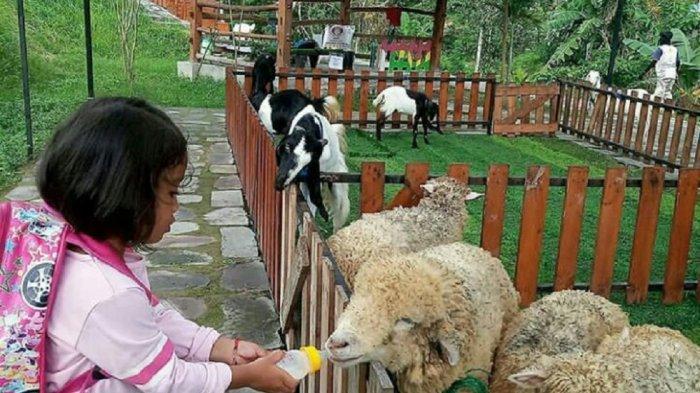 Opening hours: 10:00 – 21:00 every day.
Mini Zoo ticket price at KL Tower: MYR 31 for adults, MYR 26 for children.
Upside Down House
What to do at Menara Tower Kuala Lumpur? A new fun place in this place is the upside down house located right next to the parking lot, across the street from the statue from the statue of I ♥ KL Tower.
We have to admit that it is quite funny when all the furniture in a 2-storey house is placed upside down, mounted on the roof and if you take pictures, it will feel like you are floating. In particular, there is a 1974 vintage car hanging at the entrance, and of course it is also upside down.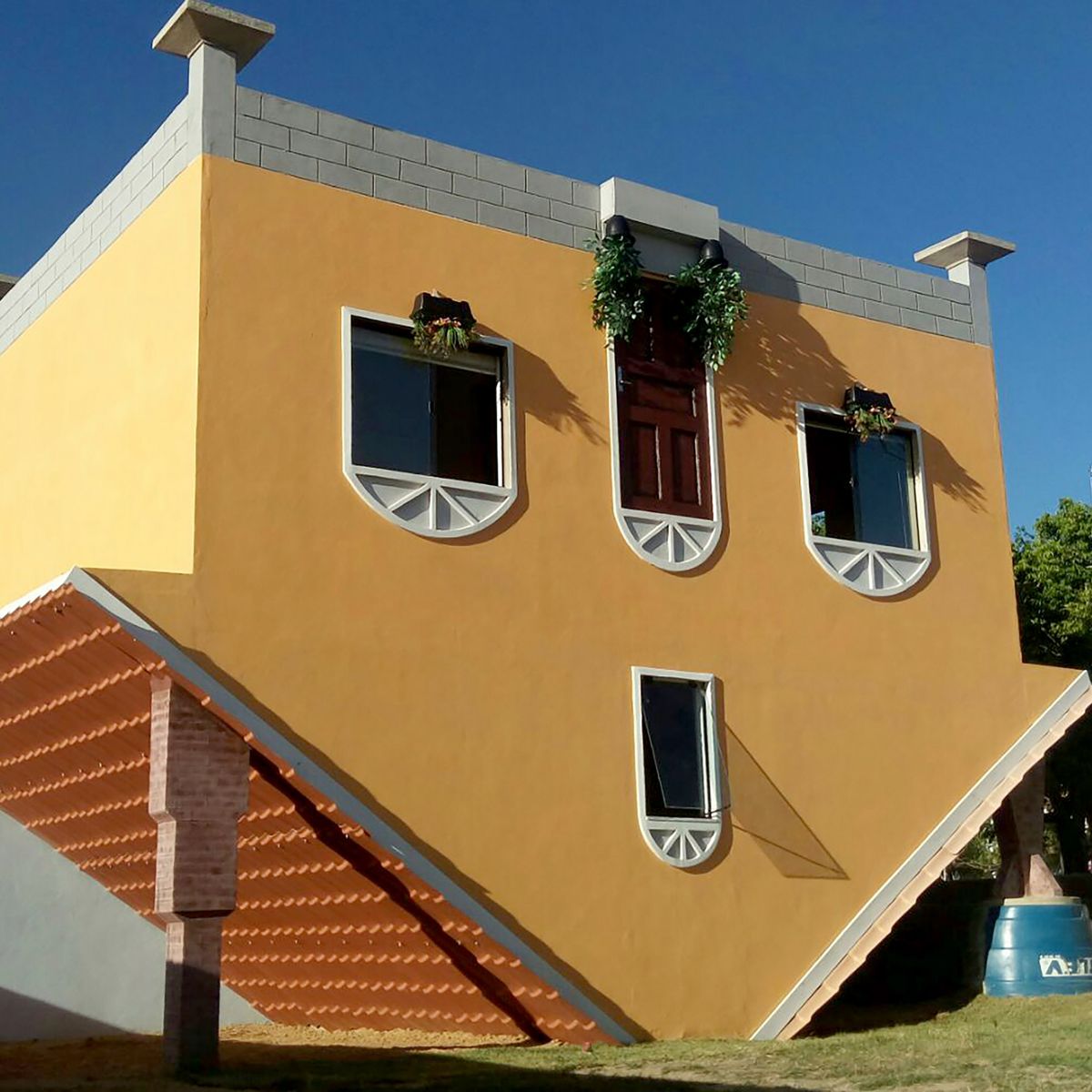 Opening hours: 9:00 – 22:00 every day.
Ticket price: Adults MYR 19, Children MYR 14.
Notes when visiting Menara Tower Kuala Lumpur
To discover the Kuala Lumpur menara tower to the whole, do not miss a few experiences to visit the Menara KL tower:
In addition to interesting things to answer the question to Menara KL tower, what should be done? This place also has many other entertainment spots such as: Blue Coral Aquarium, Zapin, Asyik, Inang art performances…
What to buy in Menara Kuala Lumpur? There are many souvenir stalls in this tower, they include: Anang, Batek, Indah Craf, Cantikraft, Al – Rania Trading, T–Junction, Two Times Watch, MKL Souvenir, The Zon Duty
Free Shop & Macam-Macam Boutique Cafe. These stalls are usually open from 9:00 to 22:00 and mainly sell handicraft products, perfumes, tin products, basic fabrics..
Before your trip to Menara KL tower, you should prioritize bringing easy-to-move shoes because you may have to walk a lot differently.
Each amusement park at Menara KL tower will take a minimum of 1 hour, so estimate the time accordingly.
Experience to visit Menara Kuala Lumpur tower is economical, you should give priority to Go KL Bus Purple from Pasar Seni LRT Station, because it is free, so it will save quite a bit of money.
There is always a free shuttle bus to KL Tower from Guard House. And if you want to walk, there is a shortcut by stairs from the guard house.