Ipoh is known as an ancient city in the state of Perak, Malaysia. Tourism Ipoh Malaysia should play where, or what tourist attractions in Ipoh have. Let's explore the famous tourist attractions in Ipoh with many tourists to answer this question.
To learn more about the culture and history of Ipoh and not miss out on interesting destinations, check out the fun places to visit in Ipoh Malaysia now.
Lost World of Tambun Amusement Park – fun place in Iphoh for the whole family
Address: 1, Persiaran Lagun Sunway, Sunway City, 31150 Ipoh, Negeri Perak, Malaysia
Opening hours: Mon – Fri: from 11h00 – 18h00, Sat, Sun: from 10h00 – 18h00.
Ticket price: Adults (over 13 years old): MYR 117, children (3 – 12 years old): MYR 110, Seniors (over 60 years old): MYR 110, children under 90 cm are free.
Lost World of Tambun is a fun place in Ipoh Malaysia for the whole family. The campus of Lost World of Tambun includes: water park, amusement park, zoo, tiger valley, hot spring and spa, hotel.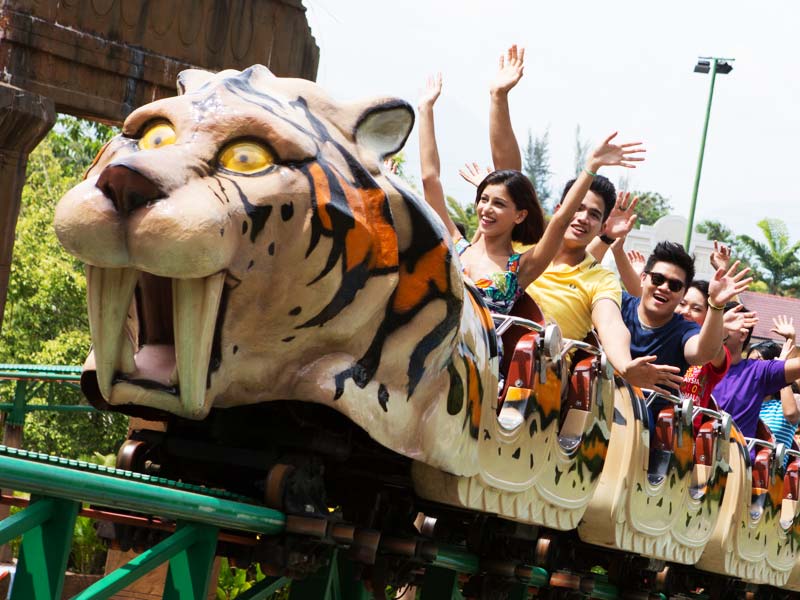 Water park: A place that gathers extremely interesting water games and activities for both adults and children.
Amusement Park: An amusement park that includes carnival-style rides that will appeal to the whole family.
Zoo: This is an animal sanctuary in Tambun, here you can not only see the animals but also learn about their life, feed them and watch them perform circus
Tiger Valley: Watch Siberian tigers swim, hunt for food, learn their behavior.
Hot Springs and Spas: Here you will be immersed in hot springs and enjoy Spa treatments to help your body dispel fatigue.
Hotel: The hotel with luxurious facilities, cool space, will definitely give you a feeling of relaxation and comfort like being at home.
Movie Animation Park Studios (MAPS) theme park – a fun and interesting place in Ipoh Malaysia
Address: Persiaran Meru Raya 3, Bandar Meru Raya, 30020 Ipoh, Negeri Perak, Malaysia.
Opening hours: Monday, Tuesday, Thursday: 16h00 – 23h00, Wednesday: rest, Friday, Saturday, Sunday: 10:00 – 23h00.
Ticket price: Daytime: MYR 70/ticket, Night: MYR 35/ticket.
Movie Animation Park Studio (MAPS) is one of the most fun and exciting places to play in Ipoh Malaysia. At MAPS there are 6 themes with 23 interactive games and 15 adventure games that are sure to keep your whole family's imagination running.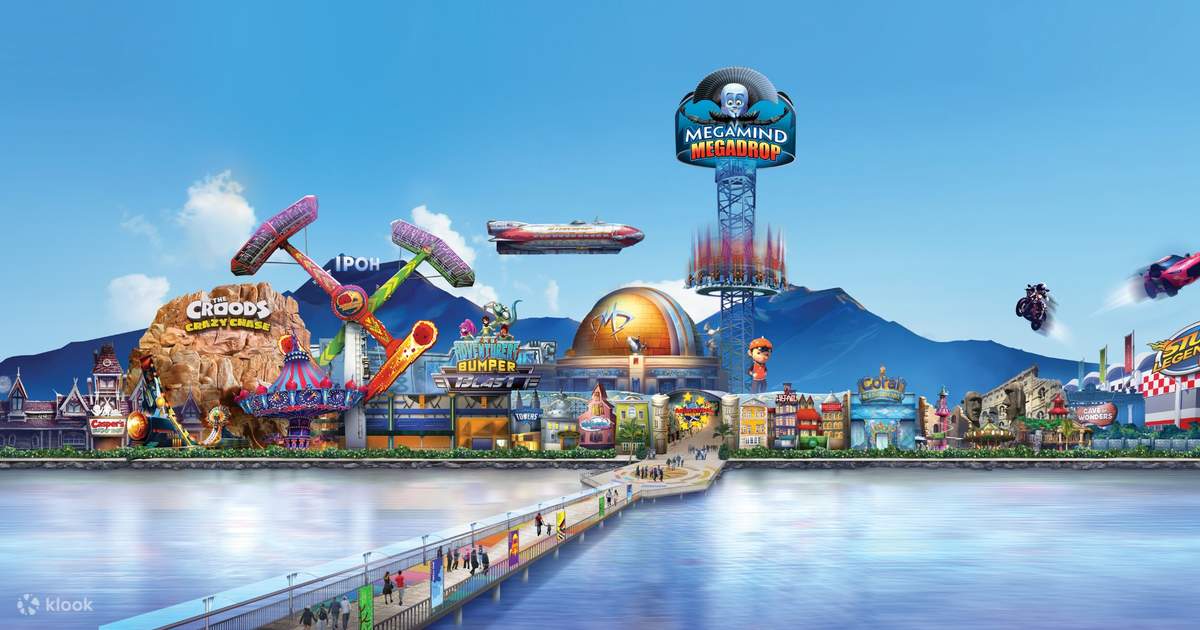 Aniamtion Square: You will get lost in the land of Dramworks characters, transforming into these lovely, interesting and dreamy characters.
Blast Off Zone: Enter Papa Smurf's Rainbow Spell at The Smurfs Theater to enter papa's lab and help him cast spells.
Fantasy Forest: Play hide and seek and experience an unforgettable trip to historical civilization, wet lands, the supernatural or even the future – your own world.
Lakeside Zones and Live Action Zones: Challenge with a game or trip.
Frenzy Hippo Water Park – the largest and most famous water park in Ipoh Malaysia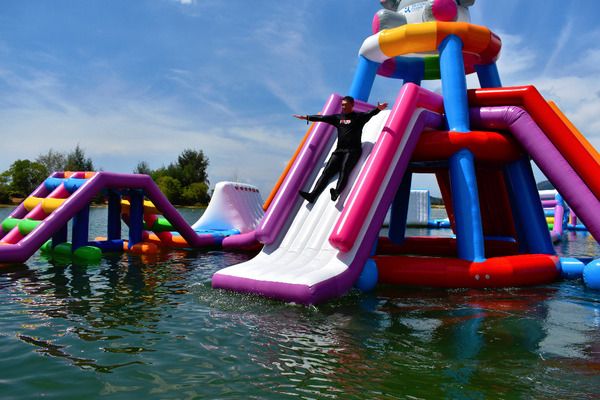 Address: Marina Pangkor Island | Jalan Utama Marina Island, Perak, Lumut 32200, Malaysia
Opening hours: Morning: 8:00 – 12:30, Afternoon: 15:00 – 19:00, Thursday: rest.
Ticket price: Picnic package: MYR 25/person, Package of all games: MYR 55/person, Combo package of 2 services: MYR 75/person
Where to go to Ipoh Malaysia to play fun and interesting? Located on the Marina Pangkor Islands, Frenzy Hippo is the largest and most famous water park in Ipoh Malaysia with a lot of exciting water entertainment activities. Take part in wibit water games at the park, experience kayaking, pose for pictures with one of the colorful floats or snorkel in the clear blue waters of the ocean, enjoy a picnic at the park. the beach with a full meal.
Sam Poh Tong Temple – a famous place to visit in Ipoh Malaysia
Address: Kampung Gunung Rapat, 31350 Ipoh, Perak, Malaysia
Opening hours: 9:30 a.m. – 4:00 p.m. daily.
Ticket price: free
Located on the outskirts of Ipoh, Sam Poh Tong Temple is a famous tourist attraction in Ipoh Malaysia, home to centuries-old religious architectures. It is known that the cave was discovered in 1890 by a Chinese monk passing through Ipoh; he decided to make it his home and a place to meditate and stayed there for 20 years until his death.
Sam Poh Tong Temple – a famous place to visit in Ipoh Malaysia
This is said to be the largest cave temple in Malaysia, inside you will admire the works of art of man and nature – beautifully carved Buddha statues in various forms are located between amazing stalactites and stalagmites.
Ling Sen Tong Temple – Ipoh attractions for free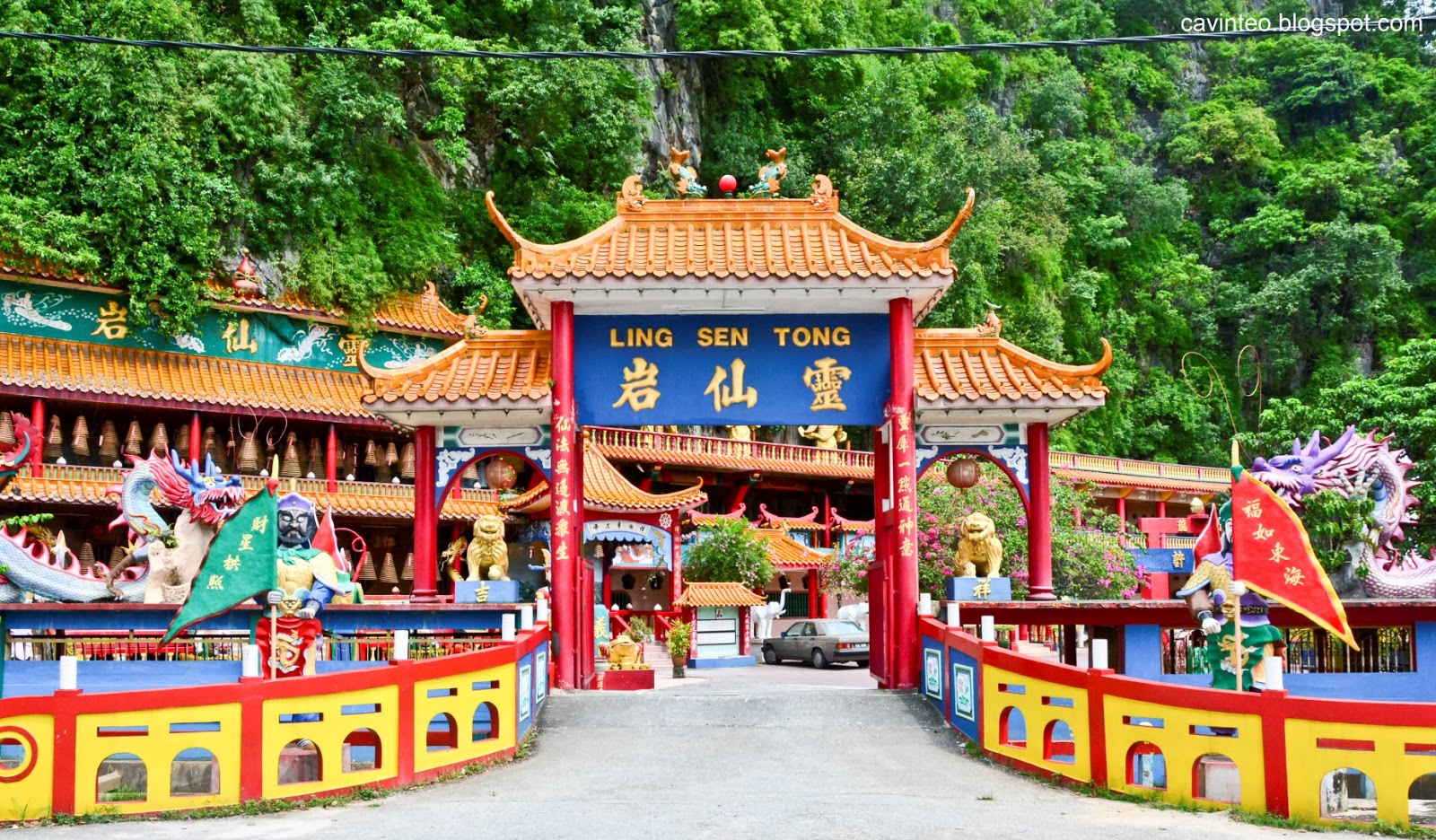 Ling Sen Tong Temple – attractions in Ipoh for free
Kellie's Castle – a beautiful and mysterious tourist destination in Ipoh
Address: 31000 Batu Gajah, Perak, Malaysia
Opening hours: Mon – Fri: 9h00 – 17h30, Fri – Sun: 9h00 – 18h00.
Ticket price: Foreigners: MYR 5, free for children aged 6 and under.
One of the most beautiful and mysterious tourist attractions in Ipoh is Kellie's Castle. The castle was built by Mr. Kellie William Smith (Scottish) for his wife, Ms. Agnes, before the two moved to Malaysia to settle in 1903. However, the construction of the castle was interrupted because of Mr. Kellie's passing. During the flu epidemic, many workers lost their lives. Currently, Kellie's Castle is associated with mysterious ghosts that have no answers.